Bicycle Helmets for the 2012 Season
This is history!


Summary: Our review finds no radical safety improvement this year that would compel you to replace your current helmet. Almost all of the helmets described below meet standards and offer good if not excellent protection. We have tested a sample of cheap and expensive helmets and found no real performance differences. We recommend looking for a helmet that fits you well and has a rounded, smooth exterior with no major snag points.
Trends this year
There are new helmets in 2012 that are worth a look if you need a new one. There are more new models appearing with the rounder, smoother profile that we think is best when you crash. But there is still no major advance in impact performance, ventilation or wearability this year that would compel you to replace your current helmet.

Almost all of the helmets listed below meet national or international standards and offer good protection, although some standards are tougher than others. For the US market the CPSC standard is required by law for any bicycle helmet. Without comparative test data we usually do not know if a particular model exceeds the requirements of the standard and offers superior protection. Most of them probably do not, except those that provide additional coverage. There are unpublished indications that the lightest and thinnest helmets do not perform well when impact levels exceed those required by the CPSC standard.
Highlights for 2012
Rounder profile "compact," "city," "urban" or "commuter" models are still growing in number, and almost every manufacturer has at least one in their lineup now. The list below has more than 65 models. The older elongated styles with long rear points are beginning to look dated for everyday use. We are pleased that the fashion pendulum is swinging, and most of the newer models are the much improved "compact" style, even if not fully rounded.

The higher priced helmets have big vents, but no verifiable advantage in impact performance. You can pay more than $200 if you want to, but Target, Wal-Mart, Toys R Us and other discounters have models that meet the same CPSC impact standard at an everyday price of under $20. And in the $20 to $35 range they have better looking and better fitting models. Our testing showed that the very expensive helmets and the very cheap helmets we tested have about the same impact protection.

A slip-plane helmet appeared in 2010 with a second shell or liner that can slide over the inner shell a few millimeters at the moment of impact. This is said to mitigate the rotational force on the head, and in some cases that has been measured. The hope is to reduce rotational injury, generally considered a prime cause of concussions. POC has a nicely rounded road model now with this technology built in and extended rear coverage, the Trabec Race MIPS, and a very round and smooth skate-style model. Lazer has introduced two child models. TSG has announced a skate style model for availability mid-year. We might consider a MIPS helmet in a skate style helmet, downhill mountain bike model or any helmet that has extended rear coverage, since the helmet may be more closely coupled to the head than a standard road bike model with less coverage.

There is one new design for the impact foam in helmet liners this year, introduced by Cannondale in their Teramo model. It is an adaptation of standard EPS foam that combines two layers. One is lower density, and should crush more easily at lower impact levels, possibly offering an advantage in avoiding concussions. The second layer is higher density for heavier impacts.

In football, hockey and lacrosse there are some new developments substituting collapsible plastic modules for foam. None of those has yet made it to the bicycle helmet market.



Ring fit systems, the "one size fits all" solution, have taken over for most of the market. They work well for some, but not at all for others, who find that they have to tighten the ring uncomfortably to get a stable fit. You have to try them on to be sure. There are still models using fitting pads instead, but you may have to look for them, and you may pay more.

Expensive materials: Carbon fiber is still found only in premium models. It does allow slightly lighter construction, but there is so little of it used in a bike helmet shell that the weight saved is minimal except in the heaviest BMX helmets. Some manufacturers have removed it from their line. Manufacturers are searching for ways to use titanium, another glamorous and expensive product that saves very little weight in a helmet. Kevlar is still in a few helmets, mostly in the internal reinforcing.

Several manufacturers have brought out fit systems with fixed side straps to compete with Bell's True Fit system. But they do not have the internal strap anchor cage that makes the True Fit system work, and we found that they do not work for us as well as the True Fit system. That includes Bell's own helmets.

Strap adjustment fittings--buckles and side pieces--still badly need improvement. Most of them slip too easily, resulting in the "strap creep" that can loosen straps even on riders who have adjusted their straps carefully. You can check that when you buy, just by tugging on the straps. You may have to sew your straps or snug rubber bands up under the buckles to make them hold. We think that should not be necessary, and note in our writeups some of the ones that hold well.

Rubber finishes and a fabric finish are found in a few helmets. We do not recommend them for road use because rubber or fabric surfaces might increase the sliding resistance of a helmet when it hits the pavement. We do not have lab tests yet to confirm that, but scrub one on pavement and see the difference for yourself.

Anti-microbial pad materials are increasingly used as odor-fighters for high-end models. Most use silver or other chemicals, and might be useful if you are having helmet odor problems, but if you are seeking to reduce your exposure to industrial chemicals and metals they are probably not something you want to have held against your sweating head on every ride. Periodic washing of the helmet with a mild dishwashing liquid keeps it fresh. Those who use anti-microbial soap every day may not be concerned. Bike helmets are easy to wash with mild soap and have never had a general odor or bacteria problem.
Some Interesting New Models

Azonic Exile: a bicycle helmet with extra rear coverage. Has ribs and points, as well as large vents. Ring fit. Retails for &80, and worth a look for the extra coverage. Catlike Whisper Plus: not new to Europe, but new to the US is the "swiss cheese" helmet you may have seen on racers. So many small round vents that it resembles a swiss cheese. Catlike has a version that meets the CPSC standard now for the US market. Giro Reverb: an urban model with well rounded lines and a smooth exterior. It has long vents and a soft "cap-style" visor. The strap adjustments are sewn like Bell's True Fit system, but the resulting fit did not feel as secure to us, so be sure this one fits you well before buying. Since this is a commuter model, Giro has their new neon yellow available in addition to white. Retails for $60. Lazer Nut'Z and P'Nut: child and toddler helmets with a MIPS slip-plane system. Two layers with a slippery surface between them slip a little on impact, possibly reducing concussion forces. Retail is $80. TSG Kraken+: a segmented skate-style helmet with a MIPS slip-plane system. Two layers with a slippery surface between them slip a little on impact, possibly reducing concussion forces. Available later in 2012. Specialized Dissident: a full-face downhill racing helmet with few vents and a carbon fiber/kevlar/fiberglass shell. Certified to the ASTM F1952 Downhill Mountain Bike Racing standard and the ASTM F2032 BMX bike helmet standard, tougher than the CPSC standard. The large BMX-style visor is bolted on with plastic bolts designed to break away when you snag it on something. Retail is $350. Yakkay: new to the US market with a CPSC-certified model, Yakkay makes skate style helmets with caps on top, some of them very high fashion. The helmet for people who don't want to be seen dead in a helmet.
Extended coverage models
Several companies are now producing chunky "mountain style" helmets with enhanced rear coverage. The first we saw four years ago was a Toby Henderson design, the THE F-14. He followed that up with his 2011 THE F-20 (on the left below), marred only by a useless rear spoiler.

Others now have similar models, including the Acclaim Recon XC, Azonic Exile, Giant Realm, Fox Flux (with another useless spoiler), POC Trabec, Pro-Tec Cyphon and SixSixOne Recon. All are worth a look if you want a helmet with more rear coverage like a skate helmet, but big vents for bicycling. In addition to the extended coverage there is a fit advantage, since helmets with lower rear coverage are less likely to ride up in front to expose your forehead, and are generally easier to fit well. They may be the answer if your helmet seems to perch way up on top of your head.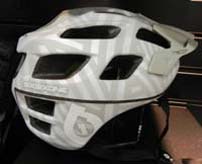 Note, however that not every helmet in this style actually has additional rear coverage. When you put on some of them and position them correctly on your head the "additional coverage" disappears as the front edge comes down to your brow line.


Rounder, Smoother Helmets
We recommend smooth helmets that do not have points to snag when you crash. The selection of well-rounded models is extensive and growing for 2012, including:
Abus Urban-I, Lane-U, Urbanaut (Euro standard not CPSC) Acclaim Metro, Recon XC Azonic Exile Bell Muni/Arella, Sequence, Variant, Deuce/Impulse/Vogue/Cruiser discount model Bern All models Biologic Pango folder Bontrager/Trek Lithos Briko City Bike, Mustang Capix Hellion Casco Warp II chrono, ATC/Ciao, Attack, Cuda E-Motion (Euro models) Catlike Urban Concept Cratoni Evolution Eleven81 Crosstown, Open Road Pro Giro Hex, Phase, Reverb GPR/Plim Urbanus, Vidi Hopus Aegis A-8 Plus, Elf-1 Elf J&B Furius V-23 Kali Amara, Chakra Kask Sky Replica, Urban (Euro models) KED Sky (Euro Model) Kong Scarab LAS Hitek-Cycling and Compact (Euro models) Lazer Urbanize Louis Garneau Baristo MET Camaleonte Netti Transit Nutcase All models Oktos (several) POC Trabec, Receptor Potenza Pav'e Pro-Tec Cyphon Roar KS-04 Schwinn Intercept SixSixOne Recon Specialized Street Smart Star (Zuhai Star) B3-11 Stash (Euro standard, folder) THE F20 (Extra coverage) THH T-35, T-36, T-38 Trek/Bontrager Lithos, Urban Uvex Discovery, Urban Vigor F-20, Fast Traxx XTerra XTS22 Commuter Yakkay All models Most "skate-style" and BMX helmets Most toddler helmets
Consumer Reports Picks
We usually recommend checking Consumer Reports for brand and model recommendations. Their most recent helmet article for adults appeared in the July, 2012 edition of their print magazine, and rated rated 13 models. Only two rated above average in impact protection: the Bontrager Solstice Youth from Trek and the Specialized Echelon. In addition to those two, CU checkrated the Bontrager Circuit, Louis Garneau Baristo and Bell Array. Two of the tested helmets were rated Poor for impact: Nutcase Streetsport 8 Ball and Bern Brighton. The full report including ventilation ratings and more is available to Web subscribers.

Value Helmets
Many manufacturers have quality molded in the shell helmets priced in the $30 to $40 range. That includes the Bell Solar, Bell Impulse/Deuce ($25 at discounters), Casco Ventec, Cratoni Xenon, Eleven81 Open Road, Giant Talos, Giro Transfer, J&B Commuter, Kali Chakra, Lazer X3M and Tempo, Louis Garneau Olympus and Arcterus (XXL), Scott Watu, Serfas Cosmos Plus, Specialized Align, Uvex Viva, Vigor NOX and Vigor Fast Traxx.

There are many, many more very decent inexpensive helmets on the market that are not molded in the shell. We can't list them all. In the US we are fortunate to have a mandatory national standard for bike helmets ensuring at least the minimum impact performance level, whatever the price. Our sampling with lab tests showed that cheap and expensive helmet performance was very similar.

Bell's True Fit models produce a good fit with minimal fiddling in some very competitively priced helmets found in discount stores.


Extra Large Helmets
See our page on helmets for very large heads.


Extra Small Helmets - XXS size
The smallest helmets advertised are the Casco Mini Pro, KED Meggy Sport and Specialized Small Fry for 44 cm (17.3 inch) heads, then the Abus Smiley, L.A.S. Roadspeed Baby, Michelin MK and the Limar 123 Jr. Kid, all for 45 cm (17.7 inch) heads, available in Europe but not in a US, and the Angeles Toddler Trike Helmet at 45.7 cm (18 inches). There are many others with 46 cm (18.1 inch) helmets. Pryme has a heavy BMX helmet that small, if you can imagine putting that kind of weight on your baby. Ask your pediatrician about this one before buying! We have a page explaining why tiny helmets may not be a good idea, with another page asking if you really want to take your baby along yet.


Helmets for Rounder Heads
If your head is the rounder shape mostly associated with Asian parentage, a few manufacturers in the US market have models they have identified as providing a good fit for rounder heads: Bern, Cratoni and Selev. Cratoni says some of their helmets fit round heads with just a different pad set. Bern has a special pad kit they call the "Japan Fit" kit with top pads and inserts that convert their models to fit rounder heads. It can be ordered directly from Bern. That suggests that you might be able to resolve the problem by making pad changes if your helmet is fitted with pads, or you can try a ring-fit model. TSG has a helmet called the Kraken with a segmented liner that they say can adapt to hard-to-fit heads. Azonic is closing out their rounder head-friendly Kamakaze helmets, a full face downhill model available now for about $100.

We have emails from riders with both rounder and longer heads praising the fit of the Lazer Genesis.

Specialized has one model, the Contour, that they market in Japan. It is of course made for Asian heads, but they don't sell it in the US. We have an email from one rider who found that the Specialized Contour skate-style helmet fit his head well.

In other markets you may find more choices for rounder heads. The Japanese standard requires that the helmet fit them, and of course you could not market a helmet anywhere in Asia that fit only Western heads! We have more details on our page on fitting rounder heads.


Helmets for Narrow Heads
At least two manufacturers have identified for us their models for longer, narrower heads: Cratoni and Lazer. In addition, riders have said that the Lazer Genesis/Helium fit their longer head better. (The Genesis was also praised by one with a rounder Asian head.) TSG has a helmet called the Kraken with a segmented liner that they say can adapt to narrow heads. With most other helmets you can usually fit narrow heads with thick side pads.


Downhill Mountain Bike Racing Helmets
A few manufacturers now have helmets certified to the ASTM F1952 Downhill Mountain Bike Racing Helmet standard, including Bell, Giro, Kali, Pro-Tec, Scott, Specialized and Troy Lee. Coverage and impact requirements are tougher than the CPSC bicycle helmet standard. Some have hard shells as well. Note that these still fall short of the impact protection offered by the BMX motorcycle helmets used by some downhill racers.


Hard Shell Bike Helmets
Some riders still prefer a hard shell bike helmet for road or trail riding. The only real bicycle helmet design from a major US manufacturer is the Pro-Tec Cyphon. In addition, Hopus Helmets produces hard shell bike helmets in Asia. You can look for them under their Aegis brand, but you may find them under other brands. Alpha has at least one model as well, and the Spiuk Rasgo comes close. The Stash folding helmet has a hard shell as well, but is hard to find and only meets the CEN European standard. You can also look at any of the skate style helmets with hard ABS shells that have stickers inside saying they meet the CPSC bike helmet standard. Most of them have very small vents that would make for hot cycling in warm climates, but Hopus has some models vented like bike helmets.


Folding helmets
Folding helmets first appeared in 1997 with the Motorika Snapit, but there is only one design that we know of currently on the market, and one more to be introduced in 2013. You can see the Biologic Pango below. (A very similar design was the , but that one has disappeared.) Carrera will be introducing a new model in 2013 that folds like an accordion. Neither is available for the US market, where a folder has trouble meeting the CPSC impact standard. We have a page up on folding helmets.
Chrono or Time Trial Helmets
Chrono models are the long-tailed time trial helmets designed only for pursuit racing and time trials. They do not make sense for street or normal road riding. You will know you need one when your coach says so. See our page on chrono models for more detailed writeups on them.


"Women-Specific" Designs
Most women-specific designs differ only in colors and graphics from the "male" helmet model they are based on, but some of them are lovely helmets. Ponytail ports for women or men are generally limited to small spaces above the rear stabilizer. Many helmets will take a good three-to-four fingers of ponytail if you are willing to thread it through every time you put your helmet on and take it off. A few of the others who claim "ponytail compatibility" are noted below. Many riders find it better to wear their ponytails lower down on the head while riding or tuck the hair up under the helmet to keep it off their neck in summer. Manufacturers of cap-covered helmets, including Yakkay, normally have female designs among their covers.

One manufacturer--Bern--is unique among the manufacturers in this writeup for making different helmets for women. Their women's models are not just pastel color and graphics changes, but different helmets made with different molds. Sizes are smaller, but there is more room for hair.


Skateboard helmets
The "skateboard" helmets now on the market in big retail stores are almost all bicycle helmets in the classic skate style that Pro-Tec has made for decades. They are not well ventilated, but are protective enough for bike riding as long as the sticker inside certifies that they meet the CPSC bike helmet standard. Most have better rear coverage than bike helmets do, and are more stable on the head because of that. Others actually have no more coverage than a standard bicycle helmet.

If you need a multi-impact helmet for aggressive, trick, extreme skating or skateboarding with frequent crashes, look for a true multi-impact skate model meeting the ASTM F1492 skateboard helmet standard. We have a page listing helmets certified to both standards. Dual certification to bike and skateboard standards is the biggest advance in skateboard helmets in recent years, denoting superior protection.


Made in USA Helmets
Some consumers ask us where to find a helmet made in the US, or in another country. Although most helmets sold in the US market are now made in China, Taiwan and other Asian countries, Bell is still making millions of helmets every year here for its discount store line. See the Bell discount line comments below. Others are still made in Belgium, Germany, Italy and France. You will find comments on that in the writeups below on a number of European brands, and we have a page up on where helmets are made. Note that most country of origin statements may neglect to inform you that components were imported from elsewhere, including China. Bell has explicit labels saying that.


If you are outside the US
In most markets you will find helmets that meet your national standard, or the European CEN standard, and at least some that meet the US CPSC standard. The European bicycle helmet standard can be met with thinner foam and a less protective helmet than the helmet required to meet the US CPSC standard. (We have a page up on that.) Some European helmets may exceed the CEN standard by a wide margin and pass CPSC, but unless identified with a CPSC sticker inside there is no reliable data to prove which ones they are. Major US brands often produce less protective models for the European market to make them a little bit thinner, lighter and better ventilated so they can be competitive there. For that reason you can not just judge by the brand or even the external appearance of the helmet.

We recommend buying a helmet with a US CPSC sticker or Snell Foundation sticker inside if you can, even if you live outside the US, for the better impact protection. Those helmets are available from a large number of European or Asian manufacturers as well as US producers. If there is no CPSC sticker inside the helmet it does not meet the labeling requirements of the CPSC standard and probably does not meet the impact protection requirements either. The Australian standard is comparable to CPSC, so US manufacturers market the same models there. Canada has its own standard, but it is similar to the CPSC standard and most models sold there are US models.


Cooling performance
We have no ventilation test results on any of the helmets listed below, and there is no generally recognized ventilation testing method or standard. So our comments on ventilation are just an indication and not a definitive ranking. We try to report findings by others on cooling, even though we have no confidence in most of them. A study done years ago indicated that ventilation is basically determined by the size of the front vents. But in wind tunnel testing the angle of the head shows up as critical, with huge performance differences when it moves as little as two degrees. In short, we don't recommend that you make any purchasing decisions based on our comments on ventilation.


Prices
Although we don't calculate averages, manufacturers' suggested retail prices seem to be about the same as last year, although some are slightly higher. Others have had to adjust their pricing to the economic times, raising some and lowering others. Whatever the MSRP is, economic conditions and the competition of online retailers have forced many street prices lower, particularly on high end models. The lowest prices in discount stores in the US market have increased now to about $18, and are mostly in the $20 to $35 range. In bike stores where you can get help with selection and fitting you would expect to pay more, and the prices generally start about $30 and go up as high as you want. For many buyers the fitting service is well worth the extra you pay in a bike store. For an idea of what the lowest prices would be without any fitting help you can check Ebay or the Internet retailers, but be sure to include the shipping charges to compare. Prices in markets outside the US are generally higher at current exchange rates, particularly in Europe.


What We Did Not Find Again This Year
There is still no reasonably vented bicycle helmet on the market identified as an "anti-concussion" or softest-landing helmet. The concussion issue, so much in the news since 2010, is not simple. A softer landing will always help, but there are other factors in a crash, some that a helmet design can't even address. Many point to rotational force as a prime concussion mechanism, but that does not mean simply jerking the head to one side, since rotational forces in the brain can result from a simple straight-on impact. The two manufacturers with slip-plane technology that they say addresses the concussion issue has only skate style models, with very small vents, or child models. We think that if you choose a helmet with a round, smooth shape it will shift on your head when you hit anyway, so we question the value of the slip-plane design. A skate-style helmet with more coverage may be coupled more closely with the head, though, and for those the slip-plane could make sense.

Current helmets are optimized for best protection from catastrophic injury, but since lesser blows are survivable and no helmet can do it all, the design priority remains protection against the hardest impacts. Partly for that reason, there are no helmets promoted for the needs of seniors, who need softer landings in an impact. And no manufacturer advertises that their helmet protects against blows that exceed the CPSC standard by a wide margin, although Consumer Reports ratings based on their lab testing have indicated that some can. With our legal climate we may never see that kind of advertising, since it would expose the manufacturer to lawsuits whenever someone was injured in the helmet, whether or not it had performed well. That unfortunately reduces the incentive to produce a more protective helmet that exceeds the standard by a wide margin, so just passing the standard with enough margin to accommodate quality control problems becomes the designer's goal. Bigger vents and a thinner, lighter helmet will sell more helmets at higher prices than extra impact protection that you can't advertise and the consumer can't assess in the store. Without lab test results we can't tell you what brands might be the best performers.

Electronics have still not been applied to bicycle helmets. We have yet to see on our market a mainstream helmet with a rear-facing camera and a heads-up display to replace your old mirror, although the technology is out there. Bluetooth headsets and cell phone earphones tuck in the ear, but you need to keep your wits about you to ride a bicycle safely, and the conversation on a cell phone can be too much of a distraction anyway. There are more helmets available now with LED flashers built into the rear, but most of them are too small and still have limited output, so most riders who need one are still adding a more powerful flasher with a hook-and-loop mount. LEDs improve every year, and you might want to replace an old flasher with a brighter one. There is one company making built-in batteries to power helmet accessories, but we have not seen one in the US market yet.

Here is an index to our reports for other years.



The Helmets
If no other information is in the writeup for each brand or model, these features are assumed:


The typical bicycle helmet listed below has a thick Expanded Polystyrene (EPS) foam liner with a thin plastic shell. Increasingly, the foam liner is molded in the shell, meaning that the shell is placed in the mold and the foam material of the liner is expanded into it, forming one solid piece. For lower priced models the shell is generally molded separately and then taped on glued on the foam liner. The typical helmet has at least some vents, webbing straps made of nylon, polypro or a similar material, a plastic buckle, no reflective trim and either a ring fit ("one size fits all") or soft foam fitting pads inside. It may have a visor. We have a page up on visors explaining our lack of enthusiasm for them.

BMX models are "full face" (with chinbar) and have thicker hard shells shaped like a motorcycle helmet. The chinbars typically do not have effective energy management padding. Vents are usually minimal, and there is normally a very large visor bolted firmly on, a possible snagging hazard. Only one manufacturer has been able to tell us what force causes their visors and other mounts to detach in testing. Some BMX models meet more demanding motorcycle helmet standards for impact management.

Downhill racing models are similar to BMX but generally lighter and have vents. Usually they also have minimal or no impact padding in the chinbar. Unless noted they are certified only to the CPSC bicycle helmet standard rather than the tougher ASTM F1952 standard for downhill bicycle racing helmets.

Chrono helmets are teardrop-shaped for time trials and pursuit events. They usually have extremely elongated aero shapes, not suitable for street riding. We have a page up on chrono models.

Skate style helmets are the classic round, smooth shape pioneered by Pro-Tec in the 1970's with ABS plastic hard shells and small vents. Most now have EPS liners and are certified to the CPSC one-hit bicycle helmet standard rather than the ASTM F1492 Skateboard standard that requires multiple impact protection. Some are dual certified to both standards.


We have a page on helmet types with longer descriptions.

Many helmets have a rear stabilizer wrapping around the back of the head, but we note those only if they have some unusual feature. Stabilizers add some stability and comfort but are not part of the retention system and are not tested for strength in labs certifying helmets to standards. They can not substitute for careful strap adjustment, although you may think you have adjusted the helmet correctly because it seems more stable. With a hard blow the helmet can still be knocked out of position or even fly off if the straps are too loose.

We note the largest and smallest sizes available where relevant, and any bright colors. Prices are the Manufacturer's Suggested Retail Price, the price you might pay at your local bike shop with fitting services included. Discount store and Internet pricing is usually lower but no fitting help is included. There are often deals on closeouts of prior year models. If you are searching for a particular model and don't find it here, use our search function to check our writeups for previous years to see if it has been discontinued.

We have a page of definitions for most of the terms used below in addition to the page explaining helmet types.

You can find additional info on each of the helmets below at the manufacturer's site. Many of them are also demonstrated on YouTube videos.



Brands and Models
Abus is a German company also known in the US as a manufacturer of locks. We have not seen the Abus helmet line in person, but models on the Web have changed little for 2012. They have a unique ratcheting strap fastener with a toothed tab sliding into a slot that we have only seen on Abus and Uvex helmets. It would have to be adjusted carefully to be sure it does not bear against the line of the jaw, but it provides strap adjustment every time you fasten it and would be easy to tighten with one hand when your strap loosens from sweat on a ride. (Few riders would think to do that.) Their rear stabilizers are also adjusted by a ratchet device. Visors mount with breakaway pins. Some models have bug net in the front vents. Abus bicycle helmets include models for toddlers, youth and adults. As far as we know all of the models on their Web site are certified only to European standards and will not be sold in the US. Sizes run from 45 to 62 cm (17.7 to 24.4 inches). The Abus models in their Urban and City line are all well-rounded, including two adult models introduced in 2008, the Urban-I and Lane-U. The more recent Urbanaut has two long narrow vents that can be closed when used as a ski helmet, and has a dual-density EPS foam liner said to reduce weight and improve impact performance. The shell is has ABS and polycarbonate sections. It is a unique style, as is the Metronaut with a cloth cover shaped like cap with a big visor in the front. If that cap is covering a full size helmet it will be very large. Most Abus helmets have reflective trim and bug net. Abus announced in 2009 their intention to bring their line of bike locks to the US market, but said at that time that they had no plans to sell their helmets here.
The Acclaim line of helmets produced for Action Bicycle includes the Metro, a nicely rounded design with a ring fit system that still has some elongation in the rear. Action has models from other manufacturers as well.


Aegis
See Hopus below.


Aerogo
See Lucky Bell below.


AGV
See Fox below.

AGV has one five star motorcycle helmet among those tested and ranked by the British government's SHARP project, the only ranking system of its kind.

All Pro and All Top
See THH below.


Alpha Helmets
Alpha helmets have previously been found in the US under two other brands, but not as Alpha. Some are made by Mien Yow Industries Ltd. in Taiwan. They have a line of well-rounded models led by the very well-rounded Argo Nuts 2 with an ABS hard shell and a flashing LED taillight built in. They have skate and toddler models as well. The manufacturer says their retail prices run mostly in the $20 to $25 range. Alpha also makes hockey, ski and batting helmets. Angeles is primarily a tricycle and baby buggy manufacturer. We have not seen their trike helmets in person, but the Angeles Toddler Trike Helmet is available from Best Price Toys at $22 to $30 and is among the smallest toddler helmets on the market, designed for heads as small as 45.7 cm (18 inches). It is advertised as meeting both the CPSC standard and the Snell B95A standard, but we were unable to identify it among those on the current Snell certification list. As of December, 2011, the Best Price Toys site still includes an incredible statement: "Safety Tip: For maximum protection, CPSC recommends replacing after 1 year of use." Whoever wrote that should be ashamed--CPSC has never made that recommendation.

Armor
Armor is the brand distributed by SDS Skateboards in the US. They have a skate model with the usual hard ABS shell that comes as the Youth Series, Old School Series and Graphic Series. It is the classic skate shape with small vents and CPSC certification, but is not certified to the ASTM F1492 skateboard standard. There are some bright, very visible colors along with drab camouflage. Retail runs from $20 to $35. You can ignore the statement that their helmets use "high density ABS foam." That's the shell material, not the foam. And the ace skateboarders in videos on the SDS page don't have a helmet on, either.

Ascent
Ascent helmets are made in Taiwan, and sold in the US market by Performance and Bike Nashbar. There are at least five models, none of which we have seen. Some are molded in the shell, others have less expensive glued-on shells. Retail prices start at $20 plus shipping. The Strada at $40 is an inexpensive buy if you want a model with more radical lines and rear point.

Avenir
The Avenir brand is distributed by Raleigh, and sold online as well. They have a variety of molded in the shell and taped-on models, mostly with moderate rear points, rear stabilizers, pinned-on visors, and prices ranging from about $15 to $40. Models include:
Rush: Molded in the shell with a two-piece shell covering the lower foam, three rear points. Retail is $40. Escape: Molded in the shell. $30. Also available in pastels as the Devine Escape for women. Sonic: Taped shell, dial fit, moderate point in rear, reflective material in rear. $25. Sonic Jr.: Toddler helmet with ring fit, dial adjustment. $15 retail. Ranger: Youth model (ages 5 to 11 suggested) with taped shell, rear point. $13 retail. Avenue: Taped shell, rear point. $20. Ginger: Youth model with taped shell, minimal rear point, pastel colors.
As usual, prices are less online, but often do not include shipping. Azonic/O'Neal USA has mostly hard shell, no-vent full face helmets for BMX. They have removable inner liners for cleaning and the standard large bolted-on BMX visors, always a potential snagging hazard. Most have the fidlock buckle, held closed with a magnet.
Exile: new for 2012, a bicycle helmet with extra rear coverage. Has ribs and points, as well as large vents. Ring fit. Retails for &80, and worth a look for the extra coverage. DH900 Carbon: Azonic's top of the line downhill mountain bike model, with a full-face carbon fiber shell. Lighter than the O'Neal brand motorcycle helmets, but meeting only the CPSC standard. Round and smooth, with vents and a big BMX-style visor to snag on. Retails for $200. Airtech: A full face model minimal vents. Round and smooth with a big visor. Available in brighter white graphics. Retail is $130. O'Neal motorcycle models: in its motorcycle persona, Azonic/O'Neal has a number of very protective full face motorcycle helmets. They are made by KBC in Korea or THH in Taiwan, and are certified to DOT, European and Australian motorcycle helmet standards, tested to impact levels that exceed by a wide margin any bicycle helmet standard in the world. Some of their models are designed to fit with neck braces. They include the 8 Series, Azonic DOT, 3 Series, 5 Series, 7 Series, Tirade and Monster.
Azonic helmets fit sizes from 54 cm/20.5" to 64 cm/25". Barbieri Accessories began in 1985 with a revolving brush chain cleaner, adding other accessories like carbon fiber and titanium mini pumps. Perhaps to round out their accessory line, they have two adult helmets and one toddler model. All are certified to European standards.
Helmet3: a 2009 road model, molded in the shell, with larger vents. Helmet2: Another road model introduced in 2009 with glued-on shell. Helmet: Barbieri's original model, with a distinctive bumpout in the back. No longer in their web catalog but still on the website. Kid Adjustable: A vented toddler helmet with ring fit and taped on shell. Also comes as the Kid Small, apparently in a smaller size, but also with a ring fit.
BBB (Bikeparts for Bikers by Bikers) is an aftermarket bike component manufacturing company founded in the Netherlands in 1999. They distribute a wide variety of bike parts and accessories, and have been expanding to new markets. In Europe they have 21 helmet models. Some part of their helmet line may reach the US as well. High end models have anti-bacterial pads and insect mesh in the front vents. Most have reflective rear stickers. BBB attempts to position itself as a value brand.
Varallo may be the most interesting helmet in the BBB line, a molded in the shell "mountain bike" helmet with chunky lines and possibly more coverage in the rear. Recessed strap anchors, visor. Falcon is the top of the line road model, molded in the shell with carbon fiber and aluminum reinforcements. The vents are vert large. It has the usual high end points at the rear, nicely recessed strap anchors and flip-open strap adjustors. There is a visible white option. Retail is about 200 euros. With visor it's the Everest at about 10 euros more. Also comes as the Fenix without the carbon and aluminum for about 100 euros, and in that version as the Moco with a visor for a little more. Griffon has a more rounded rear profile than the Falcon, and is molded in the shell for about 65 euros. Also comes for a little more as the Taurus with visor. Kite: road model, available with visor as the Elbrus. Hawk: a molded in the shell road model with large vents and a pronounced rear overhang, also available with visor as the Jaya. Traffic: a nice take on the commuter style, with lots of vents and a very rounded profile unfortunately spoiled for no good reason by a pronounced lip sticking up at the top. Rapido: No side vents, and the camo model has a definitely military look. Also available as the Police model in white with Police markings. Available only in size medium. Tabletop: a classic skate-shape. Child and toddler: BBB has at least six child and toddler helmets. Tribase: time trial model with a medium long tail in back and four narrow adjustable vents. Can be found for less than 100 euros.
Most BBB helmets fit heads from 52 to 62cm, with the toddler models going as small as 46cm. Bell is still the largest company in the bicycle helmet market. They also own the Giro brand. They have been making bicycle helmets since 1975. We spend more space on their line than most others because people want the info.

In 2009 Bell announced a new fit system called True Fit for some of their discount store models. It attempts to make fitting easier and more automatic, and in our testing it succeeded. You can check it out on our True Fit page. For 2010 they brought a similar system to a few of their higher-end models, including the Splash kid's model below and the adult Giro ProLight. In the bike store line it is known as One Step, and is not designed to work as well without adjustments. Help with fitting is part of what you are paying for in a bike store, after all. There are more of them in 2012.

All of Bell's adult and youth models are now molded in the shell. Their toddler helmets and their mass merchant line have taped on shells. All of the models below come in white or at least one bright color combination. We found that the straps on many Bell models would not stay in place when adjusted despite their "cam lock" side pieces, and would have to be sewn or locked with rubber bands snugged under the strap fittings to hold the adjustments, but that is a common problem.

Some Bell models have a no-pinch buckle with a tab behind it that keeps the skin from getting in while you push the two pieces together. It is now included on some adult models, presumably for seniors and others with loose neck skin.

This year's Bell models include:
Muni: a 2011 model that replaced the Citi as Bell's commuter helmet. It also comes as the Arella in women's colors. Nicely rounded "urban commuter" profile, of course, with a full-cover shell. It has Bell's One-Step fit system, more fiddly than the True Fit models in discount stores. The buckle is the ratcheting tab one until now found only on Abus and Uvex helmets. It has the advantage of readjusting the chin strap every time it is fastened, and could possibly be snugged up while riding if sweat causes the strap to slacken.





The Muni has a visor with a rain gutter, and a flimsy but very adjustable mirror at extra cost that unfortunately requires you to use the visor. It comes standard with a pair of blinking LED lights built into the rear stabilizer, and it accommodates the optional Bell/Blackburn Flea series of very small head and tail lights, including one that comes with a solar charger and a "fuel gauge." Unfortunately the front Flea light also mounts on the visor. Has a bright yellow option, or white for the Arella. Retail for the Muni is $65. Bell has a YouTube video up on the Muni. Other well-rounded Bells include the Sequence and the Variant below. For a less expensive but equally well-rounded alternative, see the Impulse below. At $15 to $35 it is still molded in the shell, and seems like a real bargain if you can still find it at Wal-Mart's $25 price. Volt: again this year the top model in the Bell lineup. It has pronounced rear points, with some exposed fiberglass cloth used for reinforcing and "composite fiber intake" accents to open up larger vents. Has a lower shell for full cover, and antimicrobial padding, a questionable feature. Comes with matching visor and plugs for the visor holes when you don't use it. Sells for $175. Array: somewhat similar to the Volt but lacking the fiber vent edges. On the plus side, the rear points are considerably less sharp than the Volt, so you pay less for a better external configuration. Visor and visor hole plugs. The retail price remains at $100. Lumen: resembles some older Giro models, with rear points and many long vents. The shape is at least compact. It retails for $65. Sequence: the round, smooth model you should check out if the Muni or Citi are too round for your taste. It has enough edges and ridges to retain design interest. Bell is pitching it to mountain bike and city riders. Most colors seem drab, but there is a visible white option. Vents in the Sequence are larger than the very similar Variant below, and considerably larger than the Muni. So is the price, at $90. Variant: pitched for mountain biking. Like the Sequence, it has the new "compact" shape without an elongated rear, and qualifies as a "rounder, smoother" helmet, although it has one tiny shelf sticking out in the rear. It has top and bottom outer shells for full cover. Retail price is $80. Citi: the same profile as the Metro that started the "urban" bike helmet models in 2005, this one was dropped from Bell's lineup during 2011, replaced by the Muni described above, but it is still available online at lower prices. The nicely rounded exterior was originally pitched for the commuter market but found acceptance with many riders who use it for touring. The Citi was one of only four helmets rated by Consumer Reports in their June, 2006 article as providing superior impact performance and awarded the Best Buy tag. It came with plenty of vents and a visor. It had only partially recessed strap anchors. It had a useful ponytail port in the stabilizer for those with long hair. There was a flimsy "flip mirror" that folds back into the visor for storage, and a red LED flasher that attaches to the helmet's strap in the back. The Citi came in visible yellow, but not in white. There was also a glow-in-the-dark shell option. We don't recommend the "brown leather" version with rubberized finish that could increase sliding resistance. Bell put reflective trim on both helmet and strap. For a less expensive but equally well-rounded alternative, see the Impulse below. Slant: full-cover shell and three modest points in the rear. The Slant was one of only four helmets rated by Consumer Reports in their June, 2006 article as providing superior impact performance and awarded the Best Buy tag. Worth a look for that reason, despite the points. Retail is $55. Sweep: Bell's top of the line back in 2007, with 11 choppy points on the rear giving it a porcupine effect. Molded in the shell with a lower shell. Visor. Retail is $140. Influx: Listed as a mountain bike helmet, molded in the shell with visor and a modest rear point contributing to the overall elongated shape. The Influx is available only in the US, but what appears to be the same helmet is available in other markets as the Alchera, or with visor as the Delirium. We have an email report from one European buyer that his Alchera was certified to the CPSC standard. Retail is $65 in the US. Venture: Bell's "entry level" $40 molded in the shell helmet, with a single point in the rear. The same design is known as the Solar when it has no visor, and the Vela with feminine graphics. The extra large size is the XLV, fitting heads up to 65 cm (25.5 inches) in circumference. (See our page on helmets for large heads for more info.)All have a one-size-fits-all ring fit. Retail is still $35 for the Solar and $40 for the others with visors. The same design is also available as a "youth" helmet as the Alibi with multi-color graphic designs and a visor, retailing for $40 or as the Trigger without visor for $35. This is the least expensive Bell model for adults and youth sold in bike stores, and probably one of the better values in the Bell lineup, along with the Deuce/Impulse reviewed below under Bell's discount line. Tater: a new 2012 model that replaced the Dart and Splash helmets for toddlers and for kids over 5. It has Bell's One Step fit system for easier strap adjustment. Bell has used softer internal fit pads and upscale strap webbing to distinguish it from the less expensive True Fit models at Wal-Mart, and it still requires some adjustment. Molded in the shell with bug net in the front vents. Retails for $35. Javelin: a long-tailed chrono model for time trials. It has flexible side pieces to make it easier to get on and off, and a channeled liner with two front vents. Ring fit. Has a removable face shield. The tri-glides--side buckles--are fixed and cannot be adjusted, but this is not a True Fit helmet, so be sure to try it on before you buy and try to yank it off to see if it will work on your head. Retail is $200. Drop: a full-face downhill mountain bike racing helmet with chinbar. It has a fiberglass shell, small vents and the well-rounded shape that is traditional in BMX helmets. It also has the traditional bolted-on BMX visor. It has a full chinbar, but like most other downhill racing helmets there is no impact foam padding in it. The Drop has a roost guard to keep dirt kicked up by riders ahead of you in the pack from getting into your helmet. The Drop resembles a motorcycle helmet with vents. It meets the ASTM F1952 downhill mountain bike standard, tougher than the CPSC standard. Bell lists the weight as 37 ounces (1048 gr.). Sizes run from 51 to 63 cm (20.1 to 24.8 inches) in head circumference. Retail is still $130. Sanction: A 2011 BMX/downhill full face model that replaced the venerable Bellistic. Does not meet the ASTM F1952 downhill mountain bike standard, so its impact protection is not as good as the Drop. It still has a fiberglass shell, however, a nice feature at this price point. The largest size is 60 cm/23.6". The retail price is $85. Faction: Bell's classic skate model is a hard shell design with a dual-density foam liner. The Faction has the round, smooth exterior of the classic skate helmet, with small rectangular vents on top, front and rear. There is a nice selection of colors and graphics including visible white and magenta, and flowers for the girls. The Faction retails for $40 to $45. Bell also produces the Fraction, a scaled-down version for small heads. Bell's catalog and packaging say that these two models have dual certification to both the CPSC bicycle helmet standard and the ASTM F1492 multi impact skateboard standard. See our Dual Certified page for more on that. Those we have found on the market do not say F1492 on the sticker in the helmet. We are disappointed to see that from any manufacturer, although a loophole in the ASTM standard used to require only that the helmet sticker say "for skateboarding or trick rollerskating" and did not specifically require the number of the standard. That loophole was eliminated in 2011, but we have not checked any 2012 stock yet.


Bell's European Market Helmets

Bell has helmets made to the CEN European standard that according to Bicycle Retailer and Industry News will not pass the US CPSC standard and cannot be sold in the US market. Foremost among them is the Bell Meteor II chrono helmet for time trials. This is one you may have seen in Tour de France time trials. Models sold in Europe, even with the same name as a US model, may meet only the European CEN standard required there, not CPSC. Buyers have to check the sticker inside to be sure.

Bell's Discount Line

Bell has a separate line of low-priced helmets sold at discount stores and mass-merchant outlets. (More than one fourth of the company's sales are through Wal-Mart alone.) They are occasionally related to models from the bike store line. These cheaper versions generally have low-end graphics, chintzy fit pads, slippy straps and cheaper packaging. Most do not have rear stabilizers. But they are designed to the same CPSC standard as any other helmet on today's US market, so they provide fine impact protection if adjusted carefully. You may need to either sew or use rubber bands under the edge of the buckles to hold the adjustments, but that is true of some of the most expensive models. The $10 models seem to have disappeared from Wal-Mart shelves. The medium-priced line starting around $20 fit better anyway. Many of these helmets are still produced in the US--millions of helmets each year--but labeled as containing US and Chinese components. Unfortunately, Consumer Reports does not even test the helmets in this line, since the model names change and go out of date by the time their article is published.

The rounded profiles we consider optimum have always persisted in this line, since they are cheaper to produce. Models include the adult Reflex, Radar, Adrenaline, Impulse (see below), Bellisima, Escape, Explorer and Shifter. The Radar/Adrenaline/Bellisima got Bell's True Fit system in 2009. Youth sizes include the Edge, Aero, Blade and Strata. The Aero and Blade also got Bell's True Fit fitting system in 2009. Child helmet models are the Star, Racer, Rex and Blaze/Bella. The Racer and Rex got the True Fit system in 2009. The Blaze has ten LED's that are run by a motion-activated circuit "for fun effects." It has the usual taped-on shell, poor strap fitting pieces that do not lock, and sells for $20. We don't know how the battery is replaced. Toddler helmets include the Bambino, Shadow, Zoomer, Bellino and Beamer / Bling. The Beamer has the ten LED lights. The Zoomer, Bellino and Beamer/Bling got the True Fit fitting system in 2009. Many of the names are for the same model with different graphics or packaging.

Some models in the low-priced line deserve special attention. Bell recalled their Exodus full-face model in May of 2011. We have more on our recalls page. It had been sold at Wal-Mart and on Amazon. It was a youth sized helmet.

On a more positive note, the Impulse/Impulse Headphones/Vogue/Shifter-Cruiser are the same helmet in adult and youth sizes. This model has the same radically round, smooth shape of the Bell Citi. It is molded in the shell, a higher-quality construction technique that is unusual in the discount store series. It has reasonable vents, and the upscale camlock strap adjusters. The price will likely be right when you find it in a big box store. We found a sample at Wal-Mart in 2011 for $30 and Toys R Us also had them for $30. The Impulse is made in USA of US and Chinese components.

Bell has two more low-priced molded in the shell models in this line: the Escape and the Explorer in youth size. We don't know the designations in the adult size. The Escape is a compact shape model with a minimal rear point that mostly meets our rounder, smoother criterion. The Explorer has pronounced rear points. Both have the upgraded strap fittings. We don't have retail pricing for them, but it should be in the $30 range. Our local Wal-Marts usually have one of Bell's molded in the shell models, but the pricing is moving up somewhat.

Bell's skate-style models in this low-priced series include the Rage, Psycho, Maniac, Bike Candy, Coaster and Wicked. Again, the names designate graphics and color differences more often than model differences. Some are said by Bell to be dual certified to the CPSC bicycle and ASTM F1492 skateboard standards, at least in the medium and large sizes. They may not be dual certified in the small size.

This line sells for low prices: $20 to $40. Some models are available to non-profits in large quantities for much less than that, through an arrangement for Safe Kids International. Because of Bell's name recognition, they are among the best sellers in the low end market. (Check our page on inexpensive helmets for further info on sources of low-cost helmets from various manufacturers for helmet programs.) Bell also produces toddler, skate and child bike helmets for the Fisher-Price brand, and you may see them as X-Games, Barbie, or Hot Wheels brands. Some models come bundled with bike or skate accessories.


Bell's Replacement Policy
"Consumers who damage their Bell helmets in a cycling accident within 3 years of purchase are eligible to receive 30% off the MSRP of any new Bell helmet. Consumers can take advantage of the Crash Replacement program by sending their crashed helmet directly to Bell Sports or by visiting any participating Bell retailer. Bell retailers are not obligated to process crash replacement helmets. Dealers who do not want to participate in the program can refer all crash customers to Bell Sports Customer Service."

In 2004 Bell Sports was purchased by Fenway Partners, a private-equity holding company. The Giro part of Bell was included. Through Fenway, Bell Sports in early 2005 repurchased the Bell motorcycle helmet manufacturing company that it had spun off in 1991. Then Bell merged with Riddell, known as a football helmet maker. In 2006 Riddell Bell merged with Easton Sports, and after 2007 the company has been known as Easton-Bell Sports, owned by Fenway Partners, Jim Easton, and The Ontario Teachers Pension Fund. Most consumers are probably unaware of any of those changes, and as far as we can tell the changes have had no effect on the company's technical competence or product quality. Bern's helmets are skate or ski shaped, so they are very well rounded except for the rigid visor on one. They have small vents, and none has enough ventilation for hard bicycle riding in warm weather. Some of them use Brock Foam, a formulation that provides multi-impact protection, but those are called hard hats rather than helmets and Bern says they "do not meet action sports head protection standards" but may work better in lesser multiple impacts to prevent concussion. Just don't hit too hard! Their catalog is very clear on the helmet liners that meet impact standards and the ones that do not. You can check the sticker inside to be sure. Caution: some of Bern's models come with different liners that do or don't meet the CPSC bike helmet standard. That includes their Macon, Brentwood, Watts and Brighton models.

Bern has a trademarked Zip Mold foam that they say uses liquid injected foam that is molded in the shell and is used in helmets that meet the CPSC bike helmet standard. It is expanded polyurethane (EPU) a foam in use for many years by a few Taiwanese manufacturers.

Some Bern helmets have interchangeable liners for water sports, ski and winter sport use, including underneath layers and a knit winter cap. There is a ponytail port on ladies models. There is a channel in the foam liner for glasses and a removable goggle strap clip on the rear.

Bern is unique among the manufacturers in this writeup for making different helmets for women. Their women's models are not just pastel color and graphics changes, but different helmets made with different molds. Sizes are smaller, and there is more room for hair.

For 2012, Bern's models all have hook and loop adjusted rear stabilizers, unusual in skate-style helmets.

Bern's big news for the 2011 season was its G-2 model, with the rounded commuter shape and larger vents than a skate helmet. The vents can be closed if needed. It meets the ASTM F2040 snow sports standard, and can be used with a knitted cover for winter. Retail is $100. Other bicycle models include the Nino for kids, also meeting the CEN and CPSC bicycle helmet standards and the ASTM F2040 ski helmet standard. There is a visible white option. The girl's model is the Nina, in white and pastels. Retail is $200.

Bern's sizes range from 48 cm in the Nino model to 63.5 cm. in the Macon and Brentwood models. Those two models have three sizes of shell, with fit pads handling the intermediate sizes.

Some Bern models with EPS or Expanded PolyUrethane (EPU) "Zip Mold" liners are sold in the US market, labeled with stickers certifying that they meet the CPSC standard and the ASTM F2040 ski helmet standard. That would include the Brentwood, Berkeley, Brighton, Carbon Fiber, G2, Nino, Nina, Macon and Watts. But the multi-impact Brock foam version of the same models would not meet CPSC. It could not be sold here as a bicycle helmet, but could legally be sold as a skateboard helmet. Others are certified to the CE 1385 Canoe/Kayak standard. No Bern model is listed as meeting the ASTM F1492 skateboard helmet standard, although most of them are skate style helmets made for use by skateboarders.

For rounder (Asian) heads, Bern has a special pad kit they call the "Japan Fit" kit with top pads and inserts for their "Hard Hat" models that convert them to fit rounder heads. The kit can be ordered directly from Bern. Longer heads are accommodated by adding fit pads on the sides.

The side strap adjustors on Bern helmets hold very well, among the best we have seen. They are Bern's own brand. For 2012 Bern has some bright neon colors in their line.

Retail prices for Bern's models are in the $45 to $110 range, but can be much higher with options, and the carbon model is $200.

Bern will replace crashed helmets with EPS (one crash) liners for half the retail price.
Bianchi markets team helmets to match their bikes. They have several models, mostly available in trademark Bianchi celeste blue. The helmets are made by Lazer of Belgium, and correspond to Lazer models of the same number. We found two Bianchi Road models with CPSC certification on the Bianchi Web site. The profile is reasonably rounded. They fit head sizes 52 to 64cm. Biologic has a unique folding helmet called the Pango. It was formerly marketed by Dahon in Europe. It is the most interesting design of the folding helmets we have seen over the years. It has a round, smooth profile, although the surface is a plastic mesh. Here it is unfolded:




Then the sides slide up into the top.




And the back folds down.




Here is a YouTube clip with Biologic's Josh demonstrating the folding and unfolding, and the ratcheting fit using rear tabs. Fits 55 to 61 cm heads. Outer panels are replaceable. The only other currently available folding helmet we know of is the Stash. The Pango is still not certified to the CPSC standard, so it will not be available in the US, Canada, Australia or New Zealand. It is no longer listed among Dahon's safety accessories. The Biologic version has a visible white option, and still retails for $129. Biologic is an international company, shipping from Taiwan. BiOS is a French company founded by a neurosurgeon whose marketing says their helmet is based on head anatomy rather than testing to standards. Their pitch:

"The cranium comprises zones of maximum resistance called also the resistance pillars of cranium and fragile zones. Certain fragile zones are crossed by arteries located in furrows situated on the inner surface of the skull. The fractures of the fragile zones may wound the brain by intracranial haemorrhages.

BiOS is the first helmet in the world designed to distribute the impact in a way adapted to the resistance of the various zones of the head. Because of its patented anatomical design, BiOS better absorbes the energy by deviating the impact towards the resistance pillars of the cranium and thus better protecting its fragile zones."

There are few skull fractures in bike crashes if the rider is wearing a decent helmet. It is difficult to see how redirecting impact toward stronger areas of the skull could protect better against the total g forces to the brain that are causing the injury.

In addition, the helmets are claimed to be less bulky than traditional helmets. The liner is thin overall, but has a separate raised ridge of thicker, harder foam glued in, in a front to back arc that runs along the side of the head. It also has small patches of a squishy foam at the temples and in the rear, with a diamond of the same material right in the middle of the upper forehead. The only advantage we can see for that kind of liner complexity is a weight saving, at a possible disadvantage of raising the point loading on the skull in the spots where the foam is thicker and harder. The manufacturer may be betting that the skull can take more load in that area, but we would not, since impact angles vary so much, while heads move around in helmets and you can't say for sure where the harder foam will contact the skull in a real world impact. Thinner helmets have to stop the head in less distance than thicker helmets, so they stop the head faster. That's based on the laws of physics that cannot be repealed by tricky design.

Bios also maintains that the design is adapted to brain vulnerabilities and not just to skull strength.

BiOS says their helmets are for bicycling, roller skating, skateboarding, kite surfing, rafting, kayaking, jet skiing, paragliding "and other outdoor or indoor sports." The only statement we can find on their site says: "BiOS was tested in conformity with standards NF EN 1078, NF EN 1385. The results are spectacular: up to 6 times better than the requirements of the standards." There is a video clip of a BiOS helmet in an apparent CE test, with a 38g peak acceleration. That would indeed be a truly spectacular result, and about 1/6 of the permitted 250g in the test. A sample of the helmet that we bought in December of 2008 has a CEN sticker inside.

An analysis of one crashed helmet leads BiOS to say that in that particular crash, "All these numbers demonstrate that the protective capacity of the BIOS during this real impact was at least 3 x 2,5 x 5 = at least 37.5 times better than required by the standards." There is more info on their French page than the English version.

Prices on the Web site are reduced this year to 99 euros, plus shipping of another 10 to 21 euros. There are custom logos available for 19 euros more, reflective stickers for 10 euros, extra pad sets recommended for "intensive use" at 6 euros for a pair and a signature model for an additional 100 euros. We paid $148 US with shipping for the sample we ordered in December of 2008 before prices were lowered. It came reeking of cigarette smoke.

BiOS models fit heads from 53 to 61 cm. BiOS offers custom made-to-measure helmets designed for your head for an additional 50 euros. The site says they are custom molded, but there is no selection for a size greater than 61cm.

At the bottom of the BiOS websites appears a small "Made in France." Bios informs us that all of the major components of their helmets are made in France.

BiOS will replace a helmet for the original owner if it is structurally damaged by a head impact for 10% to 50% of its original price depending on "the importance of the head impact." They don't explain that further on their Web site. The offer is valid for the Carbone and Bix for 2 years after the original purchase date, and for the Anatomic for one year.

BiOS informed us in April of 2008 that they were looking for a local manufacturing partnership in North America for the US and Canadian markets. Bravo (or "Bravo?" with a question mark added) is the house brand of Asctechs.com/El Sol Trading. They have Signature Series and Classic Series skate-style helmets said to be certified for bicycling, inline skating, skateboarding and snowboarding. The helmet has the classic skate shape. If the Web site is to be taken at face value, it would have to be dual certified to bicycle and skateboard standards, but searching their site for "standard" did not return any hits. The helmets also have "a special moldable inside to mold the shape of your head after just a few days of wearing." We don't know what that may be. Sizing on some is given by measuring your head, but others are labeled "one size fits most." Pricing is in the $25 to $50 range, and there are some bright colors including chrome along with the usual black and moss green. Asctechs has motorcycle helmets as well, labeled as meeting the DOT motorcycle helmet standard. Bravo Sports is an importer of many types of equipment. They import helmets labeled with various brands for mass merchant channels such as Sears, Target, and Toys R Us. They have a line of skate helmets under the brands Kryptonics, Pulse, VFX Gear and World Industries. We have not seen the helmets and do not have their retail pricing. The Web site says at least one helmet is "ASTM/CPSC and Skatepark approved." But without including the ASTM standard number, it could be just F1447, the bicycle helmet standard that is identical to the CPSC standard. And "Skatepark" means nothing. In fact at least one of their pages mislabels the CPSC standard in a statement "World's aggressive helmet complies with CPSC 1203 Standards for Bicycle and Skateboarding." The word skateboard does not appear anywhere in the CPSC standard, so they just added that, and we consider it misleading.
Briko is an Italian company who began breaking into the U.S. market over ten years ago but has been slow to push its line here. Briko changed their line completely during 2008, and trimmed it back considerably for 2010. All are molded in the shell. Most have bug net in the vents. All are listed as meeting the CEN 1078 bike helmet standard and some meet the US CPSC standard. Our retail prices are outdated. Their models include:


City: the new model in Briko's 2011 lineup, a round and smooth commuter model with what appears to be additional rear coverage. Molded in the shell with good strap fittings that hold well. Retail in the US is $100. Mustang and Mustang Carbon: The top of Briko's line. An updated compact design, nicely rounded with a minimal rear point. Has an internal carbon fiber cage and a lower shell covers almost all of the foam in the rear. The carbon model has exposed composite. Nicely recessed strap anchors and excellent strap fittings that should hold adjustment very well. This one meets the CPSC standard for the US market. Retail is $140, or $190 for the version with an internal carbon frame. Morgan: an older elongated road model with a pronounced rear point. European model. Also comes as the Morgan Light with LED lights front and rear powered by a rechargeable battery. Quarter: Another elongated road model with many vents and substantial points in the rear. European model. Shire: introduced in 2010, an elongated design with many rear points. Shares the same excellent strap fittings with the Mustang. Retail is $65. Paint: a youth (small) helmet that is reasonable well rounded but has a strange profile that rises in a flat plane to a ridge before dropping off in the rear. Comes in bright colors. European model. Pony: toddler model with vents and a very nicely rounded profile. Molded in the shell. Has bug net in the front vents, and some bright color options. European model. Street: Briko's skate style model with hard ABS shell and small vents.
Cannondale returned to the helmet market in 2012 after a long absence. They have one standout model--the Teramo. It is the only bicycle helmet in the US market that is built with a cone-head dual-density foam liner, and only the Teramo has it. All of the models are molded in the shell. We have not seen their line yet, so these comments are based on their Web site and emails with Cannondale staff.
Teramo: a road helmet with long rear snag points. Cannondale's only model with a cone-head dual-density foam liner, including one less-dense foam layer to crush more easily in low impact hits and perhaps help prevent a concussion. The second, more dense, layer has cones that project into the softer layer, designed to provide a gradual transition as the foam crushes. This may be a worthwhile design feature, but we don't have testing results to prove that. Retail for the Teramo is $110.
Ryker: a more compact road model with better-rounded rear profile, but a single-density liner. Retail is $80.
Radius: road model with rear points. Retail is $60.
Quick: the value helmet in the Cannondale line is a road helmet with projecting rear shelf. Still molded in the shell at $40 retail.

Cannondale helmets are made in two sizes to fit 52 to 62 cm heads.

Cannondale says their helmets meet the appropriate standard for the market where they are sold, so we would not buy one of their European models that was certified only to the CEN standard.

Cannondale will replace your crashed helmet for 50% of the retail price, but there are many requirements to meet.

Capix is a Canadian brand marketed there through the Canadian Tire stores. Most of their helmets are skate-style models with ABS hard shells, but for 2012 there is one molded in the shell bicycle model, the Hellion. It is a nicely rounded urban commuter style hemet with reasonably large vents. The side strap buckles do not hold well. Retail for the Hellion is $50. Carnac, a noted French bike shoe maker, introduced its first helmet model, the Hades in 2010. The Hades is constructed with uniquely angular planes rather than flowing or aerodynamic lines. In black, it appears to be inspired by the F-17 Stealth fighter plane, itself a 25 year old design that is being phased out. The Hades is molded in the shell with slippery strap adjustors and a padded chin strap. Sizes fit 54 to 62 cm heads. We find little to recommend about it, unless you like the unusual style. When certified to the CPSC standard it can be sold in the US, and should retail for about $280. Carrera is an Italian company better known for winter sport helmets. Their helmets have Italian stylishness, moderate to large rear points, large vents, and some reflective trim. All are molded in the shell. We don't know which models are CPSC certified for sale in the US market. All of Carrera's models are available in bright visible colors, and have good locking side buckles on the straps.



Radius: an elongated shape with unique aluminum cross braces between the vents, and Carrera's top of the line. The same shape with different trim and features comes as the Razor, C-Storm, Artiglio and Aria. Cyclone: molded in the shell with a lower shell coming all the way down, with a rounded top profile and a compact shape but ending in a moderate but high point giving it a blocky appearance in the rear. Blitz: lines sweep around to points in the rear. The same shape with different trim and features comes as the Gravity and Breeze. Daytona: lines sweep around to the rear, but this is the compact shape with minimal rear points. The same shape with different trim and features comes as the C-Trail and the Krystal. Velo-CT: larger and fewer vents, with the compact shape and a modest rear shelf. The same shape with different trim and features comes as the Grip. X-01: Carrera's skate model, in the classic skate configuration. Pepe: a toddler helmet with vents along the centerline and bug net in the front vents.

Carrera has developed a new folding helmet dubbed the "Accordion" model. It is not yet in their catalog, but here is a Youtube clip showing it in action at the Eurobike Show in August, 2012. Casco is a German company whose helmets we do not see in the US market. In addition to about a dozen bike helmet models they make helmets for equestrian, snow and firefighting use. Their Upsolute models are molded in the shell. They make some of the roundest, smoothest shell configurations available. Some are unique designs, but our descriptions come from the Web site and catalog since the only Casco model we have seen is the Warp II. Their Web site info on standards includes only CEN and the German DIN standard, not the US CPSC standard, probably explaining why we do not see them in the US market. For 2011, Casco informed us that they are looking into CPSC certification, and we hope to see them here soon.

The Web site says that molded in the shell CASCO helmets with their add-on Monocoque-Inmold are heat-resistant up to 100 degrees C (212 degrees F), a claim we have never seen before from any manufacturer. Baking EPS foam at that temperature for any period of time normally results in deterioration, with the foam eventually turning yellow and shrinking. And the only really heat-resistant shells we know of are fiberglass, not the plastic Casco is using. Casco also advertises an aluminum "roll bar" reinforcement in some models. All are apparently ring fit. Most come in two models, fitting 52 to 57 cm heads or 58-62 cm.

Casco has several models with nearly perfect round profiles and numerous vents. Those CEN-standard helmets would be worth a look if you are willing to settle for less than full CPSC protection. Our

Casco models include:

Warp Carbon: an almost perfectly round and smooth track sprinter/pursuit helmet with an above-the-nose shield completing the rounding. It has 12 tiny vents that look like hollow rivets, costs 260 euros and only meets the CE standard, but the shape is flawless for crashing. It has a section of six raised rubber dimples in the rear to lower air adhesion there. Casco claims it is equally flawless for aerodynamics and that since the aero tails on other chrono helmets are seldom in the optimal place during track racing, they actually add wind resistance. This seems like a reaction to the aero tails that have set the fashion in bicycle helmets for the last decade, and apparently it is selling well in Europe for the riders who actually do benefit from the round aero advantage.





We were surprised by the quality of the detailing on the Warp II sample we bought. The same shape has been used in other Casco helmets, without the face shield and with different construction. Retails for 260 euros. E-Motion Cruiser: designed for users of electric bikes, the E-Motion looks a lot like the Warp II, with a very round, smooth profile and tiny round vents. Also comes as the E-Motion Air Control, eliminating even the tiny round vents and using small rear vents that can be closed by a slider. It is also sold as a ski helmet. Meets only the CEN bike helmet standard. Retail is 140 euros for the Cruiser and 110 euros for the Air Control. Ares Mountain: a conventional road helmet with points everywhere, and a roll bar visible in the center vent, retailing for 170 euros. Molded in the shell. The bright red model has a color-matched red visor. One mm larger than most Casco models, fitting 55 to 63 cm heads. Retail is 180 euros. Becomes the Ares Road when sold without visor, for 170 euros. Activ-TC: an urban helmet with a very round profile despite some angular lines, a very familiar profile available from a number of different manufacturers, but has a raised center ridge that seems out of keeping with Casco's normally smooth designs. Retail is 60 euros. Cuda: a very nicely rounded profile, almost as well rounded as the Warp, but with vents. Molded in the shell, with apparent extra coverage in the rear. If it met the CPSC standard it would be a strong competitor in the US with less-ventilated urban helmets. Retail is 130 euros. Daimor Mountain: molded in the shell with rear points, retailing for 90 euros, or 80 euros without visor as the Daimor Road. Also comes as the Rebell in youth size fitting 55 to 59 cm (21.7 to 23.2 inches) or the Rebell Lady for women, each selling for 70 euros. Viper MX: a downhill racing model in the older elongated form with a removable chinbar. Molded in the shell, with the aluminum roll bar. It retails for 100 euros plus another 60 euros for the chinbar. G2 Generation: a skate-shaped helmet with bicycle-style vents, with a nicely rounded shape and apparently very good coverage but a strange screwed-on perforated plate in the front. Molded in the shell. Comes as the Mini-Generation in a "junior" version fitting heads as small as 50 cm (19.7 inches). There is a Fun Generation in bright colors and small sizes, and an FM-Generation with more graphics. Retails for 40 to 50 euros. Skiller: a classic skate model with small vents retailing for 50 euros. Among the colors are camouflage grey and black models, presumably designed to make you less visible to other road users. Sportiv-TC: a very well-rounded road helmet similar to the Activ-TC but with more vents and a different visor. Has a raised center ridge that seems out of keeping with Casco's normally smooth designs. Retail is 90 euros. Urban-TC: a skate-style helmet with the Warp lines and a few small vents. Retail is 80 euros. The Urban-TC Plus looks very similar, but has more vents in the crown and retails for 120 euros. The Casco Scarab is sold by Kong as a four sport helmet. See Kong below.

Based on the Warp II sample that we have, we would like to see the rest of CASCO's line, and regret that they do not make CPSC-certified models.
Catlike is a Spanish company named for its founder, whose bicycle racing nickname was "the cat." All of their helmets are molded in the shell except the toddler model. Most of their line is designed to the European CE standard and sold only in Europe. The first attempt to import their helmets here ended in a recall in 2003. They have made changes in some of their models and are bringing them to the US. The strap side pieces on their models slip easily, a common problem. Their helmets are made in Spain of Spanish and Asian components. Our retail pricing is not up to date.



Whisper Plus: Introduced in 2006 and updated in 2007, the Whisper has a unique nubby outer shape and 39 small oval vents giving an almost Swiss cheese appearance. The external shape is less than ideal, but if you want something different you will not see many of these on the road. Molded in the shell. Often seen on European racers, and Mountain Bike World Champion Julian Absalon wears this one. Some very visible colors including orange. Strap anchors are mostly recessed. Retail is 180 euros, or $260 in the US for the CPSC-certified version, although it can be found online for much less. Sakana: a road model with long vents like fish scales. Tubes link the scales at the rear with one huge oval vent back there and an extended, sharp rear point. It should retail for about 150 euros. We would avoid this one. Vacuum: a road model with long curved vents and tiny rear points. It has a one-piece full cover shell and retails for 120 euros, or $170 for the US version. Kompact'O: molded in the shell with a full shell wrapping around the bottom and large oval vents. Has pronounced rear points as well as external strap anchors sticking up. Has a nylon visor with push-point attachments. There are many graphic combinations including solid and multi colors, some highly visible, some matching team colors. There are also women's colors. Lots of reflective trim. Retails for 100 euros, or $145 for the US version. Diablo: complete with small "horns" on the outer shell. Has rotating cam locks on the strap adjustments, but they still slip. Available in women's colors. Retails for 70 euros. Neon: a 2008 model with a blocky looking rear that rises to a point in a "ducktail" configuration. Molded in the shell with a one piece shell. Some vents that appear large on the surface neck down to a very small aperture on the inside. Urban Concept: a round profile urban helmet with long narrow vents and nicely recessed strap anchors. It has an integrated rear light. Fits heads from 53 to 64cm. The kid's version is the Twister, with the rear light option. Fits 48 to 52cm heads. Shield 2: an unusual helmet with a mostly rounded shape except for bumps upward in the rear profile. It has large oval vents. It has a "ducktail" effect in the rear, with what Catlike says is additional lower rear protection. Molded in the shell. Bug mesh in front vents. Retail is $80. Gravity: a full-face downhill racing helmet. Chrono Double Duty: new for 2012, a long-tailed time trial helmet with flexible sides and a fully enclosed rear section. There are two versions: one is CPSC-certified for the US market, and one is certified to the European CEN standard. The US model has a smaller vent and a thicker liner with higher density foam. The rear is fully enclosed to avoid noise. Retail is $300 for the US version, including both clear and smoked face shields. Chrono Aero Plus: a long-tailed time trial helmet that meets the European standard. It is molded in the shell, and has two small vents in front and rear. It fits 55 to 60 cm heads. It retails for 240 euros. Aero Chrono WT: a long-tailed time trial helmet that is certified by Catlike to meet the CPSC and European standards. It is molded in the shell, and has one large vent in front and rear. The vents are in the shape of the Catlike logo, probably not chosen for its aerodynamic qualities. Ring fit, for 54 to 60 cm heads. It retails for $300 with visor. 360 degree: a skate style helmet with larger vents than most, probably reflecting Spain's warm climate. Fits 54 to 58 cm heads.

Dan Coyle of Corvalis, Oregon, produces wooden helmets that are unique. The shell is made of wood, machined from a block of wood and treated with "HMVK Polyurea impact shielding." Some of the interiors are made of sustainable cork, but the ones that would perhaps pass a standards test are lined with conventional EPS liners. There are four models, including one shaped like a classic skate-style helmet. They are nicely rounded, with no snag points, and all have round vents. The maker says that some models will pass the CPSC standard, but he has not had a full test series done for certification. We don't know how they would test after soaking in water for 4 hours as required for the wet sample, and we don't know how you would test one-off creations when five identical samples are required for lab testing to the CPSC standard. For that reason we don't consider these as bicycle helmets. Weight could be considerable, and splintering on impact might be a hazard. The maker says the wood shell aids in impact management. They can even build to a custom size or shape. Available only from Coyle, and we have seen only photos on the website and blog reports so far. Prices are in the $250-and-up range, depending on choice of wood and liner. This German company has an extensive lineup. Some of their models are for Europe, while others are also available in the U.S. market and meet the CPSC standard. All of their adult helmets are molded in the shell. All have at least some reflective trim. The company has developed a bright red 6 LED flasher that can be added to the rear stabilizer of any Cratoni helmet for $15. Cratoni's strap fittings seem to hold better than many other manufacturers, including the side pieces that lock by twisting a cam. Some of their models have an optional rubbery surface that we don't recommend due to concern about sliding resistance in a fall. Cratoni has several models that they sell in Asia just by changing the interior padding to fit rounder heads. (We have a page up on fitting rounder heads.) We don't have their current pricing.



Evolution: new for 2011, a very round, smooth urban helmet with a visor and an optional face shield. Other options include a magnetic rain cover that covers all of the vents and a built in LED rear light. C-Stream: Cratoni's largest helmet. A blocky-looking road model with the compact shape that a gives a rounded profile despite the style lines and ridges. The largest size fits up to 65 cm (25.6") heads. C-Bolt: another road model with larger front vents. With visor it's the C-Tracer. Bullet: Cratoni's 2010 entry in the lowest weight competition, said to weigh just 180 g and to be the "Road helmet for weight fetishists." The older elongated shape, with rear points and the partial shell strips pioneered by Louis Garneau a decade ago. This one would be CEN-only, not a CPSC helmet, so you won't see it in the US market. With visor it is the Rocket, adding 15 additional grams. Terron: the top of Cratoni's line is a 2009 design with huge vents and an unfortunate flair upward in the rear leaving a pronounced point. Carbon reinforcing. With visor it is the Terrox. Ceron: updated with a new liner for 2010, another hyper-vented helmet with sharp shell lines and the usual rear points. Molded in the shell, with a lower shell as well. Uses carbon fiber reinforcements, with the bridges visible in the front shell. Ring fit, and fits longer heads well. The scarlet and white versions are bright and visible. Also comes as the Achillon with a pin-mounted visor. Titan has an interesting style with large squared off ribs and large vents. The rear is compact and rounded although it has a bumpy profile. It is molded in the shell with three shell pieces. Retails for $90. Cratoni sells this helmet in Asia with pads shaped to fit Asian heads. For 2010 they dropped the Titan Pro model that had an additional plate for mounting a camera. C-Wild: a compact design with angular planes and minimal points in the rear. Bug net in the front vents, metallic colors. There is also a C-Wild Women version. Zethos: an elongated model made longer by large rear points. Very large vents, with bug net in the larger front ones. It comes in small and medium sizes as the Zethos Youth. With female graphics it is the Zethos Women. Cratoni sells this helmet in Asia with pads shaped to fit Asian heads. Xenon: an elongated road model that is Cratoni's "value" helmet. Molded in the shell, with visor and bug mesh. C-Air Youth: introduced in 2008, the C-Air has a more compact shape with small rear points. Strap anchors are partially recessed. It also comes as the C-Air Women with female graphics. C-Maniac: a youth model in small and medium with a detachable face guard. It has a compact profile and minimal rear points. The chinbar is EVA padded. Rapper: Another youth model, with more squared-off lines giving it a snazzier appearance. Has a visor effect in front and a small shelf that hangs over in the rear. Ring fit system and bug net in the front vents. There are some bright colors available this year. Includes Cratoni's rear LED flasher. US model. Retail here is $30, down $10 despite the addition of the flasher, but in Europe it's going for 45 euros. C-Kid: a vented toddler helmet with a well-rounded shape and no rear point. Interceptor: Cratoni's upscale downhill racing model, with full chinbar, a fiberglass/carbon fiber shell and a visor bolted on. It comes in flashy graphics or solid colors and has steel bug net protecting the front vents. Small top vents. It retails for $180. It meets both CE and US CPSC standards. Ramp: Another full-face downhill racing model, with a hard shell and bolted on visor. Small top vents like the Interceptor, but better rounded. Comes in visible white. US model. C-Pace: Cratoni's first chrono model, with a classic chrono shape with "shoulders" in the back that taper to a very long downturned tail. It has large front vents and smaller rear ones, six in all. It is molded in the shell and fits sizes 53 to 59 cm. C-Flow: another chrono model with a much shorter tail than the C-Project. It has large front vents and a large one in the rear as well. Again, it is molded in the shell and fits sizes 53 to 59 cm. X-Up: a classic skate-style helmet with hard ABS shell and small vents. There is a visible white option.



Cratoni's child models fit heads as small as 47 cm (18.5 inches) and their largest adult model fits up to 65 cm (25.6 inches). Their ring fit models normally cover from 52 to 60 cm (20.5 to 23.5 inches).

Cratoni will replace a crashed helmet for 50 per cent of the manufacturer's suggested retail price.


Crazy Stuff

Crazy Stuff has a line of European-standard helmets for kids 3 to 8 years old. The helmets are fanciful cartoon characters. Unfortunately, they have snag points all over the shell in the form of rigid ears, horns and fins. Many models have rigid teeth along the front edge, the same edge that often contacts the nose and face when a helmet is takes a hit on the back. You can see a brochure with the designs laid out here.

We appreciate the motivation to add play value to helmets so that kids will take to them readily. But this particular line strikes us as a very bad idea. The helmets could not be sold in the US because the horns, ears and fins would not meet the CPSC limits on projections from the shell, even if the impact protection were sufficient. But the teeth along the front edge are particularly troublesome. Parents do not realize the potential for facial injury that they represent. We can only think that if these helmets meet the EN1078 helmet standard, that standard needs to be amended.

Dahon

See Biologic above. Docmeter is a French company with a line of bicycle and other helmets. They have one current bicycle model with the company's rear air bladder fit system. The air bladder appears to be a rear stabilizer that blows up with a built-in pump to ensure a snug fit. Air bladder fit pads have been tried in the past and abandoned by other companies. We had concerns in the past about the long term durability of the bladders. Although the Web site mentions only the CEN European standard, the company has informed us that their helmets meet the CPSC standard as well. As always, check for the CPSC sticker inside any particular model. This one is priced at 80 euros. Dyseone is a clothing and skateboard company. They have one skate-style helmet, certified to the CPSC standard and selling for about $20.


Ebon

Ebon is made by Co-Union Industry of Taiwan. Their bike helmets are molded in the shell, including the toddler models, with modest-to-pronounced rear points. They also have skate models. They use a ring fit system. Some models have well-recessed strap anchors. Their strap adjustment pieces slip too easily. Visors are attached with pins to flip off in a crash, as they should. There is a rainbow graphics option, the only rainbow bike helmet we have seen. Some models have rear LED flashers, and a few have front LED's as well. Ebon's child sizes go down to 47 cm and most adult models fit up to 63 cm. They are nice looking helmets, and prices should be in the $25 and up range, depending on whose brand is on the one you buy.
The Eleven81 helmet line is distributed in the US market by Hawley Company. All are molded in the shell and have a ring fit system. Most are available in white or other bright and visible colors. The male buckle pieces are all red to highlight the release tabs. The strap sidepieces do not hold well on Eleve81 models. Models include:

Cross Town: a "commuter style" helmet with a very round and smooth exterior, reflective plug in the rear and a ring fit system. Molded in the shell with two shells. Visor. Pastel colors and a visible white option. This is the most remarkable model in the Eleven81 line. It is the same design as the SixSixOne AllRide that we praised in prior years. It has been Eleven81's best seller in the past and retails for $45. Open Road Pro: a road helmet with a compact rounded rear treatment with only modest points. Molded in the shell with a double shell. Ring fit, and the side strap pieces slip too easily to hold good adjustment. Visor. Retail is about $45 to $50. Open Road: a road model different from the Open Road Pro, with one elongated point in the rear. Molded in the shell with single shell and the ring fit system. Retail is about $36. Open Road Child's has a glued on shell and is not really the same model as the adult version, but has the rear overhang. Vents. $25 retail. Half Pint Toddler: a toddler helmet with vents and glued-on shell. It has a rounded shape but an elongated front to form a visor. Retails for $25. Pot Hole: a skate style helmet with a wrap-around ridge added for style. CPSC certified only, not certified to the ASTM F1492 skateboard standard. Comes in visible red and white. Retail is about $35. Err Head: a classic round, smooth skate-style helmet with small round vents in front and small tear-shaped vents on top. CPSC certified only. Comes in visible white and red. $30 retail.

Hawley offers a consumer-direct lifetime crash replacement guarantee This French company with a high-tech bicycle clothing and accessories image has a full line of helmet models. All are ring fit.

Ekoi City E+: a unique urban helmet that is as round as a skate helmet, but cut higher in the back like a bike helmet. Has two large front vents on the sides, plus smaller center vents that can be covered with a leather strip in cold or rainy weather. Has a rear LED blinker. Has a visor. Retail is 29 euros, or 39 euros for the City E+ Brazil model with visor, face shield and vent plugs in addition to the leather strip. There is also a white Girly version with all of that for only 20 euros. Fast: road model, molded in the shell with a full interior cover as well. The requisite rear points are rounded. Said to be designed to match a 3D study of the head shape of an adult European male. The Web site says it meets CE, ANSI and "SELL" standards. ANSI could be the ASTM F1447 standard, identical to CPSC, but CPSC is not listed. Ekoi does not appear on Snell's list, so "SELL" may be another standard, or the helmet may be among those listed by Snell from several Chinese manufacturers. Comes in bleu or blanc, but no rouge. Retail is 59 euros. X1: road model with points in the rear and a glued on shell. Single size fits 53 to 57cm heads. Retail is 29 euros. Air X2: road model with a high point in the back. Molded in the shell. Retail is 50 euros. Also comes as the X2MTB: with visor, and "real white carbon" bridges. That's a new term for us, since we have never seen white carbon fiber. Retail is 59 euros. X6: another road model, rear points, molded in the shell. Retail is 55 euros. Record: Ekoi's entry into the superlight competition achieves its low weight by only fitting heads from 51 to 54cm in size. It is a toddler helmet made like an adult model, with full interior shell and a big point on the rear. Retail is 129 euros. SQ Pro Team: Ekoi's most up-to-date design is a compact style road model with rounded profile. It has "real carbon" bridges and is molded in the shell. It once retailed for 79 euros but has been reduced to 40 euros, so it may be on its way out. D25: road model with big upswept points in the rear, and according to Ekoi the newest in their line despite the dated design. Has composite bridges showing, but this time it's apparently not "real" carbon. Retail is 79 euros. Chrono CXR11: a classic long tail time trial helmet with some vents in front and rear. Retail is 129 euros. Chrono CXR12: a long tail time trial helmet with many thin vents in front, sides and rear. Might be a good one for a very very hot day, but the vents would have to reduce the aerodynamic performance. Retail is 149 euros. Earthquake: a road model with rear point and built in LED lights both front and rear. The lights operate from built in batteries that can be recharged from a USB port. Retail is 89 euros.

Ekoi offers a two year guarantee. Their helmets are sold on their own Web site, so shipping charges should be added to the retail pricing.


El Sol

See Bravo above.


Elustar

Elustar was new to the US in 2010. Their helmets are distributed in the US market by Q Cycle. They also have European models certified only to the CEN standard. They have a range of models included molded in the shell designs and others with taped on shells. All are ring fit, and the samples we saw had side strap adjustors that did not hold well. Their BH101 is molded in the shell with minimal rear points, selling for $60. Some models are priced as low as $25. Epsira Oy is the Finnish manufacturer of Knock helmets, certified to the European CEN standard. They are supplied to such organizations as the Finnish postal service in very visible orange. Most of their designs appear to have nicely rounded contours and would be called commuter helmets in the US. Vents are modest in keeping with the Finnish climate, and one model has a plastic weather guard that covers the whole top and closes vents against wind and rain. They have several models, including the H3, Knock, Inmotion 2 and Champion. Their Yad model below is still our nominee for the strangest shape of any helmet design on the Web, with a huge bumpout in back that we would not recommend for its shape.




Some of the Knock child helmets have large team logos and cartoon characters. The Yad is available in yellow with Hilarious Hiiri (a cartoon mouse) graphics. All of Epsira Oy's helmets have either reflectors or a reflective band around the helmet. One previous model had reflective straps. Epsira Oy makes other EPS products and has some info up on EPS. We are not sure their products are still current. Esco Sport Product Corp. is a Chinese company producing electric and gas scooters, bicycles and carts. It appears that some of their bike helmets are made with EPS foam and others with EPU, but that's about all we can tell from the Web site. Etto is a Scandinavian manufacturer with 21 helmet models on their Web site. Some are interesting designs, but unfortunately they are never seen in the US. The Web site does not discuss standards or pricing. All Etto models have at least some reflective material on the back, and most have bug net in the front vents. Their most innovative feature--a slow release hydraulic buckle for youth helmets to prevent "hanging" on playground equipment called EttoTech--was on hold for further development when we checked with them at the end of December, 2005, and has disappeared from their Web site. Some of Etto's models have strap anchors that are not recessed at all, sitting up on top of the shell.



Bernina: A new 2011 youth model, molded in the shell with large vents and what appears to be considerably enhanced coverage in the rear. Hurricane: Molded in the shell with large vents, pronounced rear points and visible carbon fiber reinforcing. Strap anchors are below the shell, where they should be. Spluga Carbon: Molded in the shell with large vents, the compact shape with less pronounced rear points and visible carbon fiber reinforcing. Strap anchors below the shell. Sempione: molded in the shell with many small rear points. Has some points in the front, too. Motirolo: molded in the shell with long vents and one rear point. The smallest size is the Motirolo Jr. Tornado: Molded in the shell with a wedge shape and modest rear points. Jasmine: a model created uniquely for women, molded in the shell with a more rounded compact shape. The Warm Glam Brown is a striking design. Breeze: compact shape, molded in the shell with three modest rear points. Zero: road model with a taped on shell and two points in the rear. In the smallest size it is the child Shark. Vortex: Molded in the shell with interior reinforcing and a nicely rounded shape for those with very large heads, fitting up to 64 cm. Ring fit. Bug net in the front vents. Black. Esperito: molded in the shell, with rounded lines that are chopped off flat in the back "for cyclists that don't want to look like they plan to ride at 100km/h." Ring fit. E-Kid: youth helmet with taped on shell with rounded lines and a visor effect in front. Mosquito: molded in the shell youth helmet with nicely rounded lines. Ring fit. Also comes in a Mosquito Girl female color scheme. Padded buckle to prevent pinching. Ettino: vented toddler helmet with rounded lines and taped on shell. Fits heads as small as 48 cm. Shaped like an adult helmet, so it is not likely to meet the coverage requirements of the CPSC standard for US sale. Padded buckle to prevent pinching. Ring fit. Has a visor. May require that a child in a trailer or high-backed child seat have a thick pad behind the child's back to prevent the rear section of the helmet from pushing the child's head forward and down. Downhill: Etto's downhill model has a chinbar and ABS shell. It has an unfortunate "shark fin" at the top rear to spoil the otherwise smooth lines. Psycho: classic skate style helmet with a hard ABS shell and the usual small vents. Round vents in the front. Comes in chrome, colors and a "psycho" graphic with a skull and bones. Pad fit. Reflective material on the back. Etto also produces it for water sports with a neoprene liner replacing the EPS. They don't recommend that one for bicycling. Also comes in small as the Psycho Kid. E-Series: classic skate style helmet with a hard ABS shell and the usual small top vents, plus a unique small vent at the brow on each side. Etto says they use a "special production process in order to look and feel as small and tight as possible in use." Also comes in a ski version. Chrono: a long-tailed time trial helmet, molded in the shell with a two piece shell. Small front vents. Fits sizes 53 to 60 cm.



Etto dealers will replace crashed and damaged helmets "at only a small part of the cost." Fly Racing has a line of motorcycle BMX racing equipment, including full face helmets. All have bolted on visors, but at least the screws are plastic rather than metal, and would be more likely to break off when you need them to, rather than jerking your neck. If you want another point, Fly will sell you a rear fin to add to your helmet. It mounts without screws or glue, so hopefully would pop off in a crash. All of Fly's models meet the DOT motorcycle helmet standard. Their Lite and 606 models, as well as the THH TX-10 model that they sell, are on the Snell M-2005 motorcycle helmet standard list as well, offering a level of impact protection considerably above that of any normal bicycle helmet, including a chinbar with effective energy managing padding. Some Fly models have the rubber debris deflectors known as roost guards.

Default: new for 2012, Fly's entry into the downhill mountain bike racing helmet category has only CPSC certification. It is not certified to the ASTM F1952 downhill standard. That makes it lighter than many full-face helmets, but gives a lot less protection than the others in the Fly Racing lineup. Has vents, and the standard large bolted-on visor. With CPSC certification, that visor is required to "readily break away" when impacted. F2 Carbon: designed for BMX, MTB and motocross, has a carbon fiber-Kevlar shell. It uses the same shell as the Formula below, with a different liner and less expensive aluminum hardware. This one meets both the DOT motorcycle helmet standard and the tougher Snell Foundation M2010 standard. Retail is $250. Formula: Fly's top of the line, a BMX/Motocross crossover helmet with a carbon fiber and kevlar shell, small vents, stainless steel vents and titanium visor screws. Meets both the DOT motorcycle helmet standard and the tougher Snell Foundation M2010 standard. Retail is $400. Trophy II: full face model with a polycarbonate shell. Certified to both DOT and Snell M-2010. Comes in XS to XXL sizes. Retails for $140. Gmax GMX-46X: Polycarbonate shell, comes in four shell sizes from Youth Small to Adult extra large. Meets the DOT motorcycle helmet standard. Gmax is a separate brand from Fly. Available in XXL size. Retails for $90. Gmax GMX-46Y: smaller and lighter youth version of the GMX-46X. Gmax is a separate brand from Fly. Available in XXL size. Retails for $90. The Special Edition models come in pink, yellow and orange. Gmax GM-76: Introduced in 2011, with a polycarbonate shell. Meets the DOT motorcycle helmet standard. Retails for $120. Lancer: BMX and downhill racing model with full-face fiberglass shell with small vents and radical graphics. CPSC certified. Retails for $90. Kinetic: another full face model, with vents protected by exterior and interior stainless steel mesh. Roost deflector. Retails for $100.




Fly models are all designed to connect with neck braces, available from them at $200 or $300.

Fly's catalog has replacement parts for their helmets, including mouthpieces, visors, screws, pads and buckles. Sizing runs from 52 cm (6.5 inch) up to 66 cm (8 1/4 inch), a very wide range. Along with their own brand, they distribute helmets made by Gmax and by THH. Fox Racing has BMX and skate style helmets to compliment their line of racing accessories.



Rampage: a downhill racing model with more coverage in the rear than most bicycle helmets. It has a full face chinbar. Retail is $130. Flux: a rounded profile helmet marketed as a skate model but looking more like a road model because of the large vents. It is molded in the shell with a two-piece shell and a "spoiler" in the rear that hopefully would detach if snagged. If you removed the spoiler, it would qualify as one of our "rounder, smoother" designs. Meets the CPSC standard but not the ASTM skateboard standard. Retail is $100. Transition: a skate style helmet with small rectangular vents and a round smooth shape. Comes in visible white. Retails for $50.



Fox has other models on their Web site that are promoted for motorcycle use. Their crash replacement policy is a consumer-direct 30 percent discount off the retail price. Free Agent is a KHS Bicycles brand. They have a very well-rounded classic skateboard-style helmet that comes in one shell size with three pad sets of different thicknesses. It has an EPP liner, good for multiple impacts. It is dual certified to meet the CPSC standard for bike helmets and the ASTM F1492 skateboard standard. It retails for $25 to $35 in standard colors or $5 more with a chrome finish, and can be found on line for as little as $20 plus shipping. It may fit larger heads better than most skate-style helmets. Free Agent also has a full face BMX helmet at $100, used by their team riders. It has the standard BMX rigid visor that could be a snagging hazard. Retail is $100. Fuji has been a major bicycle supplier to the US market for many years. In 2007 they added a helmet line to complement their bikes, with model names matching bike models in most cases. For 2010 they introduced the helmets below, but by mid-2011 they expect to have a new lineup. Their helmets are mostly molded in the shell, with terrycloth strap pads and nicely recessed strap anchors, but slippy side adjustors. :

RLX: has an elongated shape with a rear point. Molded in the shell. Ring fit. Retails for $40 with visor. SCR: another molded in the shell model, this time with two shell pieces. One rear point. Ring fit. Retail is $50. Toddler model: vented toddler helmet with a taped on shell. Retail is $30.

For crashed helmets, Fuji will replace at "a discounted price."


Garneau

See Louis Garneau below under "L"


Gear

See Headstart below.
Giant supplies a full line of bikes and accessories to bike shops. Their helmets have good quality locking strap fittings that hold well.

Ares: pronounced rear point, carbon fiber bridge showing and internal reinforcement, full wrap microshell. Three sizes fitted with pads. Retails for $108. Realm: introduced in 2010, a very nicely rounded, well-vented road model that appears to have extended rear coverage. Ixion: pronounced point, this time with an aluminum bridge and internal reinforcing, full wrap shell, lever-flip strap locks and nice internal strap anchors. Three sizes fitted with pads. The women's model is the Athena. Retail for either is $80. Orion: pronounced point, recessed strap anchors in the full wrap shell. Ring fit, lavender for women. The larger version is called the Heracles, fitting up to 62 cm heads. Retail is $54. Talos: moderate point, ring fit with a dial adjuster. Molded in the shell, with nice internal strap anchors. Retail is $38. Scion: youth model with ring fit and a rear point. Retails for $38. Skeeter/Jewel: youth model, ring fit system, with taped-on shell and a very small point in the rear. Retail is $25. Pup: toddler model, very round and smooth, retails for $25. Factor: Full face downhill model with a polycarbonate shell, meeting the CPSC bicycle helmet standard but not the ASTM downhill standard. Vault: skate model with ABS hard shell and EPS liner. Has two front vents and comes in black, white, pink and blue. The smallest size is the Vault Jr. Retail is $25.

Although it is a subsidiary of Bell, Giro designs have been known for a unique fit and a trend leader. The line has been gradually evolving and adding rounded compact profile models over the past several years, but the most expensive high-end models still have the elongated shape and pronounced external points. All Giro helmets are molded in the shell, and high end models have lower shells molded in as well. High-end models use fitting pads, but the less expensive ones are ring fit. This year Giro has highly visible neon colors again. Some Giro helmets have reflective surfaces on the rear stabilizers, a logical place for those who ride in the bent-over position. Visors are mounted with pins that snap into the helmet shell and have an adjustable angle. Our unscientific hand test showed them to pop out readily on impact. Strap fittings are not among the best for holding securely after adjusting, although those on the Aeon and Rift models do hold well. Bell, Giro and other manufacturers have lighter hyper-ventilated models produced for the European market that meet the CEN standard but are not certified to meet the tougher US CPSC standard.



Reverb: The biggest news in Giro's lineup for 2012 is this urban model with well rounded lines and a smooth exterior. It has long vents and a soft "cap-style" visor. The strap adjustments are sewn like Bell's True Fit system, but the resulting fit did not feel as secure to us, so be sure this one fits you well before buying. There are three shell sizes (SML) with fitting pads, and extra pads are included. Since this is a commuter model, Giro has their new neon yellow available in addition to white. Retails for $60. Feature: this is a unique design, round and smooth like an urban helmet, but promoted by Giro as an offroad model. Giro says it has a little more coverage than others, but it is certified only to the CPSC standard, so there is no proof of that. It has Giro's fixed strap adjustments on the sides, and we found the fit did not feel secure at all for us, so be sure it fits you well before buying. The shape is what we recommend, and the vents are adequate for most riding in most climates. The visor is styled like a mini BMX visor, with pins at the sides. We hope it will break off readily on impact, but you can always just take it off if you don't need it. There is a neon color available. Riders who find the Reverb too plain may want to look at this one, but be careful to test the fit before buying. Retail is $75. Aeon: the top of Giro's road lineup for 2012, retailing at $250. Similar to Giro's other high-end helmets, with huge vents and points in the back. Following Specialized's lead, Giro optimized every part of this model to reduce weight, including the straps, buckle and even the basic shape. We regard that as wasted effort, since nobody complains about the slightly higher weight of other thin-shell helmets. But if an ounce makes a ton of difference to you, you may disagree. Savant: new for 2012, the Savant has a compact shape while retaining some points in the back for those who favor that style. We think the strap anchors protrude more than they should on a $90 helmet. Xar: introduced in 2011, this is a compact shape, well-vented road helmet with a tiny little lip in the rear to suggest the old elongated styling. More angular lines and not quite as well rounded as the Hex or Phase (below). Visible orange as well as white options. Retail is $135. Atmos: This was Lance Armstrong's helmet back in 2004. The Atmos has interior reinforcing, exterior carbon fiber reinforcing and an extensive three-piece shell molded on. In addition to several moderate points in the rear, this model has forward facing points in the middle. We would avoid this one for that feature if no other, since it contributes nothing at all to the function of the helmet. Uses fit pads rather than ring fit. Retail is still $180 but discounts are available on the Web. Saros: introduced in 2009. Although the Giro catalog describes it as "the sleek, contemporary style and subtle silhouette," there are still points on the rear, and partially recessed strap anchors. This one has a three piece shell covering all the foam. Uses fit pads. Retail is $125, or it comes as the Athlon for $135 with visor. Hex: a reasonably rounded "trail riding" helmet with a shape similar to the now-discontinued Xen. It is not really smooth, but has a compact profile with minimal rear points. For 2010 Giro added some brighter graphics to the Hex's dull matte colors. Retails for $85. Phase: a compact shape design with the nicely rounded profile that we favor, similar to the Hex but with many smaller vents. Worth a look if you want a reasonably priced high-end Giro. Retails for $75. Rift: the mid range molded in the shell Giro model with a more rounded shape than other Giro road/mountain models and just one modest point. Plenty of vents. Ring fit. The same Giro strap fittings that slip on other models seem to hold securely on this one. Retails for $55. Indicator: the least expensive Giro model at $40 has a pronounced rear point, but at least the strap anchors are recessed under the shell. Has a ring fit system. Also comes in a "women's" model called the Skyla. Without a visor, it's the Transfer at $35, the lowest adult price point for a Giro and still molded in the shell. In youth size it is the Flume, fitting down to 19.75 inches (50 cm) and sells for $40. For 2010 Giro scaled the design up for very large heads 58 to 65 cm (25.6"), and calls that one the Venti. Surface: A skate-style model with ABS hard shell, "internal channeling" for vents and good coverage. The front pooks out into a visor. Different colors and surfaces, including one leather model. Meets only CPSC, not the skateboard standard, and Giro is marketing it as an urban bike helmet, but other efforts at "internal channeling" vents have produced miserably hot helmets. Retail is $50 and up depending on the surface. Section: A skate-style model without the usual ABS hard shell. This one has a thin shell, but the usual small vents. It is molded in the shell, and Giro says it has a reduced profile. That was accomplished by putting a section of higher-density foam in the front part of the liner, hence the name Section. It is also cut a little higher in the front than a skate helmet to clear glasses. Plain colors or a very visible acid yellow. Meets only CPSC, not the skateboard standard, so this is a bike helmet for those who like the skate style and very small vents. Retail is $45. We are not fans of higher-density foam, so would avoid this one, even though we chose it for our experiment with substances that damage helmets. Flak: A skate-style model with ABS hard shell, small vents and good coverage. Plain colors. Meets only CPSC, not the skateboard standard. Retail is $40. Rascal: A molded in the shell youth helmet. Reasonably rounded profile. This one has the new fit system called One Step for bike store helmets, similar to the one that Bell calls True Fit for its discount helmet line. Also available as the Spree for toddlers. Either one retails for $40. Both have LED blinkers incorporated in the rear. Rodeo: A youth helmet with a taped-on shell, not molded. Nicely rounded. Has a ring fit system. Bug net in the front vents. Color choices include the yellow and black Livestrong combination. Retails for $30. In the smallest size it becomes the Me2, a toddler helmet with a different fit system. Said to have a low profile in the rear to permit a more natural seating position in trailers, where thicker helmets can push a kid's head forward unless they have a pad behind their back. Fits down to 48 cm (18.75"). Retail is $30. Remedy: A downhill racing helmet with a motorcycle-style chinbar. It got new graphics for 2009. No longer advertised as meeting the ASTM F1952 Downhill Mountain Bike Racing standard. It has a nicely rounded exterior, marred only by the industry-standard bolted on visor, and is well vented for this type of helmet. There is a minimal amount of EVA foam padding in the chinbar. It retails in a fiberglass shell for $130 weighing 1050 gr (37 oz.) or for $270 as the Remedy CF with carbon fiber weighing 900 gr (32 oz.). Advantage 2: A chrono time trial helmet meeting the US CPSC standard. Molded in the shell with five small front vents and the usual long chrono tail. Like all chrono helmets, it only makes sense for time trialers or track use, when your coach tells you it's needed. Retail is $165. Selector: Giro's newer chrono model with no front vents, small rear vents and a shorter tail. Giro says it accommodates new time trial positions and off center yaw better than the long tail models. There is a removable piece that attaches to the bottom of the tail to extend it downward if that configuration closes a gap in the rider's hunchover position. It retails for a steep $275 with face shield.



Giro has other models sold in Europe for use where CEN helmets are required. Those may not meet the US CPSC standard, even the ones with the same model names described above.

Giro still has Livestrong Foundation colors for the Rift, Aeon, Saros, Indicator and Rascal models, continuing the link with Lance Armstrong. That option adds $5 to the cost of the helmet, donated to the foundation. It is predominantly black, with yellow accents.

This year Giro helmets fit heads from 48 cm (18.75") to 65 cm (25.6"). A graphic in their 2007 catalog showed that they considered the 63 cm size as the tail of the bell curve distribution of head sizes, but they added a centimeter for the Atlas II in 2008, and another centimeter when the Venti replaced it in 2010.

Bell/Giro recommends replacing their helmets after 3 years. The Giro crash warranty is the same as Bell's, a 30% discount if you crash within the first three years. They also offer a credit toward the purchase of a larger Giro helmet for parents whose children outgrow a child model.


Gmax

See Fly Racing above. Go On Sport is the first new Australian company that has attempted to enter the US market in this century. They hoped to introduce five models here beginning in 2005, in the $20 to $50 range, but we have not seen them in the US market since. Their helmets are molded in the shell, and some have two-piece full wrap shells. They are manufactured in China. In 2011 their Web site still says "under construction." Their products are available through Sportz Australasia Pty Ltd. Golex is a Chinese producer of bicycle, skateboard, BMX, motorcycle and other types of helmets. There are at least 29 models in their catalog. Golex helmets should be available in mass merchant channels, and some may be found in bike stores, probably under other brand names.


GPR-PLIM

GPR makes helmets in China to be sold under other brands. They are a large manufacturer for the European market, and have been looking to bring their lines to the US for some time. You can see at least one of their interesting new designs in this patent. We do not have a current catalog or pricing for GPR. Their models include:

Urbanus: a round, smooth commuter-style helmet with glued on shell and ring fit system. Bug net in front vents, and a kit is available with ear warmers and vent plugs. European model certified to the CEN standard. Bike Helmet (Adults): molded in the shell with four shell pieces, rear point, ring fit. Bug net in front vents. European model certified to the CEN standard. Spina: molded in the shell with a moderate point, visor, ring fit. European model certified to the CEN standard. Venimos: molded in the shell with two shell pieces, recessed strap anchors, many vents, visor, ring fit. European model certified to the CEN standard. Virtus: glued on shell but still has external strap anchors in the front, many small vents, rear point, visor, ring fit. Bug net in front vents. European model certified to the CEN standard. Veni: youth model with glued on shell, bug net in front vents, CPSC as well as CEN certification. Two sizes fit 46 to 56 cm heads. Vidi: glued on shell, very round and smooth with only seven vents, visor. Bug net in front vents. Certified to CPSC as well as the CEN standard. Vici: (completes the veni, vidi, vici model series) glued on shell with fewer but much larger vents. Bug net in front vents. European model certified to the CEN standard. Aventicum II: glued on shell, well rounded profile, visor. Bug net in front vents. Two shell sizes accommodate up to 62 cm heads. Certified to CPSC as well as the CEN standard. Caddy: child helmet with six vents, bug net in front vents and certified only to the CEN standard. X: classic skate style helmet with hard ABS shell, small vents, pad fit, CEN certification.

Synergy Sport has one helmet in their Gray line for triathletes, the Aerodome. It is a full chrono or time trial helmet, not suitable for street use. It is molded in the shell with the long teardrop shape of the classic chrono, with six small slit vents in the front and partially recessed strap anchors. It has soft "wings" on the sides. Strap junctions do not hold well. It is CPSC certified and comes in one size. It retails for $150. Synergy Sport has a "Life Time Crash Replacement Warranty" and the consumer can return a crashed helmet for a free replacement. Greenline is a bicycle company with a helmet that goes along with their bikes. It is a simple, somewhat elongated helmet with a reasonably rounded profile. The company uses various suppliers, so details of the models can vary. Retail is $25. They also have a toddler model with taped on shell and vents. Guangzhou Longsheng Sporting Goods Company is a Chinese manufacturer of a line of adult, toddler and skate style helmets. They market to both the US and Europe. Profiles are generally well-rounded, but there are points on the high-end road models. The molded in the shell models are priced about $30, while glued shells are $15 and those with taped-on shells go for $12. Visors on some models add about $0.50 to the price. The side strap adjustors are simple buckles, and do not hold their adjustment at all, a serious oversight. For 2012 Guangzhou Longsheng is using Fly Helmets as their brand, surprising considering that Fly Racing has been around for years with BMX helmets. Haloglow is a Hong Kong company with a helmet that has fiber optic lights incorporated in the shell. LED's in the rear "lightbox" generate the light, and the optical fibers carry it in a ring around the shell. The ones we have seen were not impressive, but current production may be improved. The light can be flashing or steady. According to the website, the Halolight ELF model first introduced in July of 2008 is certified to both the CPSC and CEN European standards. It appears to be an elongated design with lots of ridges and a medium rear point. It is molded in the shell, and fits heads from 20.5 inches to 24.4 inches (52 cm to 62 cm); Retail is reported to be $55 in the US market. Note that the same halo effect using LED's and fiber optics is incorporated in some Aegis designs. Hamax is a Norwegian company with a line of bicycle accessories and other products. Their helmets are child models, with taped-on shells, ring fit and insect net in the front vents. There is reflective tape on the rear. The company's Web site mentions only European standards. Their sizing fits 48 to 62 cm. heads. We do not have retail prices for Hamax.


Happy Way Enterprises

This Taiwanese manufacturer has a nice looking line of Expanded PolyUrethane (EPU) helmets. All are fully molded in the shell models, including the D2 and the Vivid for adults and a G6 model for toddlers. They are near the $40 retail level. Adding a rear stabilizer or 3M reflective tape adds about a dollar and a half each. The EPU makes the helmet a little heavier than an EPS helmet, but some consumers like the solid feel of them. Happy Way sells mostly in Europe, but in the US they sell to importers and OEM's with their own brands. Their sizing fits 47 to 62 cm. heads. Headlight is a Swedish company with a line of reflective helmets. Headlight has several models, certified to either European standards for the Euro market or CPSC for the US market. They have two grades of reflective shells, so the whole helmet is reflective, using the silver gray color that normally produces the best reflective performance. They apply graphics on top of that. In Europe they were formerly known as Solid, but now produce their helmets with the distributor or retailer's brand on them.
Once one of at least three helmet companies called Headstart. This one had nine adult models under the Gear brand name. The Web link is to a listing of manufacturers, and we do not know if it is current or not.


Headstart (Malaysia)

This Headstart is located in Malaysia, and should not be confused with the Canadian manufacturer called Headstart Technologies or the Australian company above. When we last heard, Malaysia's Headstart was represented by Damar in New York. We are not familiar with their helmets.


Headstart Technologies

This formerly Canadian manufacturer and user of EPP foam reportedly moved to the US and changed its line, supplying helmets imported from China with standard EPS liners. We can't find them on the Web now. This unique West Coast distributor of bicycle products provides helmets to dealers or non-profits at very low prices. They will fill small orders. In large quantities their models start at about $5 each, with skateboard helmets at $6.50 and downhill mountain bike helmets that look identical to major brands for just $30. (Prices are much higher for individual orders.) Some models have rear stabilizers and full cover shells, features almost never seen in this price range. Helmets R Us also has a genuine dual-certified skate-style helmet, the Model 17, that has the stickers inside attesting to the fact that it is certified to both the ASTM F1492 and CPSC bicycle helmet standards, at a very low price. Sizes range from 49 to 62 cm (19.3 to 24.5 inches). Helt-pro Helt-pro is a German company that makes a line of caps and hats with helmet straps on them. They are not helmets, according to the company's website: "helt-proŽ headgear doesn't comply with any standards for protective headgear like helmets. helt-proŽ is not a substitute for a helmet. It does not give the same level of protection in case of falling or collision with a car as a helmet."

The site goes on to explain that to be a helmet the caps would have to be thicker. They claim that their product functions at a lower level impact.

In July of 2012 one of Helt-pro's models was recalled after officials in Finland found it did not meet the European standard.


Hong Kong Sports

The HKS name is not familiar to consumers and you will not find helmets under their company brand, but they manufacture millions of helmets for a number of US and other brands, some of them well known. Hopus is a Taiwanese company with an extensive line of helmets, who recently began using their brand Aegis as the company identifier. They are known for innovative construction techniques. They say their hard shells are all made with industrial grade ABS for best impact performance. Some of them have a layer of resilient foam for multi-impact performance, a feature they call SIS. Hopus also has thin-shell models, some molded in the shell, and a unique fiberglass model that is molded in the shell. Some have stainless steel bug net in the vents. Their US models are all CPSC certified, but others may meet only CEN and be intended for the European market. Most of their models are sold with other brands on them, but in 2010 Hopus launched their own Aegis brand. In 2009 Hopus introduced a unique halo lighting system that uses LED's to light a 30 cm diameter ring around the helmet, on a molded in the shell model that retails for a very modest $20 to $40. We found the light output of the halo ring disappointing and the switch on our sample broke, but the feature is unique.

Hopus has a large line, many of them not on the Web. They include:



Aegis A-8 Plus and Elf-1 Elf: polycarbonate hard shell bike helmets with very nicely rounded lines. Both are molded in the shell. For 2010 they both have the fiber optic light ring. EX-9: molded in the shell with a fiberglass shell, the first we have seen of that combination. It has stainless steel mesh internal reinforcing. The shape is elongated, with a small point. Aegis A-4 Plus, Aegis A-3 Plus, Aegis Ex-5 Extreme: road-style helmets, all molded in the shell, and all featuring a lower shell for full coverage. A-6 Plus: the top of the Hopus line at $75. It has aluminum mesh molded into the shell that also provides bug net for the vents. For 2010 it has the optic fiber LED light ring. E-2 Epoch, Ex-1 Extreme: Road models. Aegis Police Model: A black police helmet with LED flashers on front and sides, powered by 2 AAA cells that last over 200 hours. Molded in the shell with ring fit. Strap pieces do not hold well. Retails for $40. B-1 Bravo: An unusual molded in the shell toddler helmet with vents, fitting sizes as small as 50 cm. MF-2, MF-5, MF-6, MF-7, MF-8 and MF-9 May Flower: all skate style models that debuted in 2004, with similar hard shells but variations in the vents. They are molded in the shell with hard polycarbonate shells, a unique combination. They have the well-rounded shape of skate helmets. The MF-2 Classic is a snow series model for winter sport use with ear flaps and a goggle retainer in the rear. It is certified to the ASTM F2040 snow sport standard as well as the CPSC and CEN bike standards, so it is a true multi-sport helmet. Can be had with very visible flame graphics and a nice metallic orange. FSK Free Skating a hard shell skate-style helmet with an ABS shell and EPS foam liner. MF-3 Avenger: is billed as a multi-sport helmet and available as a "snow series" model with ear flaps and a goggle retainer in back, although it is advertised as meeting only the CPSC and CEN bicycle helmet standards, not ski helmet standards. Has a very round smooth skate-style shape, and the ABS hard shell, with more vents than the MF-2 below. There is a very visible metallic yellow model. Retails for $20 to $40. AG-2 Argo: is a round, smooth skate-style helmet with a hard ABS shell and minimal vents. It is molded in the shell. Has a snow series model for winter sport use with ear flaps and a goggle retainer in the rear. MI-4 Mission: is a skate-style helmet with angular vents and a mostly round and smooth outer shape. Has inflatable airbag rear pads. Certified to the CPSC and European bike helmet standards. D-1 Diki: a rare child helmet with ABS hard shell. Has vents and an overhang in front to provide a partial visor. The XS fits heads as small as 52 cm.



Hopus has sizes in most models to fit 50 to 62 cm heads, but some models only go to 60 cm. The are one of the only companies that still makes a bike style helmet with a hard shell. You can contact them through their Web site to ask who sells their helmets in your market. IXS is a Swiss company with motorcycle history going back to 1906. Their entry into clothing and helmets is more recent. Most of their models are motorcycle-style full face helmets, but they also have road and skate-style models. All of their helmets are either compact shape with minimal rear points or very well rounded. All of their adult bicycle helmets are molded in the shell, but child models are taped or glued on. Most are European models but there are some models certified to the CPSC standard for sale in the US. The current models include:

Metis: new for 2012, a full-face US model with vents, big visor, ABS shell, D-ring buckle and shaped to be compatible with neck braces. Retail is $145. Kronos 2: road model with a two-piece shell covering all of the outside. Despite the name, it is not a time trial helmet. Large vents. Ring fit. Compact shape with minimal points. Has bug net in the front vents. Has a visible white option. Also comes as the Kronos Team Edition with team graphics and no bug net Avoir 2: road style youth helmet fitting medium sized heads 52 to 59 cm. Has optional bug net in the front vents. Galaxy 3: road model with the best-rounded profile in the IXS line. Juno 2: child model with road styling and ventilation, fitting 52 to 60 cm heads. Calisto Boy and Calisto Girl: toddler models with taped-on shells and small vents, differing only in colors and graphics. Bug net in the vents. Helios 2: another child helmet but with the road helmet shape except for the suggestion of a molded-in visor in front. Phobos: full-face downhill model with the standard big visor and an ABS hard shell with small vents. Six sizes fit heads from 51 to 62 cm (20 to 24.4 inches), making it one of the smallest full face helmets available. Meets the European standard and is not available in the US. Hammer: Skate-style model with small rectangular vents and ABS hard shell, retailing for $40. Hammer LT: Skate-style model molded in the shell with a thin shell like the Giro Section, with more and thinner vents than the Hammer, and about 6 oz (160 gr) lighter. Retail is $50.

The largest helmets in the IXS line fit 62cm/24.4 inches. J&B is a long-established bicycle wholesaler with warehouses all over the US. Their products are sold in bike stores. J&B's Airius line has models beginning at about $20 retail to about $30, with a few high end models ranging as high as $80. Their molded in the shell models start at $20. The profiles vary from the well-rounded ones we favor to elongated models with rear points. Colors are solid on the lower cost models, with higher end graphics as prices rise. Their largest helmets are 63 cm/24.8 inches. They have an unfortunately named "Skid Lid" (a name from the past) skate-style helmet, certified only to the CPSC bicycle helmet standard. With a built-in speaker it is $40. J&B has an active program for schools and non-profits either through a local shop or direct. They offer an unusual lifetime crash replacement for all of their models. J&B distributes the Limar line in the US as well. Hangzhou Joy Kie Industrial and Trading Co exports an extensive line of bicycle, motorcycle and other helmets. The range from nicely rounded road helmets to elongated designs with rear points. There are toddler models, skate style models and downhill mountain bike models with full chinbars. Pricing is low but we don't have exact retail in the US.

Kali entered the market in 2009. They have some unique manufacturing techniques that should in time produce a full line of helmets that are all molded in the shell, some with dual-density foam liners molded together so there is no gap between them, and no gap between liner and shell, using all the shell space for foam. Liner density can be different in various areas of the helmet, or there can be saw teeth of less dense foam extending into the dense section.





We have more on that on our page on helmet foams.

Kali can make full face helmets with chinbars this way, a unique capability among manufacturers. The resultant helmet is lighter and has a thicker liner than normal motorcycle helmets. Visors have Kali's Pop Out breakaway mount to avoid snagging hazards. The liners and fit pads are anti-microbial, a feature that you may or may not appreciate. Some motorcycle/BMX models mate with body protectors. The Kali models all have Sanskrit names:

Amara: compact, nicely rounded profile despite some blocky lines. Polycarbonate shell.Has a unique platform on top to attach mounts for camera or light. Kali says it has extended rear coverage. Visible white option. Retail is $80 with camera and light mounts. Avita: an unconventional bike model with what appears to be extended rear coverage, with a reasonably rounded compact shape exterior marred only by very small rear points. The appearance is dominated by big blocky vents. The shell is a mix of carbon fiber, Texalium aluminized fiberglass and polycarbonate materials. Kali says the carbon reinforcing in this one permits them to use less dense foam. We wish we had test results on this helmet, particularly testing the effectiveness of the extended coverage. There is a white option. Retail is $140 for the carbon fiber version and $140 for the fiberglass model. Chakra: New for 2012, Kali's value model, with many vents and a well-rounded compact profile despite suggestions of rear points. Sells for $40 in the standard version, or $50 with bug mesh and upscale graphics. Samra A classic skate shape helmet with the dual-density liner, small vents and composite shell, making it a very high-end skate helmet. But it is not certified to the ASTM F1492 skateboard standard, just to the CPSC bike helmet standard. Retail is $60. Raja: A classic skate shape helmet with ABS hard shell and single-density EPS foam. Has rectangular vents that are somewhat larger than the traditional round ones. Certified only to the CPSC bicycle helmet standard, not to the ASTM skateboard standard. Has a visible white option. Retail is $45. Maha: classic skate shape helmet with ABS hard shell and single-density EPS foam. Traditional small, round or oval vents. Certified only to the CPSC bicycle helmet standard, not to the ASTM skateboard standard. There are some bright color combinations available. Retail is $30. Avatar 2 Carbon: new for 2012, Kali's top of the line full face helmet, with carbon shell and dual-density foam liner molded in the shell, producing a light helmet certified to the ASTM F1952 downhill mountain bike standard. Big BMX visor, very small vents. Retails for $350. Also comes as the Avatar with Kevlar and fiberglass shell for $280. Prana: new for 2010, a full face motorcycle helmet also used in BMX. Carbon shell, dual-density liner with saw tooth interface between the two densities of foam. Retail is a very steep $475 in carbon or $250 in fiberglass. Mantra A non-vented full-face motorcycle, BMX or downhill helmet, certified to the DOT motorcycle standard. Has the usual large, stiff visor, bolted on. Retails for $100. Durgana A vented full-face downhill mountain bike helmet, although it is certified only to CPSC, not the ASTM F1952 downhill mountain bike racing helmet standard. Has the requisite stiff visor bolted on. The shell is ABS. We don't know if it has the dual-density liner or not. The retail price is $150. Aatma: A full face motorcycle or motocross helmet that meets the DOT motorcycle standard. Dual-density foam liner, molded in the fiberglass shell. Retails for $200.

We expect Kali to continue to produce innovative new products.

Kask is an Italian manufacturer who entered the US market in 2010. Some but not all of their helmets meet the US CPSC standard, and the Australian standard as well. All meet the CEN European standard. Most are manufactured in Italy. There are some nice bright color combinations in the line. Their strap adjustors are average in holding power. Straps have a unique vinyl section at the chin, and some are reflective. Pads are treated with Sanitized brand chemicals. Kask informs us that their helmets are produced in Italy with no Asian components. Their helmets are expensive in the US. The road models all have a "mountain" version with visor. Custom graphics are available. Kask bike helmet models include:

Lifestyle: with a new name again this year, the Lifestyle is a very round and smooth helmet, with small vent slits in the top. It is a thin shell, and molded in the shell. It comes in Vintage trim looking more like a skate helmet or in more stylish Lifestyle trim. Flip up face shield available, giving it an even rounder look. Euro model only. Retail is $200 for the Vintage and $250 for the Lifestyle. Mojito: new for 2012, a road helmet with an unfortunate point the flips up in the back. Retails for $200. K.10 Dieci: a road model with lots of vents and lots of points in the back. Retails for $250. K.50: road model with large vents. This one manages to have points in the front as well as the rear. Retail is $150. Vertigo: Kask's top of the line, new for 2011, a road helmet with compact profile but rear points. US and Australian model. Has all of Kask's high-end details, and is available women's and Sky team colors. Retail is $300. K-10: a compact road model with points both front and rear. Ring fit. Reflective material on the rear and on strap clips. Strap anchors are not recessed. Available in Sky team colors. Retail in the US is $235. The K10 MTB version has a visor, and retails for $250. US and Australian model. There is a chrono version as well described below. K-50 Evo: Road model with three rear points advertised as "wings in thermoplastic material to ensure effective shock resistance and aerodynamic quality." Molded in the shell with a lower shell to cover all foam. Strap anchors are not recessed. The medium size fits 48 to 58 cm while the large goes up to 62 cm. Retail is $150, or $165 for the MTB version with visor. There is also a K-50 Chrono version with three plastic plugs for some of the vents at $195. US and Australian model. Bambino: a child model for later in 2012 that we have not seen, and do not find on Kask's web site yet.

Kask K.31 Chrono: Kask's first chrono is a long tailed model with a polycarbonate shell that has a smooth rubber edge. It is not molded in the shell, but is based on the Kask K.10 road helmet. The ring fit system fits sizes 53 to 61cm. It has an optional face shield. Kask says that the shape and internal pivots are designed "for riders who simply cannot get the back of their head down low whether due to inflexibility, shape of the back or just general movement." It has reflective trim as if it were going to be ridden on the street. Retail is $350. TT: coming in 2012, a chrono helmet in the Casco style that is as round and smooth as any helmet in the world. There is a face shield that completes the round profile. Meets the CPSC standard for sale in the US. Retail will be $400 when it becomes available in August, 2012.

Accessories include a winter cap and a storage bag. Their Web site has model-specific insect net replacement screens in plastic that are shaped to fit the vents, as well as pad replacement kits and visors.

Kask has some interesting helmets. If their claim to use no Asian components is correct, they would be one of the few helmet manufacturers still doing that.

KBC has manufacturing facilities in Korea and China. They have more than 20 motorcycle helmet models on the Snell M-2005 motorcycle helmet list and one on the newer M2010 list. KBC has a range of helmets ranging from full-face motorcycle-style helmets for BMX selling for about $200 to "half helmets" for the Harley crowd.

KED is a German company that had manufactured helmets in Germany for other brands for more than ten years before introducing its own line. Some of their models have LED flashers built into the rear, with a replaceable $3 battery/chip unit to power them for 120 hours. (We were not particularly impressed with the light output.) Their helmets with glued on shells are made with a cold-gluing process that leaves no space underneath the shell and makes the helmet look molded in the shell. Gluing the shells on allows them to put the strap anchors under the shell, a good feature. KED's strap adjusters tend to slip, a common problem. They put a thoughtful pad under the buckle to prevent skin pinches. All models have bug net in the front vents except the Paganini Race. Their US distributor for CPSC models is Cycle Force. The Web site emphasizes that the helmets are made in Germany. Models include:

Sky: introduced in 2010, the Sky has the round, smooth urban shape, with modest sized vents. Comes in some notably visible colors, including orange. Fits sizes 52 cm to 64 cm (20.5 to 25.2 inches). Paganini: road model introduced in 2010, with a compact and very well rounded shape and lots of vents. Also comes as the Paganini Visor and the Paganini Race, a slightly lighter version. Status: a compact design that has angles but a well-rounded profile without pronounced rear points. Has bug net in the front vents. There is a visible white option. With four blinking LEDs in the rear stabilizer it is the Status Quicksafe Tronic and gets an additional small reflector for 2011. In toddler size it is the Status Junior. Zenith: a compact design that has angles but a well-rounded profile without pronounced rear points. Replaced the Xantos. LED flasher. Neo Visor: a lumpy exterior design with rounded off rear lines. With rear LED flasher it is the Neo Visor Quicksafe Tronic. Available in XXL fitting up to 64 cm heads. Champion: pronounced rear point, very large vents, LED flasher. Retail is $100. With visor it becomes the Champion Visor. Certus: nicely rounded compact shape model with big vents. Tronus: a very well rounded compact model with many vents. It avoids the blank look of some urban helmets. Opus: compact shape, many vents, modest rear points. Spiri: road model with another lumpy outer shell with large front vents and rear points. LED flasher. CPSC and CEN certified. VS: elongated but nicely rounded design with a minimal point. LED flasher. CPSC and CEN certified. City: elongated road model but better rounded than some with an upswept rear point. Certainly not a classic city or commuter shape. This is KED's model for large heads, coming only in XXL fitting sizes 60 cm to 64 cm (23.6 to 25.2 inches). Joker: nicely rounded road helmet with double shell protecting lower edges and an LED flasher in the rear. Available in flower or star graphics. Flitzi: another rounded road style, pitched for youth. Has the LED flashers. CPSC and CEN certified. Meggy: toddler helmet with good-sized vents and both CEN and CPSC certification "only for American market." LED flasher. There is a Meggy Originals version with licensed cartoon character graphics, and the Meggy Sport has a visor. The XXS size fits heads as small as 44 cm. Fazer Junior and Street Junior: extra small versions of adult models that have been dropped from KED's line. Like the Status Junior they are road-style helmets with many vents in child or youth sizes. Frox: a skate-style helmet with small rectangular vents. Sizes go up to 64 cm. Razorblade: a downhill racing model with a chinbar. It has vents and a visor. CEN certified only. Zeitfahren/Time Trial: Chrono model for time trial and pursuit that looks like a regular bike helmet but is smooth-skinned with no vents in front, and two large vents in the rear. There is a long version with a long rear fairing added that covers the rear vents. Both versions are CPSC and CEN certified.



KED's catalog has a listing of useful spare parts for their helmets. It includes visors, fit pads, ring fit parts, the LED battery/chip replacement, buckles and more.

Kent has a line of inexpensive helmets marketed mostly to discount retail stores and a few bicycle stores. Their helmets are branded Razor, and at least one is branded as Genesis. For 2012 there are skate and BMX style helmets. The skate models include the Aggressive Series and Iridium. The packaging says they are multi sport helmets, but certification is only to the CPSC bicycle helmet standard. One of the BMX models is the Full Face, a youth sized helmet with vents and a removable chinbar, a unique feature at the $45 price point.

Kestrel is a subsidiary of Fuji Advanced Sports, and a manufacturer of high-end carbon fiber bike frames. They showed one road and two chrono models for 2009 at Interbike, but by 2010 their Web site had just two helmets, both by Louis Garneau: the Garneau Superleggera chrono and Kestrel Diamond, both Garneau helmets in Kestrel colors and logo. They have disappeared from the Kestrel site in 2011.

A Knucklehead Company entered the US market in 2008, and is now delivering a line of bike and skate helmets that they make in China for companies who want their own helmet brand. Some of their models are molded in the shell, while lower priced ones have glued or taped on shells. Their Palz series has unfortunate external projections in the form of animal ears, tails, etc. Sizes run from 44 to 62 cm (17.3 to 24.4 inches). The company provides free replacement of crashed helmets.
Kong is an Italian climbing equipment company. They have one helmet from Casco called the Scarab that goes beyond dual certified to be certified to European standards for rock climbing, bicycling/skateboarding, equestrian use and whitewater. All of those standards are easier to meet than the US equivalent, and the Scarab can't be sold in the US as a bicycle helmet unless it meets the CPSC standard, but it is an interesting concept. The Scarab has a ring fit system with dial adjustment. It appears to have external strap anchors. It is also used for spelunking, so there is a clasp in front for a caving light. We were surprised to see this one selling online in the US market despite its lack of CPSC certification. Some of the retailers had no regard for the fact that the helmet did not meet US standards, and CPSC does not enforce their requirements.
Kryptonics is a skateboard equipment manufacturer originally founded to make skateboard wheels in 1965. They have one skate-style helmet, available in black, pink or blue. We see their helmets in discount sporting goods stores. They do not meet the ASTM skateboard standard. Instead the website has a statement saying: Each helmet is designed to pass CPSC 1203 standards for bicycle, inline skate and skateboards use." That statement is incorrect, since the CPSC standard is not for skateboarding. Further down their page they once had the correct statement "Complies with US CPSC safety standards for bicycle helmets for persons age 5 and older." But now they have cut out the "bicycle." We would not recommend buying a helmet from any manufacturer who is that confused about standards, since there are real dual-certified helmets out there from other manufacturers that do meet bicycle and skateboard standards. Kuji Sports Ningbo is an Asian company based in Taiwan and China whose Web site says they ship over 3 million helmets every year. You have not seen their brand here because the helmets are branded for other companies. They have many models in bicycle styles, including molded in the shell road helmets, glued or taped on shell road helmets, toddler and full-face models. They also have four hard shell skate models. Their Reflectek line has Headlight's reflective shell design and is available at big box discount stores, some selling for under $20. Retail prices are about $10 to $35.

Kylin Motorcycle Fittings is a Chinese manufacturer of bicycle, motorcycle, ski and other helmets. Many of their models are motorcycle/BMX helmets, but they have 12 bicycle helmets and one classic skate style model. Some are molded in the shell, some taped on. Some have Ethyl Vinyl Acetate (EVA) covers. Some of the less expensive models are nicely rounded, but the upper end of the line all have rear points. All meet the CEN standard, and many are designed to CPSC. Their helmets will appear in the US market under other brands. Sizes run up to 62 cm/24.4 inches. Prices should be around $15 to $40.

LAS (or L.A.S.) is an Italian company with a line of high-end helmets that have been made in Italy since 1974. They are available in US bike stores with distribution handled by Trialtir, who have info on LAS's current US models but do not distinguish those made in Italy from the Chinese models. LAS dropped some of its more radical designs in 2010, but continues the emphasis on style. There are some nice bright colors available and finish quality is good. Most models have silver-impregnated liner material to retard bacterial growth, a feature that some may appreciate and others want to avoid. The strap junctions do not hold well on most LAS helmets. The Euro models meeting only the CEN standard are different designs from the US models we list first. All should be available in Italy.

US Models

Victory Supreme: road design with a compact shape, but it still has multiple rear points. Has exposed composite reinforcing. LAS uses "Carbon Aluminum Technology Absorb" in this model, claiming a 23.7% reduction in force to the head. There is a visible white option. Made in Italy. Retail is $290. Victory: compact shape and multiple rear points. Same weight as the Victory Supreme, but the design is a little different and there is no exposed composite. There is a visible white option and a women's Victory Femme Fatale. Made in Italy. Retail is $200. Istrion: the LAS compact model, with reduced rear points and ring fit. There is bug net in the front vents. Made in Italy. Retail is $180. Squalo 1.1: molded in the shell with sharp sculpted lines and grooves suggesting a helmet for Frodo, with peaks sticking up at the top. Rear points, two shell sizes fitting 52 to 63 cm (20.9 to 24.8 inches) heads. There is a women's Squalo Femme Fatale. Retails for $190. Squalo 2.2: a 2011 model molded in the shell and very similar to the original Squalo 1.1, with peaks sticking up at the top and rear points, but the shell is different, and internal reinforcing allows the vents to be a little larger. Made in Italy and retailing for $230. Infinito: the LAS "entry level" helmet. Molded in the shell with a shape very similar to the Squalo, but with smaller vents, and there is bug net in the front vents. Retail is an entry level $110. Sky-S II: another compact design, with one high point in the rear and lots of smaller vents. Retail is $95. Chronometro: time-trial aero helmet with a polycarbonate shell, no front vents and an integrated clear partial front face shield. Very long tail to reach the rider's back, with a slight shoulder hump. Certified to both the CPSC and CEN standards. Ring fit for 54 to 61 cm (21.3 to 24.0 inches) heads. Retail is $240 this year. CXT: a very round, smooth helmet with tiny rear vents and a face shield. For pursuit and time trial riding, this is the response to Casco's Warp with a shape that drops the long tail that most riders don't keep tucked against their back, visible in all of the Trialtir site photos of the Chronometro.



European Models



Iceberg: compact road model similar to the Squalo with points in the rear. Bug net in the vents. Krypton: older style elongated road model with many vents and pronounced rear points. Bug net in the vents. Made in Italy. Settantuno: compact road model with bug net in the front vents. Made in Italy. Esprit 2: road model with one upswept point in the rear, with large vents. Quaranta: road model nicely rounded in the rear, with large vents. Made in Italy. Fantastico: toddler helmet with taped on shell and small vents, fitting heads from 52 to 56 cm. Super Jump: skate style, with ABS shell and small vents. Bionix: a rounded pursuit/time trial model with vents in the rear. Fits 53 to 60 cm heads. Made in Italy.



The regular LAS line fits heads from 51 cm to 64 cm (20 7/8" to 24").

Lazer is the brand of a Belgian company, Cross HM S.A., established in 1919. Their helmets are showing up more in US shops now, marketed through Quality Bicycle Products. Their high end models have nicely recessed strap anchors. Kid's models have bug net in the front vents and chin protectors on the straps. Lazer's catalog still refers to "Multi-impact Protection" for these one-hit helmets, apparently unaware that to the rest of the world a multi-impact helmet can take multiple hits on the same spot. They really mean there is internal reinforcement so the helmet will remain in one piece after the first hit, and could take a hit on a different spot.

Some of Lazer's models have a ring fit system that narrows the band as it is tightened, rather than just pushing the head forward in the helmet. Here is a review showing that feature in photographs.

Lazer has a four star and a five star motorcycle helmet among those tested and ranked by the British government's SHARP project, the only ranking system of its kind.

Lazer sells some models in both Europe and the US without having to make changes to meet the CPSC standard. High end models are different for the two markets, however, since the US version is too heavy to sell well in European markets. Lazer sells the same helmets in Asia, where heads are rounder, and says that their fit system adjusts. Some models come in a women's version with pastel colors and bright colored straps, said to be "ponytail friendly." Their built-in LED models run on button cells to reduce the bulk of the battery and permit the helmets to pass impact standards, although button cells don't last very long and are expensive to replace. Model names change, and we don't keep track of the old ones. For 2012 there are neon options for most models, with the color molded into the plastic shell. There are also sunglasses available with short side pieces that end in a magnet, matching with a rubber-covered metal piece on the helmet strap.

Lazer's biggest news for 2012 is in their child helmets. Nut'Z with MIPS is a compact-shaped road helmet for kids, with rounded points in the rear, and the similar P'Nut with MIPS is the smallest size for toddlers. These two have a MIPS slip-plane system for 2012. An effort to reduce rotational forces in an impact, it allows the helmet to slip a little to the side by including two layers with a slippery surface between them. In this case the inner layer is just an inner fit basket, not a full helmet layer like the POC models or Lazer's own motorcycle helmets. We think that a rounder outer surface on these child helmets might have accomplished a similar reduction in rotational force, and the helmets are not tightly coupled with the child's head, so they will slip anyway. But the MIPS system is at least an attempt to address the rotational forces that probably are the biggest contributor to concussions, and we are encouraged that Lazer was courageous enough to introduce this construction in a child helmet. Ring fit with a spring-loaded occipital stabilizer. Retail is $80 for either MIPS model, or $20 less for the plain non-MIPS models. There is a full-cover outer shell available as an option. Urbanize: Lazer's city helmet is round and smooth except for a bumped out integral visor in front. It looks more like an equestrian helmet than a bike helmet, but has long rectangular vents. Molded in the shell with a one piece shell. Comes in visible white, as well as pink and some drab colors. Ring fit. Retails for $80. With a blinking LED light set into the front and back vents it becomes the Urbanize N'Light, for night use "without you looking like a biking torch." Retail is $105. Helium: a high end helmet molded in the shell with an elongated shape, rear points and three front points as well. It has multiple shell pieces wrapping around the lower foam sections. Fiberglass reinforcing shows on top of the bridges between the vents. The Helium has a dual-density foam liner that reduces the weight by a claimed 40 grams. It has a ring fit system adjusted with a toothed wheel at the top rear that turns a long screw. Retail is $220. There is a special edition Road Warrior model in Belgian, Italian or Russian colors for $250. The Genesis RD continues as before, with a single density liner still retailing for $175. Even though the Helium and Genesis are CPSC certified, we would avoid them because of the points and the hard wheel that sticks up on the Lazer adjustment system. We would not want to crash on that spot. In mountain bike trim with visor it is the Genesis XC at $180 retail. We have received emails from riders with round heads and others with elongated heads saying the Genesis fits them well. Neon: a 2011 road model with the compact shape and some rear projections. Also comes as the Clash with visor, Skoot for kids, Kiss for women and Vandal with visor for youth. O2 RD: a 2009 helmet using a model name that Lazer had used before for another helmet, the O2 has the elongated shape and pronounced rear points, big vents and the external wheel adjustment that we think should not be on the surface of a helmet. But it has the Lazer ring fit system that narrows the ring as it is tightened to accommodate narrow heads. (photos here) There is an XXL that will fit up to 64 cm heads, Lazer's largest. Retail is $110. Sphere: an elongated road model large vents and pronounced rear points. Nirvana: a 2009 model with more points sticking out in all directions than any other Lazer helmet. It has the external roller to adjust, and a three piece molded shell. We would pass this one by due to all those external points. Retail is $140. 2X3M: ("too extreme") A unique series of vents gives this one a radical appearance. Molded in the shell, with a rear point, and a lower shell. The visor-less 2X3M is the 2X3M RD. Retail for either is $50. There is also the older X3M model, without the lower shell, but with visor and listed as a "value" model. It has Lazer's older fit system and is good for narrower heads. Retails for $42. Tempo: a "value" model. It is only certified to the CEN standard and will not be seen in the US. Molded in the shell with a one piece shell that has modest rear points. Big vents, ring fit. Retails for $40. Compact: another value model, this time with a glued on shell rather than molded. Rounded shape. Meets the CPSC standard. Retail is $30. Krux: a skate style or BMX helmet for the urban helmet market with a rounded profile but blocky sections, minimal vents behind those surface blocks and a small integrated visor. There is a Union Jack model with bright British flags on front, top and rear. Marketed to BMX it's the Krux Radical. Retail is $70. CityZen: a round, smooth skate-style helmet (the One City below) helmet with vents, but covered with a cloth cover in houndstooth, tartan or solid grey or black.





Reminiscent of the Danish Yakkay, but more Belgian in style. We would avoid this one for the flaps, visors and cloth cover. One City: classic skate-style helmet with small vents and bright graphics. Oasiz: a road model with large vents, compact shape but pronounced high rear points. Junior: a vented, molded in the shell youth model for ages 5 to 10, round and smooth except for an extension in the front to form a visor. Has an LED blinker in the rear stabilizer. Retail is $43. SMX: unvented downhill racing model with vented chinbar and a carbon fiber shell. Bolted on visor, of course. Flexible debris deflector (roost shield) on the chinbar. New for 2009, but may just be a name change. Meets the US DOT motorcycle standard. Excalibur: BMX full face model with a nicely rounded exterior. Fiberglass shell. Euro model. Available in white. Retails for $150. Armor new for 2012, a classic skate shaped helmet with small rectangular vents, but it is molded in the shell, with a rubberized polycarbonate thin shell and EPS liner. Meets the CPSC standard. We don't like the rubberized coating on the shell because it may increase sliding resistance in an impact. Lazer says it fits different shaped heads, including rounder ones, with different fit pads. There are some nice bright colors. Marketed to urban bike riders in Belgian cities as well as skaters. Retail is $70, high for this type of helmet. Street: Skate style helmet with the same look as the Armor above, but with an ABS hard shell. Fits different shaped heads with different internal pads. There is a Street JR for kids. Retail is $50, high for this type of helmet. In plain colors or white it is the Next at $40. Bob: toddler "Baby-On-Board" model with a round smooth profile and small vents. Visible white among other graphic schemes, and comes as a Bob Radical with a "Mohawk" fringe. Certified to CPSC. Lazer's smallest helmet, fitting 46 to 52 cm heads. Retail is $25, or $35 for the Bob Radical with fringe. Max: toddler model with molded in visor in front and a glued-on shell. Some versions have unfortunate fins on them. Cute graphics including a little "Police" model. Retail is $30. Bullet: a chrono-shaped helmet with a long tail and a few long, narrow vents. The black shell looks like carbon fiber but is not. Ring fit. Tardiz: originally named for Dr. Who's time machine, but the s at the end has become a z. A chrono model with a water intake used to replenish an evaporative cooling system, just in case you don't sweat enough in your almost unvented time trial helmet. Dual shell enables a dimpled rear section that burbles air like a dimpled golf ball for better aerodynamics. The only chrono model we have seen with a women's graphic version, called the Ldy Tardiz. Retail is $180.

Lazer has a plastic shell that fits over the helmet to keep rain and wind out, something you might appreciate in cold, wet climates. For 2011 the O2, Sphere, Genesis, Tardiz and Helium will have this optional Aeroshell. Some models have a "Magic Buckle" introduced in 2011 that closes magnetically. We will reserve judgment on that one.
LED is a Canadian company based in Alberta. They have one "one size fits most" helmet, a nicely rounded road helmet with reasonable vents that has four flashing single LED's around the helmet attempting to cover 360 degrees. We have not seen them, but the company provided test lab results showing the helmets meet the ASTM F1447-02 standard, so they would probably meet the CPSC standard as well. All of the results were good, with reasonable g levels. We don't know what power source they are using for the LED's or how bright they are. Retail should be "in the low to mid 30's." Limar is an Italian brand. Their models usually have some bright color choices and nice graphics. Some of them are CEN certified only and are not available in the US market. Many of the molded in the shell models have unfortunate external strap anchors sticking up above the surface of the shell. Kid's models have nice pinch protector tabs on the buckle. Their side strap adjustors have not held well in the past, but the ones on the Ultralight Pro 104 are excellent. Pricing varies by $5 to $10, so we cite the high end of the range, and you may find it for less. Limar has rounded out its line with helmets from other manufacturers, a common practice.



Ultralight Pro 104: Introduced in 2008 as the Pro 104, billed by Limar as "the world's lightest helmet." The size small is advertised as 160 grams in the CEN version and 200 grams in the one that is certified to CPSC. For 2010 there is a Carbon 104 with carbon fiber reinforcing that is a few grams heavier, and an available visor. Molded in the shell with large vents, round and smooth profile but still elongated, with just a small rounded bump of a rear shelf. Limar must have found out that rear points add weight without improving the helmet. Has excellent side strap adjustors that hold very well. There is bug net in the front vents. Retail is 150 euros with or without visor, or 200 euros for the carbon version. The CPSC version sells in the US for $210 when available in 2012. The MTB version has a visor and retails for $225. 910 MTB: sweeps back and up with the pointiest rear profile in Limar's line. Very large vents including a heart-shaped one in the front that leaves two unfortunate points there. The strap anchors are recessed into the grooves in the shell, and there are some bright colors. The front vents are designed to work with the visor. 777: new in 2010 when it was billed as "the new trend for roadies" with the compact profile, but marred by angular points on the surface and in the rear. Retail is 79 euros. With visor it is the 757 MTB. 650: a new 2010 model, with compact shell profile spoiled by a shelf overhang in the rear. Retails for 59 euros. With visor it is the 675 MTB. 575 MTB: fewer but very large front vents, molded in the shell with wrap under shell piece. Almost no rear point. Ring fit. This one retails for $60. 635: new in 2011, a somewhat elongated road model with a rearward-facing point on the top and points in the rear. Retail should be under $60. X-Ride: for "demanding offroad and freeriding" with a compact profile marred by one high and pronounced rear point. Limar cut huge blocky vent holes in the shell, but they neck down to much smaller holes going through to the interior. With black liner foam the dramatic visible effect is a helmet with immense vents. Has bug net. Retail is 79 euros. 525: a youth model, molded in the shell with angular lines and modest rear point. Ring fit. $45 retail. 515 All Around: a youth model, molded in the shell with a rear point and a lumpy exterior. Modest vents. Ring fit. Retail is $45. 149: molded in the shell, a round and smooth vented child's helmet with a ring fit system. Front shell pooks out into a visor. Retail is $40. 124: molded in the shell, a round and smooth vented child's helmet with a ring fit system. Front shell pooks out into a visor. X-Action: classic skate helmet with ABS hard shell, small rectangular vents that are larger than most skate helmets and a ring fit system. There is bug net in the front vents, seldom seen on skate style helmets. Retail is 59 euros. Also comes in plain colors with three extra vents in the rear as the X-Urban, with a retail price of $45. They are advertised as multi sport helmets, but we don't know which standards they meet. Cruiser BMX: revised in 2010 with new graphics, a classic BMX full face helmet with small vents, large visor bolted on and ABS shell. Very plain graphics, no bug net. Retail is 89 euros. Nutcase: revised in 2010 with new graphics, another classic BMX full face helmet, with snappier graphics, small vents and a fiberglass shell. Has bug net. This one is certified to Snell's B-95 bicycle helmet standard. Retail is 129 euros. Limar Speed Demon: a CPSC certified chrono helmet molded in the shell with 6 long thin vents in the front and 9 elsewhere for a total of 15. Limar says they offer good ventilation "without affecting the aerodynamics." It has a flexible ear flap to avoid the chafing problem. Ring fit for heads 54 to 61 cm. There is a carbon version, but that refers to the black color, not the shell material. Retail is $190. Chrono: an aerodynamic pursuit and time trial helmet with CPSC certification. Molded in the shell with 5 small vents in the rear recessed into channels. Face shield optional. Limar says the short shape permits more efficient bike position and works better when the rider is out of aero position or standing. Ring fit for heads 53 to 59 cm. Again the carbon version refers only to the black color, not the shell material. Retails for $170.



Limar is distributed in the US by J&B. Some Limar models are available in Bianchi or Michelin colors.

Limar has a 3 year crash replacement guarantee, offering a replacement helmet through the dealer at half off.
Louis Garneau is an independent Canadian designer and manufacturer with an extensive helmet line along with many other bicycle products. All of their helmets are molded in the shell except as noted below. For the European market, Garneau has bug net in the vents of some models. Some models are available without visor for $5 less. Custom team graphics or stickers are available. Some Louis Garneau models are designed for the Canadian market and may not be available in the US, but all of the ones listed below meet the CPSC standard and are sold here. Although Garneau used to make many helmets in Canada, at least some of the models below are made in China, so look for the country of origin sticker inside if that matters to you. Louis Garneau is one of the sponsors of Team Type 1, a racing team that includes riders with type one diabetes.



Baristo: an urban helmet design with more vents than most urban helmets and the rounder, more compact shape we recommend. There are ridges, but it has only a minimal point.





The Baristo comes close to the look of a regular road helmet, but without the useless rear overhang. Comes with a visor. Worth a look, at a retail price of $55. X-Lite: a new 2011 design that is Louis Garneau's entry in the superlight helmet competition sparked by Specialized and attempting to produce a CPSC-certified helmet that is as light as a CEN-only European helmet. The Garneau version looks like a normal road helmet with somewhat angular lines, but they have shaved every gram they could in foam, shell, stabilizer and fittings. CPSC and ASTM certified. Retail is $170. Switch: top of the Garneau "mountain" line, with the same exterior shape as the Baristo. But this one has composite reinforcing, a lower shell covering all the foam, and upgraded fit system. Also has a rear reflector, that unfortunately sticks out too far. Retail with those upgrades is $80. Comes with a visor. Although impact performance is likely to be about the same, the enhancements are a genuine improvement, and only you can decide if it's worth the extra money. Edge: A 2011 design with high rear point and large vents. Retail is $100. Quartz: A 2010 design, this one has a nicely rounded profile except for a single pronounced point at the rear. The very large vents run lengthwise, with internal supports of course and visible composite reinforcements. Garneau's wind tunnel tests showed this model and the Diamond to be cooler than a bare head. Recessed strap anchors. Had the best strap adjustors in the LG lineup. There is a bright orange option. Four sizes, including an XXL that fits heads up to 65 cm (25.6"). The extra effort to add the fourth size indicates that Garneau expects this to be a popular helmet. Retail in the US is $140. Diamond: Louis Garneau's top of the line road helmet, with many large vents and a sharp rear point. Garneau's wind tunnel tests showed this model and the Quartz to be cooler than a bare head. Has partially exposed composite reinforcements. The shell pieces wrap under all the way around the rim for extra strength. There is a visible yellow option, and the white option includes team color decals. There is a matching Garneau jersey. There is a case for the Diamond, too. Retails for $190, with another $40 for the case. Versa: a road helmet with elongated shape, small raised ridges and pronounced rear points. Molded in the shell with a wrap-under shell. Retail is $95. Global II: a molded in the shell compact shape with reduced rear points. There is a bright red and white option. Retail is $70, or as the Mundial II without visor it's $65. Olympus: the value model of Louis Garneau's line is this molded in the shell compact design with a rear shelf point. Plainer graphics, ring fit. Retail is $40. The women's version is the Saphir at the same price, and there is an Atlantis version with no visor for $35. The youth version, with somewhat better graphics, is the Drift, with visor, for $40. Arcterus: the LG value model for those with larger heads, with a compact shell based on the Olympus with some vent changes to handle the larger size. Still molded in the shell. Strap junctions do not hold well. Fits longer and wider heads better than most Louis Garneau models. Fits 62 to 64 cm heads (24.4 to 25.2") Retail is $45. Eddy: an "entry level" design, elongated with a minimal point in the rear. Glued on shell. The women's version is called the Victoria to complete the royal naming combination. Flow: Toddler helmet with a molded in visor extension and glued-on shell. Bug net in the front vents. Designed for kids 5 to 10. This one has a dial-fit rear stabilizer. The Charlie Brown version has Peanuts graphics. The retail price is $30. Baby Boomer: Toddler helmet for the 5 and under crowd, round and smooth, with a few vents and cute graphics. The shell is glued on. Strap junctions do not hold well. The smallest model is size 6, for a 48 cm (18 7/8 inch) head. Retail is $28. Street: A hard shell classic skateboard-style helmet with small vents. Has CPSC bicycle helmet certification and ASTM F2040 snowboard certification but is not dual certified to the ASTM skateboard standard. Retails for $35. Willy: a 2009 skate style model with a hard shell, oval vents, a slightly less curvy line along the side and higher end graphics than the Street. Retails for $24. Vortice: a 2011 chrono time trial helmet, with a shorter rear treatment than other Garneau models and one rectangular front vent that is large for a chrono model. The dimpled surface in front is followed by a line of hash marks that Garneau says improve air flow. Comes with a ventilated face shield. It is pitched for triathlon riders, and said to have good cooling even when off-axis. Retail is $250 to $260. Superleggera: a chrono time trial helmet design from Louis Garneau, the first manufacturer to make a chrono helmet that passed the CPSC standard. This one continued that tradition, and represents the fourth generation of Louis Garneau chrono models. The Superleggera is dimpled like a golf ball in front for aerodynamics. Unlike most chrono helmets it has large vents--two in front and three in the rear. It has a medium long tail. The shell is glued to the liner, not molded. Garneau says the center of gravity has been adjusted to reduce neck fatigue and make it easier to maintain an aero position. It fits 52 to 62 cm heads. Retail is $180, with an additional $45 for the Rocket Case and $35 for the windscreen. Rocket Air: a 2008 update added larger front vents to the older Rocket and three large exhaust vents on the top/back. This is Louis Garneau's third generation chrono design. It meets the US CPSC standard. $150 retail. Chronoleggera: Very similar to the original LG chrono model, in a classic teardrop shape with a dimpled surface. Ears are not covered. Has three small vents. Retail is $130. The older Chrono is still on the LG Web site at $100. Windscreen: Not a helmet, but an accessory, this is a polycarbonate lens that wraps around a helmet--almost any helmet--and is held on by hook and loop. It fits all of the LG chrono models. Comes in clear, smoked or contrast-enhancing yellow. The edges are unprotected except at the nose, and you could probably slice meat with them, even if it did not shatter in a crash. We would favor something with protected edges, like a pair of glasses or goggles. Retail is $35. H-Cover: Garneau's helmet cover is made of waterproof but breathable fabric. It comes in black or a very visible bright yellow for $20.



Louis Garneau still has a free replacement guarantee for the first year.
Lucky Bell is a Hong Kong company producing Expanded PolyUrethane (EPU) helmets mostly for other brands, with some under their own Aerogo brand. They have bicycle models, most of them round and smooth, with small to reasonable vents, nicely recessed strap anchors and visors. There are also skate-style models. We can't find the Aerogo pages on the Web any more.

Mace is a Canadian company with a line of bike clothing for skate and BMX. Their products are distributed through Norco.

Gurka: a 2009 BMX model with polycarbonate shell. Meets the US DOT motorcycle helmet standard. Comes in smaller youth size as well as normal adult sizes. Retails for $149. Hammer: Downhill mountain bike racing model with a fiberglass shell and vents. Retails for $130. Hornet: BMX helmet with fiberglass shell and a chinbar sized for kids. There is a bright orange graphics option. Large vents in the top. Meets the CPSC and CEN bike helmet standards. Retail is $120. C4: classic skate model with ABS shell. Retails for $30. C4 Lite: classic skate style, but has a thin microshell rather than the usual ABS hard shell. Small classic skate vents in the top only. It is molded in the shell, and comes in matte white, black and red. Retails for $60. Trigger: another skate style model with thin shell and EPS liner, and an updated profile with larger oval vents. Retails for $36.

Mace's skate models fit sizes from 50 cm up to 62 cm.

Mavic is entering the helmet market in 2012, and introduced three models at Eurobike in August of 2011. Press reports say colors will be black and a very visible yellow. We have not seen the line yet, but they are marketing in the US, so must meet the US CPSC standard. Mavic says they developed the designs in-house, but the helmets are made for them by a third party.

Plasma SLR: the top of the line has carbon fiber reinforcing in the foam and large vents. Two-piece shell for full coverage. The rear has three rows of three vents, almost like an automotive grill, with a small snag point just above. Anti-microbial padding. Retail is $220. Plasma: no carbon fiber, but aluminum reinforcing in the foam, adding five grams. Retail is $180 Synchro: another aluminum-reinforced model, somewhat simpler in design. Has a visor. Retail is $125.



MET is an Italian manufacturer whose helmet line we have not seen, but they have a fine Web site and a good catalog. The comments below are limited to the info on the Web. MET has models for road and offroad biking, a BMX model, youth and toddler models and a chrono shaped time trial racing helmet. Almost all of them have points in the rear and the elongated shapes that we do not consider optimal. MET says their road and off-road helmets differ in the placement of the vents to optimize them for the type of riding, in addition to adding a visor for off road use. Most of their helmets are molded in the shell, and some have lower wrap around shells as well. Strap anchors are under the shell in some models, a nice touch. Logos are reflective, although generally small. The top of the line models are radically different in appearance. The last time we checked, MET's helmets were not available in the US. Regarding standards, all they say is "Each and every Met helmet passes the safety standards that apply in the countries in which they are sold, EN 1078 label in Europe or AS/NZS 2063 in Australia/New Zealand for instance." They candidly say they have not designed a helmet specifically for women, but all their helmets are designed for both men and women.

Camaleonte: a round, smooth urban commuter style helmet with only moderate vents, by far the best-rounded model in MET's line. It also comes as the Camaleonte Executive with a rear light. Cosmo: a road model with an elongated shape and a moderate overhang in the rear. With visor it is the Mythos. Aliseo: molded in the shell and much better rounded than most other MET models. With visor it is the Falco. Forte: an elongated, angular design with moderate vents and a high rear point. Inferno UL: molded in the shell using "Ultimalite," MET's proprietary fiber reinforcing. Large rear point. Stradivarius UL: molded in the shell with large longitudinal vents and a single pronounced rear point. Sine Thesis: an elongated, angular design with large vents. Crackerjack: a youth model with a compact shape but angular lines. It has fewer but larger vents than other MET models. Comes with visor. Terra: a compact design with two high points at the rear and very large vents. Kaos UL: a Freeride design, the Kaos is molded in a shell made with "Ultimalite," MET's proprietary name for fiber reinforcing. It has big vents and big rear points. There is a visible white option. Without the new fiber in the shell it is the Kaos. Parachute: a "Free-Ride" (off-road) model with a skeleton-like removable chin guard that splits into two pieces to fit in your pack. An interesting concept, although it is hard to say how rigid it would be in a crash, and it apparently has no impact padding. (One user emailed us that in his crash the helmet rotated easily because of the chin guard and left the face unprotected.) Veleno D: molded in the shell, with large rear points. There are visible white and red options. It also comes in the largest size as the Predatore fitting up to 64 cm. Without visor it is the Estro. Testagrossa: molded in the shell with forward-facing points, a modest rear point and a visor, in XXL only fitting up to 64 cm (25.2 inches). Genio/Elfo: a vented toddler model molded in the shell with a lower shell to cover all the outside foam. Bright graphics. Has a bump out in front to form a visor and a very useful flattened rear to avoid cocking a child's head forward when sitting in a child carrier. There is a less expensive version with a taped-on shell called the Buddy/Super Buddy. Both fit heads down to 46 cm. Pac VII: Met's chrono model, molded in the shell. It is a long-tailed design with two vents.



In the past, Met's helmets have all been made in Italy, and their Web site talks about their manufacturing processes, but emphasizes Italian design rather than exclusively Italian origin. You can order replacement visors and replacement pads directly from them through their Web site. We wish more manufacturers would do that, since finding replacement pads is sometimes a real challenge.

MET has a three year warranty against product defects. They call it "comprehensive" but with some caveats:

"Helmets returned for inspection must be sent in proper individual protective packaging, postage prepaid to the MET distributor in your country, with a dated proof of purchase and a letter explaining the reasons for returning the helmet. MET shall not be held liable for any indirect, special or consequential damages. The warranty does not apply to helmets which have not been used properly according to the MET helmet owner's instruction manual. The warranty does not cover normal wear. The warranty does not cover damages caused by accidents, abuse, negligence, incorrect adjustment, or for use other than that intended by the manufacturer. Any modification made by the user will render the warranty null and void. The warranty does not cover damages due to heat exposure.

We cannot find any crash replacement info on the MET site.

Michelin, best known in the US for tires, launched a line of helmets in 2005 in conjunction with Zefal, best known in the US market for pumps and accessories. Since known brands sell more helmets, both companies may be hoping that the well-known brand name will help. All but the toddler helmet are molded in the shell. The Michelin line has been updated for 2011, dropping their urban helmet.

MS: elongated shell, but the rear point is rounded. Has a visor. SX1: elongated shell with points in the rear and a visor. In youth size and graphics it is the TX1. RX1: elongated shell with more rounded rear treatment except for a little tab left sticking out at the top. With visor it is the MX1. RX2: elongated shell with points at the rear. RX3: elongated shell with points at the rear. RX4: elongated shell with rounded rear lines. MX2: may be the top of the line, with an elongated shell, points at the rear and many smaller vents. Comes with a visor. MS: molded in the shell with an elongated shape, reasonable vents and a moderate rear point. In youth size and graphics it is the MT MK: toddler helmet with vents, molded in the shell as few toddler helmets are, nice bright colors and graphics. The extra small size fits 45 to 52 cm (17.7 to 20.5 inches) heads. Retail is $25.


Mien Yow Industry

See Alpha above.

Mobo is the brand name of ASA Products helmet line with LED-powered fiber optic rings around them providing light. We have only seen those on Hopus/Aegis helmets in the past. The Mobo 360 degrees LED Light Helmet is a standard road model, molded in the shell with moderate vents and otherwise not exceptional, but the retail price is very high at $119. We have not been impressed with the light output, although the ring effect is cool. At Interbike, Mobo had a police model that retails for about $90, with POLICE graphics and the LED ring. We don't see it now on their Web site. They also have a skate-style helmet for only $20, but without the LED ring. Mobo models fit heads 22.75 to 24.5 inches (57 to 62.5 cm)
Mongoose is a Pacific Cycle brand, so the helmets are not produced by the same people who make the bicycles. The company is positioned as a supplier of a full line of bicycles and accessories targeting the "extreme sports kid," a male between 7 and 17 years of age "driven by attitude." We have not seen their helmet line for 2011 and do not have pricing for their models.
Netti is an Australian company that has been around since 1948 as a distributor of cycling goods. They say they are Australia's biggest manufacturer and distributor of bicycle clothing and helmets. We have not seen their helmets in the US market for a long time, and we don't find the helmets any more on their Web site, but do find some of them still on line, with prices below in Australian dollars. Netti models include:



Transit: introduced in 2009, a city commuting style helmet with lots of vents and lots of styling pizzazz. Molded in the shell and has bright red as well as white options. Comes with a visor. Soniq Carbon: has an elongated shape made longer by the big point in the rear. Has visible "carbon-style" cloth reinforcements that Netti says are actually carbon fiber. $110 on line. Cyclone: Molded in the shell with a two piece shell. Retail is AUS$100. Pegasus: elongated shape with high rear point. $70 on line. Lightning: elongated shape with a shelf across the rear. $40 on line. Fuse: elongated shape but with minimal rear shelf. Molded in the shell, bright colors available. $50 on line. Pangea: Upper and Lower glued on micro shell. Qantum Pro: Nicely rounded shape, two piece glued on shell with some bright color combinations. Trail: elongated shape, rear points. $60 on line. Jackal: Full face downhill racing or BMX helmet with small vents and bolted on visor. Invader: Full face for Down Hill & BMX, unvented ABS shell. The visor has two bolts. Instinct: Full face BMX-style helmet with a fiberglass shell and vents. Kaos: classic skate helmet with small vents (four in the rear) and ABS hard shell. Comes in visible white. Blade 2: Hard ABS shell, classic skate shape, but certified to the CPSC and AS2063 bicycle helmet standards, not skateboard. Minimax 3: Toddler model with heart-shaped vents and full shell cover. Comes in extra small. $40 on line. Pilot: Child/youth model with ring fit, bright graphics and AS2063 Certification. $40 on line.

In addition to their bicycles, Nishiki has a complementary line of clothing and accessories. They have two helmet models, the Havasu and the Takoma. Both are molded in the shell, with rear snag points, the Havasu being the better rounded model. They come in women's colors as well. Both are certified to the CPSC standard for the US market. They retail for around $40. Nutcase began its marketing with a single classic skate helmet with ABS hard shell in many colorful and whimsical graphics designed to convince stubborn kids that wearing a helmet is cool. Their Street helmet is certified only to the CPSC bicycle helmet standard, not the ASTM skateboard standard, despite the skateboarding label and the words "multi-sport" including skateboarding on the box. Their product literature also misquotes the title of the CPSC bicycle helmet standard and adds the word skateboard to it. We would not recommend buying a helmet from any manufacturer who is that confused about standards. The retail price is $45 to $60 for the models sold in bike shops. There are ear pads for winter riding, and an optional visor.

For 2012 Nutcase has added the Metroride, an urban design with a very round and smooth exterior that has six long vents in the center. Although almost a skate shape, it has only bicycle helmet coverage in the rear, and is molded in the shell with a thin shell. The straps are a "no twist rope" and the buckle is the magnetic Fidlock. There are graphics options that make it look more like a hat, including tartan plaid, and a very visible orange. One of the shell options is reflective. The removable visor looks like a cycling cap. Retail is $100.

A change of liner in the Street produced the Crossover for 2012, a helmet that is dual-certified to the CPSC bicycle standard and the ASTM F1492 skateboard standard. It has an EPP foam liner for multi-impact. It sells for $60.

A shop specializing in large bikes for large people informs us that the Nutcase in L/XL fits many customers who have large heads. The Nutcase site fitting chart says that size fits heads up to 64 cm (25"). Nutcase says their smaller models fit round Asian heads well, but larger ones may not.

Nutcase has agreed to produce the Macinac Island community helmet that will be designed as part of a community project in 2010 for distribution in 2011. For 2011 Nutcase added reflective material to their helmets and a new magnetic buckle they call the Fidlock.

Nutcase produces the Flex for roller derby use, but sells it only to pro skaters and does not sell it in the US.

OGK is a Japanese company that marketed helmets in the US back in the 1980's. They still produce bicycle helmets under the Kabuto brand for the Japanese market, and their English web site describes their line. It includes road, urban, kids, downhill and chrono helmets. All are certified to the Japan Cycling Federation JCF standard. We don't know their pricing.

Oktos is a European company selling accessories and sunglasses as well as helmets. They sponsor racing teams. Their helmets are made in China to the European CEN standard and marketed in Europe. Some are molded in the shell. They fit sizes 54 to 62 cm (21.3 to 24.4 inches). We have not seen their 2011 line. Prices on the US Web site are apparently all set at $135, but the helmets can be found for much less on European sites. In the US, Oktos helmets are distributed by Persons-Majestic Co.

Altos: molded in the shell with a full cover shell, an elongated profile and moderate rear point. Destructor: molded in the shell with a full cover shell, an elongated profile and pronounced rear points. Protector: nicely rounded profile, molded in the shell. Pro Team: molded in the shell with a full cover shell, an elongated profile and moderate rear point. V17: nicely rounded profile, molded in the shell. There is a brightly colored flame option. V10: rounded profile, glued-on tapeless shell and bug net. V13 Trainer: a 2004 design with nicely rounded profile, glued-on tapeless shell and bug net. Quick Fly: a vented child's helmet with molded in visor and glued, tapeless shell, that comes in yellow with a Dalmatian motif like Louis Garneau's old Felix. Kid: vented toddler helmet with bug net, meeting the CEN European standard. W10: molded in the shell with nicely rounded profile, lower shell, bug net. Agressor: BMX model with chinbar and a vented shell.




O'Neal


See Azonic above.

Orbea is an old and established Spanish bicycle manufacturer. In 2010 they developed a line of helmets with distinctive styling with four models: Odin, Thor, Rune and Ari. All are road helmets with large vents and rear points. Although press reports indicated they were bringing some of them to market with prices ranging from $99 to $199, we have not seen them yet. Orbea's Web site has no standards information.



Pacific Cycle

See Schwinn below, or Mongoose above. Pacific Cycle owns the Schwinn brand. In 2009 they bought PTI, the former manufacturer of Schwinn brand helmets.
Poc is a Swedish company who entered the US bicycle market for the first time in 2009. In mid-2012 they were bought by Black Diamond, known for its outdoor and ski equipment. Their other lines include body armor, gloves and protective eyewear as well as ski helmets. Some of their helmets meet standards other than the CPSC and CEN bicycle standards--check the sticker inside to be sure. Although bike standards all over the world have eliminated penetration tests because epidemiology shows no penetration injuries, POC uses a double overlapping shell construction on some of their models to ensure that there are no straight-through vents where a sharp object can penetrate. This would inevitably reduce air flow, but POC remains concerned about preventing penetration by sharp objects. We do not share that concern, but if you do and want at least some ventilation in a penetration-protective helmet, the POC approach on their Flow models is unique. The helmet is molded in the thin inner shell, with a thicker outer shell.

In 2011 Poc introduced two models that incorporate the MIPS anti-rotational injury design, with a slip-plane layer that mitigates rotational force by sliding the outer layer over a Teflon-coated inner layer at the moment of impact. We have more on that technology on our sliding resistance page, or you can check it out on the MIPS Web site. POC also began using a new magnetic Fidlock buckle.

Poc's models for this year include:

Trabec: a conventional molded in the shell model with very good skate-style coverage in the rear and large rectangular vents. It has a very large front visor, and is described as a mountain bike helmet. It has Aramid fiber reinforcing the EPS liner. Comes in some bright colors, with the contrasting color on the rear section.





This one does not have the MIPS system. Retail is $140. Also comes as the Trabec Race with extra Aramid fiber reinforcing for $180. For 2012 POC has added a version with the MIPS system, the Trabec Race MIPS for $200. Receptor Backcountry MIPS: a skate style helmet with hard ABS outer shell, and a thin offset second shell of polycarbonate, covering the Expanded PolyPropylene (EPP) multi-impact foam liner. The rectangular vents are offset between shells to provide penetration protection, but ventilation is minimal. Under the outer vents the thin inner shell is reinforced by Aramid patches. This one has the MIPS slip-plane system, and is a true multi-impact and multi-sport helmet, although POC has no standards info up on it yet. Retail is $250. Receptor +: Similar construction to the Backcountry, but without the MIPS system. Has the EPP multi-impact liner. Can be equipped with ear covers for water use or an EVA cover to close the vent system for skiing. Now said to be dual certified to ASTM F1492 as well as the CPSC standard, although we have not yet seen one with an ASTM sticker inside. Retail is $200. There is an excellent in-depth review of the Receptor on YouTube. Receptor Flow: uses the outer shell of the Receptor + with an EPS (the industry standard) liner, so this one would not be multi-impact. It has normal flow-through vents, but much smaller than the Trabec. POC says it works well for longer head shapes by changing the fit pads. Retail is $80. Receptor Commuter: uses the outer shell of the Receptor + with an EPS (the industry standard) liner, so this one would not be multi-impact. It has normal flow-through vents, with an inner thin polycarbonate shell protecting the foam. Comes in visible white or black. This one does not have the MIPS system. Retail is $120. Cortex DH MIPS: a BMX full face helmet constructed with the double shell. The outer shell is carbon fiber, with the thin polycarbonate inner shell with a liner reinforced by Aramid patches behind the outer vents. EPP multi-impact inner liner, an unusual feature in a full face helmet. But there is no energy management foam in the chinbar. This model has the MIPS slip-plane design. Retails for a very high $500. Cortex Flow: Shaped like the Cortex DH but has open vents for more ventilation and a fiberglass shell rather than carbon. It does not have the MIPS system. The liner is EPP for multi-impact. Retail is $250.



POC's XL models fit 62 to 63 cm (24.6 inch) heads.

Potenza is a brand of Seattle Bike Supply, a large distributor of bicycles and related products. Their helmets have simple strap fittings, but they seem to hold well. These are not the same models sold by ProRider (below) even though the two companies are in the same ZIP code. Pricing should be reasonable.

Pantheon Pro: molded in the shell with an elongated but reasonably smooth shape with only one rear point. Comes in XXS to XL, in red, silver and blue. Pav'e (Pav'e with a backward accent on the e, not the French Pave'): a well rounded, smooth design with reasonable vents and a taped on shell. Piccolo: a toddler model with the usual round, smooth taped on shell. It has minimal vents. Comes in blue, pink and green with graphics.



ProRider is a supplier of BMX and bicycle helmets from China and is also the home of the CNS (Children - N - Safety) National Helmet Program, selling directly to schools and non-profit organizations. Many of their helmets are Snell B95-certified in addition to meeting the CPSC standard. Most of their models have the rounder, smoother shapes that we believe are best when you crash. Prices are very low for the models with taped-on shells over plain white foam, in the under $10 range and sometimes as low as $4 each including shipping when purchased in large quantities for a helmet program. For a dollar or two more you can get better looking models that are more likely to be accepted by the kids than the white foam models. ProRider will also sell to individuals at somewhat higher prices but still below $20 including shipping.

Pro Supergo is not affiliated with the Supergo bike shops in California or with the former Supergo helmets from the 1970's. They have a line of inexpensive Asian-made helmets to complement their other bike accessories. The Web site shows a number of models, including adult, child, BMX and skate style. Some are in EPU foam, some in EPS. There is even one helmet for hurling. Some of the adult models are molded in the shell. We do not know what their retail pricing would be.
Pro-Tec was one of the original skate helmet companies in the 1970's, and popularized the classic skateboard-style helmet with a round, smooth hard shell and small round vents. They still sell nearly identical helmets to those old-school models. The company has changed hands since then, and in 2004 they brought out an almost completely revamped line, most of them much improved from earlier years. They began using a foam they call SXP for some models that replaced the lower grade protection of prior years. Some models are dual-certified to meet both the CPSC bicycle helmet standard and ASTM F1492 Skateboard requirements. If you want a Pro-Tec, we suggest that you take a look at one of the dual-certified models. In late 2012 the Pro-Tec brand was sold to Dye Precision, a paintball company in San Diego.

Pro-Tec's SXP foam is a modified formulation of Expanded PolyPropylene (EPP), allowing them to upgrade their protection while still meeting multiple impact tests without making the helmets thicker. It is a multi-impact foam, although it does lose some performance with multiple hard hits in the same location. We have more comments on our foam page. Most Pro-Tec helmets look exactly the same on the outside, so you must find the standards sticker inside and be very careful about the model you buy for bicycling.

Pro-Tec's models include:



Cyphon: a hard shell bike helmet with round, smooth lines and extended rear coverage. Molded in the shell with ABS/PE hard shell and normal vents. Has a visor. Retail is $120. This one is worth a look for the extended rear coverage with bicycle helmet vents. Classic EPS: round and smooth, with small round vents and good coverage, the classic Pro-Tec design. Comes in visible white and bright red as well as the standard dark colors. Certified only to the CPSC bike helmet standard, not skateboard. Retails for $35, or $45 for the Spitfire or CVLT versions.

There is an outwardly similar Classic Skate and Classic Full Cut Skate that are not certified to either the CPSC bicycle standard or the ASTM F1492 skateboard standard and therefore to be avoided. B-2: another round and smooth design, but this time with oval vents, a rad departure for the skate crowd. Dual certified to bicycle and skateboard standards, and you should find a sticker inside confirming that. Comes in visible white as well as the standard dark colors. There is an XS size down to 51 cm/20.1 inches. Retails for $65. It is also available as the B2 2-Stage with a different liner, not certified to bike or skateboard standards and therefore to be avoided. Ace SXP: An updated skateboard style helmet with larger oval vents and minor reshaping of the shell lines. It still has a round and smooth shape, and an XS size down to 51 cm/20.1 inches. Dual certified to bicycle and skateboard standards, and you should find a sticker inside confirming that. Retail is $65.(Note that the outwardly similar Ace 2-Stage, sold for skating in skate shops rather than bicycling is not certified to the CPSC or ASTM skateboard standards.) Shovelhead 2: a BMX design with a full face chinbar, fiberglass shell and vents. It has a snap-in liner that you can wash separately. Certified to the ASTM F1952 downhill standard, indicating better protection than a CPSC helmet. Retails for $130.



Most Pro-Tec models fit heads from 53 to 60 cm (20.9 to 23.6 inches).

We were encouraged by the changes Pro-Tec made beginning in 2004, and glad to see that a number of the models noted above are dual-certified to the CPSC bike standard and the ASTM F1492 skateboard standard. Check for the sticker inside the helmet to be sure.
Proviz is a UK retailer of high-visibility bicycle gear, including helmets. They announced in May, 2012 that they are bringing at least one of their helmets to the US market. Their Saturn Hi Visibility model comes in neon yellow and has five LEDs in the visor. Unfortunately that means that to use the lights you would have to use the visor at night when you probably don't need it. It is CPSC certified. They have other hi-viz models, including one that is all black. It at least has the rear red LED light built into the fit ring of all of the Proviz models. Most of their models are "Designed and built to CE EN 1078 safety standard" so we will not see them in the US market. Retail prices in the UK run from 23 to 55 pounds and sometimes there are sales.
Prowell is a Taiwanese company producing a line of helmets in EPU foam. They have a very interesting website with an explanation of the foam and their technology. Most of their models are molded in the shell, some with lower shells as well. They generally have a high quality appearance, seeming solid (and a bit heavy) in the hand. There are 14 models in the line ranging from radical elongated styles with rear points to more rounded commuter helmets and child models. They have a "Shark Fin" LED light designed to mount on top of a helmet and flash in all directions. Most of Prowell's models should retail for about $25. The company manufactures helmets for other brands.

Pryme is a brand of Seattle Bicycle Supply. The line includes helmets for BMX, downhill racing, whitewater, snowboarding and skate use, most of them with catchy names. All come with three sets of fitting pads. They fit heads from 52 to 62 cm.



Pryme US Pro: a full face model for BMX and downhill racing. Hard shell, vents, bolted on visor. Meets only the CPSC bicycle helmet standard. Retails for $90. Pryme Evil Pro: a full face model for BMX and downhill racing. Hard shell, minimal vents, bolted on visor. Retails for $120. Pryme US: a full face model for BMX and downhill racing. Hard shell, vents, bolted on visor and a cool skull medallion on the chinbar. Retails for $90. Pryme AL: another full face model, with net-protected vents, fiberglass shell and a bolted on visor. Retail is $100. Pryme 8 V2: a classic skateboard style helmet. Has small vents and an EPS liner. Meets the CPSC standard. Retails for $20 to $30. Pryme 8 V2 Lite: a classic skateboard style helmet, but a thin shell that is molded in the shell. Has small vents and an EPS liner. Meets the CPSC standard. Comes in some very bright colors. Retails for $50. Pryme Mortal: skate style helmet similar in shape to the Pryme 8 but with a skull logo insert replacing the vents in the front and only four small ones in the top. Retail is $30. Pryme Vario: a snow helmet also certified to the ASTM snow sports standard and the CPSC bicycle helmet standard. It has small vents. Retail is $40.



Pryme has a useful sizing chart on their Web site.




Pulse

The Pulse helmet is an innovative Australian design by Monash University student Julie-Ann Davies. It includes reflective shell material, large rear light and an "Ear Drop" to let you listen to music or other output on the curb side as you ride. It's only a concept, not anything you can buy. The site maintains that "Cyclists can now listening to their favourite music, answer their mobile phone and record cycling data without compromising their safety on the road." We would not agree. Music and cell phones are fine if your bike is stationary, or perhaps on an offroad trail, but that kind of distraction is the last thing you want if you are riding a bicycle in traffic. Note that the curb side in Australia is on the left.

Raskullz is the brand for a line of child and toddler helmets with rubber animal ears and noses mounted on them. Some go beyond that. All of the projections are soft rubber, but some have a harder core, and do not readily detach. See this page on sliding resistance to see why we think helmets that would not slide easily on pavement present a hazard, and do not recommend them. The packaging mentions ASTM, but does not identify a specific ASTM standard, and the stickers inside the helmets do not mention ASTM at all. Both the ASTM and CPSC child bicycle helmet standards outlaw projections of more than 7mm that do not collapse or break away readily when tested. These collapse partly, but the remaining lump is higher than 7mm. We were dismayed to see that Target is selling Raskullz to unsuspecting parents.




See Kent above






Reflectek

Reflectek is produced by Kuji Sports. There is one model with a fully reflective shell and another with a partially reflective shell that sells in discount stores like Wal-Mart, Kmart, Academy Sports, Dunham Sports, and others, sometimes selling for under $20. They are reasonably rounded helmets with a glued-on shell, small point in the rear, adequate but not large vents and a ring fit system. There is also a molded in the shell "Pro" model too with a partially reflective shell at $40 retail, probably more often seen in bike shops. It has larger vents and a sharper rear point. The same reflective technology has been used on parts of two Ironman models as well. This photo probably overstates the reflectivity, but the contrast with the "normal" helmets is made evident by the camera's flash.





We have comments and photos of one of the Reflectek helmets on our page on reflective helmets. It was also reviewed by Cycling Reviews.




REM

REM is an Italian brand with a line of molded in the shell helmets. We don't see them in the US market. Some of their models have vent "pipes" and some have double layer liners, with an upper cap molded in the shell and a less dense liner below. There are air channels between the layers. We can't find their Web site any more, but the helmets are available online.

Roar Helmets come from Shang Yang Industrial Co. of Taiwan and Vietnam. They have a line of nicely made CPSC-certified helmets, and their adult models are molded in the shell. Some have multiple shell pieces covering lower areas of the helmet. Most have modest rear points and recessed strap anchors, and some are very well rounded, notably the KS-04. There are bright color options for each model. They have a unique strap fitting that tightens with a screw. They should all retail in the $35 range. Roar has a child "designer's" helmet that they can customize with printing and graphics for events or other needs. Sizes run from 52.3 cm (20.5") to 62 cm.

This European manufacturer markets sunglasses and sporting attire from founder Rudy Barbazza. We are not sure which models you may find in which markets, but check their US website for the ones certified to the CPSC standard. Most have partially recessed strap anchors and some have small reflective patches in the rear. Their models have cam locking strap fittings that locked the strap very well. They are nice looking helmets, most with bright color options including USA red, white and blue, and some Canadian graphics with maple leaves. We have not seen the Rudy Project line for this year. Models include:

Sterling: an elongated road model with points front and rear, big vents and a lower shell covering all foam. It has a unique "impact protection grid" reinforcing cage that is visible through the vents. Also comes as the Sterling MTB with visor. Slinger: a very light compact style helmet certified to the CPSC standard. Molded in the shell. Actyum: an elongated molded in the shell model with pronounced rear points and many vents. Zuma: molded in the shell with a two piece shell for full cover and the good cam lock strap fittings that hold well. US model. Skud: elongated but otherwise well rounded design with a pronounced rear point. Jockey: a nicely rounded, well vented child helmet. Skyanto: A skate model retailing for $40. Koyna: a full face BMX/downhill racing model with vented chinbar with mesh in the vents and a bolted on visor. Wingspan: a chrono model with more complex lines and larger vents than most. Rudy Project provides mesh and solid vent plugs. This is Erik Zabel's time trial helmet. One shell size. Retail is $300. Syton Supercomp: another chrono model with the same split tail but with no "wings" and smaller vents. Retails for $225.



Rudy Project has some interesting innovations, and perhaps they will get wider US distribution at some point.



Sawako Furuno

Sawako Furuno is a London fashion designer with a line of cycle accessories and clothing who is promoting a skate helmet model with an ABS hard shell and fashion covers. They include the Leopard, one in alligator skin and a number of others. They have small round vents and a visor. They come only in size medium to fit heads 54 to 58cm. They are certified to the US CPSC standard. They are stocked now by some US women's design retailers, at prices around $120 to $150, showing what the fashion industry can do to add value to a skate helmet. Here is a London site with more info.



SDS / San Diego Speed

See Armor above.
The Schwinn brand is now the property of Pacific Cycle USA. We usually see them in big box stores or on the Internet at retailers like Amazon. They have some very inexpensive models, and some better ones that can be fitted more easily starting under $20. Most of their adult models also have a "youth" size. We can't find information about the line on the Web any more, but at least two of their models have been rated highly by Consumer Reports in the past:



Thrasher: small point in the rear and recessed strap anchors. It is not molded in the shell, but uses glue to attach the shell and boasts of "tapeless technology." Rated as a Best Buy by Consumer Reports in 2009. Retail is $25. Intercept: a youth helmet. The Intercept was the only youth helmet awarded the Consumer Reports Best Buy tag in their June, 2006 article.

SE has a classic skate style helmet with a hard ABS shell to complement their BMX and freestyle bikes. CPSC certified only. Retail is about $25.

Scott

Scott is a high tech sporting goods company that grew out of the invention of the first aluminum ski pole. They now produce many products, and have a line of bike helmets. Most of their models are only certified to the European CEN standard, but the Spunto and Spartan below are CPSC. At least two of Scott's models use dual-density "cone-head foam" liners, a very interesting technology. Most have bug net in the front vents. We have not seen their helmets.

Watu: a compact road model with the most reasonably rounded rear treatment of any of Scott's models. This is Scott's "value" helmet at 40 British pounds. Groove II: elongated road model with rear points and many vents. Retail is 60 British pounds. Karma: a "mountain" design with a very reasonably rounded contour except for a strange lump in the back and very large vents. Molded in the shell, with a ring fit system. Retail is 75 British pounds. Also comes as the Karma Contessa in a white and green color combination. Retail is 75 British pounds, about $115. Fuga and Fuga Contessa: a road model, molded in the shell with a ring fit system and a reasonably rounded contour. Retail is 100 British pounds. Vanish-R: Scott's entry in the ultra-light road helmet competition. Has two unfortunate and very sharp rear-facing points. Molded in the shell and ring fit. Has dual-density foam using the cone-head design, accounting for some of the lighter weight and possibly producing a softer landing helmet for lesser impacts. We don't have test results to confirm it. Unfortunately, the Scott Web site speaks of "two different foams with their own characteristics of recovering from impact" implying that the EPS recovers protection after an impact and could be used again, which is not the case. We think they really mean two different foams with their own characteristics of managing impact energy. Has internal strap anchors, eliminating any surface bumps, but so many points and angles all over the shell that strap anchors would not make much difference. Also comes as the Vanish with visor. Spunto: a youth helmet with lots of vents and the same big rear points that dad has on his helmet. Certified to the CPSC standard, so could be sold in the US. Retail is 40 euros, about $53. Scott Jibe: a classic skate helmet with a hard ABS shell and small vents. Meets the European CEN standard. The strap junctions do not lock at all, probably not a big problem for a skate-style helmet. Spartan: downhill helmet in classic BMX shape with the classic BMX visor bolted on. Has an ABS shell. There is no energy management foam in the chinbar. Meets the CPSC bike standard but is not certified to the tougher ASTM F1952 downhill racing helmet standard. Has the standard BMX large bolted-on visor, always a potential snag hazard. Four sizes fit 54 to 62 cm heads (21.3 to 24.4 inches). Retail for the DH is 225 British pounds.

Sector 9 has a line of classic skate-shaped helmets, with the Mosh Pit and the Logic CPSC certified to the CPSC bicycle helmet standard, but not certified to the ASTM F-1492 skateboard standard. The web site does not show any certification at all for the Mosh Pit SWT and the Logic SWT, with EVA foam, and it says ominously that neither is for sale in California. Prices are about $40, lower online. Sector 9's 2012 downhill helmet, the Downhill Div, is a full-face helmet with clear and tinted face shields. It meets only the CPSC and European bicycle helmet standards, not the ASTM skateboard standard or the ASTM F1952 downhill mountain bike racing standard, and is priced at $325. Sector 9 helmets come in many colors. Selev is an Italian company with models made in Italy mostly for the upscale road rider market. They obviously make an effort to produce unique-looking designs. Most of their helmets are molded in the shell, and the more expensive they are, the more points you get on the rear. The Web site says they meet EN 1078, the European standard, and are all made in Italy. Their models include:

Avatar: a 2011 model with many vents and points in the rear, certified only to the CEN standard. Zenith: a newer compact model with squared-off rear and no points making for a nicely rounded profile. Worth a look for that alone. Reasonable vents. Matrix: molded in the shell with a large rear point, four piece full shell, angular lines with ridges, brow vent reminiscent of the Specialized Cobra models, lots of vents and a click-slide tab rear stabilizer. Comes in regular colors including visible white or team colors that can be customized for different combinations. Some versions of this model have bug net in the vents. All have reflective spots on the rear stabilizer, a good location for those who ride in the bent-over position. Mito: elongated shape, points in rear, visor. Blitz: a more compact design but still has many small points on the rear and one on top in the front. There are white and bright color options. Nitro: another compact design with only one rear point. Some bright color choices. Alien: molded in the shell with a really pronounced rear overhang and points, lots of longitudinal vents and partially recessed strap anchors. Tempo: Selev's chrono model with a full lower cover that comes all the way down to the neck. Meets the EN 1078 standard. Has an internal radio wire channel. Fits sizes 54 to 59 cm. (21.6 to 23.2 inches).


Seven 20

Seven 20 is a skate brand. The ones we have seen are certified only to a European standard, EN 1385 - Helmets for canoeing and whitewater sports, not the CEN bike standard. Retail is about $25, but we have seen them at Sports Authority and Modell's for $15. The one we saw is not recommended for bicycle riding because it is not certified to the CPSC standard or even the European bicycle helmet standard. Not recommended for skateboarding either because it is not certified to the ASTM F1492 skateboard standard.
Shain (pronounced "shine") is an established Italian brand that was introduced to the US market in 2004. Their Web site says their helmets are "100% made in Italy." It also says it presents their "new" 2009 bike helmet collection, so our info may be way out of date.

After introducing a new foam in 2005, Shain cut back on its use until by 2009 all of the Shain models were the standard EPS foam versions. Most are advertised as meeting the US CPSC standard, but we don't see them in the US market. The line is beginning to look dated, with elongated helmets with sharp rear points.

Shain has another wrinkle as well, supported by data published in their catalog. They have added an inner shell to some of their standard EPS helmets, and claim that it permits EPS to withstand two hits in the same spot. Inner shells are not a new idea--the Bailen Bike Bucket had one 25 years ago and Louis Garneau and others have had them for years--but Shain is the first to claim that they can meet standards with two hits at the same spot due to the inner shell. The data in the catalog shows the g's rising from 137 to 213 on the second drop, and then to 367 g on the third drop. Most people in the helmet industry consider 213 high, and likely to cause a concussion, and anything over 300 g will not pass the US standard. So we would not describe that as multi impact performance.

Shain helmets have some European features like bug net in the forward vents on some models. All are molded in the shell except the toddler helmet. They have the best strap fittings we have seen, the Duraflex 2, holding their setting despite any combination of pulling and tugging we could devise. They also have reflective logos, a feature we appreciate even though the logos are too small to add much to the cyclist's visibility at night. The line includes:

BK 100 : the top of Shain's road line, a molded in the shell model, with plenty of vents and plenty of points both in the rear and projecting up and forward from the front surface. Updated in 2005 with their new foam. The shell wraps under and there is an inner shell for full coverage. The strap anchors stick up entirely above the shell, adding another potential point. There is a mountain model with visor, one in Olympic colors, and the BK100 Bianco/Carbon with "carbon look" inserts. BK 90 Ora: another high-end molded in the shell design with a pointy rear point and external strap anchors. It has the inner shell. It has metal bug screen in the vents. CPSC certified. There is also a mountain model with visor. BK 40: rounded exterior except for a modest rear point and a molded in visor lip. Molded in the shell. This one also comes in visor and the woman's Lady version. BK 500: Shain's chrono time trial model is actually an EPS foam helmet liner with an additional fairing added on the exterior and a clear face shield. There are three small front vents, five in all. Certified only to the CEN standard. Not in the current catalog. BK 11: Toddler helmet with vents. Taped on shell. CPSC certification.



Shain will replace a damaged helmet "at a substantially reduced cost to the original owner."



Shenzhen Hezhen Bicycle Inc.

A Chinese manufacturer located in Shenzhen. We have not seen their line, but they have informed us that they produce 15 models, including some BMX style with fiberglass shells and some rated as bicycle/skate helmets. They say they export to 20 countries, including the US, but we don't know what brands they manufacture for.



Shenzhen Qukang Industry Development

Although we have not seen their 2010 line, this Taiwanese manufacturer makes both EPS and EPU helmets. Their EPU helmets are molded in the shell. The styles are well-rounded, but vents look small. They have a fiberglass BMX model. We don't have current pricing. You would be most likely to see their helmets with other brands on them.
SixSixOne is primarily a BMX and skate equipment company with a racing slant. They have bicycle, BMX/Downhill and skate style models in their line. They seem to have many dealers in the UK.



Recon: an interesting model that added some styling interest to the round and smooth commuter look, with extended coverage in the rear and reasonable vents. The visor can be easily removed and is designed to pop off in a crash. Choice of black or white. Retail is $100. Worth a look for the additional coverage with what appears to be decent ventilation. Fenix: a kevlar/carbon fiber/fiberglass shell motorcycle/BMX helmet. Has small vents. Said to meet Snell M2005, but we can't identify it on the Snell list. Retail is $300. Flight II: a motorcycle/BMX helmet meeting the tough Snell M2005 standard. Full-face, and the Snell standard requires that the chinbar be padded for impact attenuation. Polycarbonate shell. There are small vents in the chinbar and the rear. The otherwise round and smooth shell has an unfortunate little tailpiece sticking up in the back for style, and we are surprised that Snell permits that kind of projection. The visor is bolted on with "oversize" bolts for gloved hands, making a bad feature potentially worse. Retail is $170. The catalog contains the curious statement "EPS foam liner conforms to your shape for a perfect fit." We suspect they meant the fitting foam, not the EPS liner. EPS normally conforms to your shape only when you hit something and the stiff foam crushes. There is a highly visible orange available. Comp II: a vented downhill model with a smooth, round polycarbonate shell and bolted on visor, retailing for $80 Evolution: a vented downhill model with a fiberglass shell and bolted on visor, rear lump sticking up to spoil the profile, retailing for $170. Evolution Carbon: a full-face BMX model with vents, with visible carbon fiber in the shell and a lump in the rear, retailing for $290. Dirt Lid: a skate helmet in the classic round, smooth design with round vents and ABS hard shell, retailing for $25. It meets only the CPSC and ASTM bicycle helmet standards, not skateboard.

Smart helmets come from Shunde Smart Helmet Co in China. They supply helmets for other brands. Most of their helmet models have the elongated shape with many vents and points in the rear, but a few are nicely rounded. Some are molded in the shell, some taped on. There are kids and skate models as well. We don't have their retail pricing. Specialized is one of the major U.S. helmet manufacturers sold through bike shops and a supplier of a wide range of bicycles and components. All of their bicycle-style helmets are molded in the shell. They have the straps in two models attached directly to the interior reinforcing, eliminating the external strap anchor bumps found on some high-end helmets. Other anchors are recessed. They also have a "U Turn" strap junction piece with a flip tab lock that they say will eliminate strap creep, but did not function that well in our random pulls on some models.

In 2012 Specialized introduced their Tri-Fix fitting system, with the strap junctions fixed like Bell's True Fit. It lacks the special cage that makes True Fit work, and did not function well for us on the samples we saw in September of 2011, but fine tuning is probably under way. Since you can't adjust the junctions, we would not buy a helmet with Tri-Fix unless you could try it on first to see if it works for your head.

All of Specialized's models are ring fit. Several of the models below are available in a women's color scheme. Some have a new strap junction that curves to fit the jaw. In addition to the CPSC standard, Specialized models are certified to Snell's older B-90 bicycle helmet standard, very similar to CPSC, and the Deviant models to the Snell B-95 standard, somewhat tougher than CPSC. (Specialized is the only major US bike helmet brand still using Snell certification.) They have also certified the Dissident, Deviant and Deviant Carbon to the ASTM downhill mountain biking standard, F1952. That standard requires better impact performance and coverage than the CPSC standard.

S-Works Prevail: the S-Works series has been a major Specialized project pushing technology to produce a lighter helmet. We regard weight reduction as misplaced effort, but it may sell helmets and may appeal to you. The Prevail is molded in the shell with a four piece shell for full coverage. It has a large rear point despite the overall compact shape. Designed with a dual-density foam liner to cut weight, it has huge vents and kevlar inner reinforcement. It has extra-light polyester strap material that the manufacturer says will not stretch when you sweat on it, a worthwhile advance. And it has a drilled-out buckle to save a gram or two of plastic, not a worthwhile advance. It has the new non-adjustable strap junctions. Sewing the junction saves weight and simplifies fit as long as it works for you, but check to see if it fits before buying. This model will be available in Europe, where it can be lighter and still meet the CEN standard, and in Japan, where the fit will have to be adjusted for Asian heads. Can be had in visible white and bright red. Retail is $230.

There are now six S-Works models available on the Specialized Web site. The S3MT is the older design with multiple rear points, a larger visor and no carbon, retailing for $150. Older S-Works models from 2008 and 2009 are offered at discounts in the Specials section. Street Smart: urban design that looks like a round, smooth skate-style helmet with added design details for style and reasonable vents for a city helmet.





Molded in the shell. There are small reflective tape surfaces on the rear, and a removable visor. All colors are matte, but the white is visible. Retail is $60. Propero II: profile looks almost exactly like the S-Works Prevail above, but has a two piece shell, and there is more foam in the form of smaller vents and thicker bridges breaking up the largest ones. Has almost all of the other light weight features, including the no-stretch straps, and for 2012 it got the new TriFix fit system with fixed strap junctions, so be sure to try this one on before you buy. Retail is $100. Visible white and some bright colors are available as well as a reflective black, and there is some reflective surface on both black and white models. Vice: full coverage shell and very large vents. It appears to have increased coverage in the rear. It has a compact shape without rear points. As a style gimmick, Specialized has bolted the visor on in Troy Lee BMX style. We would avoid that. It retails for $80. Tactic: full coverage shell and compact shape, but retains a small high shelf point in the rear. Vents are a little smaller than the Vice, so it has more foam. It retails for $65. Echelon: has a three piece shell, but many areas of exposed foam with no shell at all. We would avoid it for that reason. It has the newer compact shape, but retains some rear points. It retails for $60. Align: Specialized's value model, retailing for $40. At that price it still is molded in the shell and has the trademark brow port. It has a compact profile with a minimal rear point, and comes in three shell sizes, with a ring fit system. Has reflective strips on the sides of the straps, and black reflective tape in the rear. Also available as the Sierra for women and the Flash for children. Comes in XXL as the Max fitting heads 62 to 64 cm (22 to 25.2") Specialized has a Japanese version of this helmet called the Contour to fit rounder Asian heads. It probably does not meet the CPSC standard, since helmets sold in Japan are normally certified to the Japan Cycling Federation JCF standard. Small Fry: a classic round, smooth toddler and child size helmet, but molded in the shell and has some vents. Ring fit, bug net in front vents. Has some reflective patches. The smallest size is the toddler model advertised to fit 44-52 cm (17.25-20.5"). Retail is $40. Covert: new for 2012, a classic skate-style helmet with ABS hard shell and CPSC bike helmet certification, not ASTM F1492 skateboard. Has the new Tri-Fix fit system, so try it on before buying to make sure it will work for your head. Available for rounder Asian heads, but only in Asia. Here you might look for the Contour instead, reported to fit round heads well. Retail is $40. Dissident: new for 2012, a full-face downhill racing helmet with few vents and a carbon fiber/kevlar/fiberglass shell. Certified to the ASTM F1952 Downhill Mountain Bike Racing standard and the ASTM F2032 BMX bike helmet standard, tougher than the CPSC standard. That makes this one worth a look. There is some energy management padding in the chinbar. Has provision for using a neck brace, and is compatible with the EJECT system used by EMT personnel at events to help get helmets off without straining the neck. (The side pads can be removed by pulling a tab marked with the EMT logo.) The large BMX-style visor is bolted on with plastic bolts designed to break away when you snag it on something. Comes only in black or gray. Retail is $350. Deviant II: full-face downhill racing helmet with a fiberglass shell and decent vents. There is bug net in the vents. Certified to the ASTM downhill mountain biking standard, F1952, tougher than the CPSC standard. Look for the sticker inside to be sure. That makes this one worth a look. Retail is $140. S-Works TT2: a long tail chrono model. Has one large brow vent in the front in Specialized style, and four large rear vents on the tail. The tail is open underneath. Has non-stretching straps. Two sizes fit 52 to 61 cm (20.5 to 24") heads. Retail is $250. Specialized has other chrono models not available through retail, and sometimes only CEN certified for European racing. They include the TT1 and TT3.



Most Specialized models fit 51 to 63 cm (20.0 to 24.8") heads. The Max fits up to 64 cm (25.5") heads.

Specialized usually has older models of their helmets on their Web site as Specials at reduced prices. Among them, the Tactic at $20 is a bargain, the Women's Instinct at $10 has the nicely rounded profile that we think is optimal, and the older Deviant II Carbon meets the same standards as the current version.

Specialized sells replacement pads and visors for many of their models. You can find them on their Web site under spare parts.

Specialized will provide a 20% discount voucher for any crashed helmet, but requires proof of purchase and may substitute another helmet if the one that was crashed is no longer available.
Spiuk is a Spanish supplier of a wide range of bicycles, components and clothing. (The name is pronounced spee-yuke.) They have some bright color combinations on most models including team graphics. Strap anchors are nicely recessed. Pricing is from 2010, not this year. Their models include:

Synergis: a compact design with one pronounced rear point. Molded in the shell with a full coverage shell and some carbon fiber reinforcements. Visor. Meets the CPSC standard. Retails for $170. Daggon: elongated shape with medium rear points. Molded in the shell with full coverage. Has some carbon fiber reinforcements. Comes with bug net the user can install if wanted, and a case. Meets the CPSC standard. Retail is $200. Kowter: molded in the shell with a single shell. Compact shape but still has one shelf-like rear point. Meets the CPSC standard. Retails for $65. Nexion: molded in the shell with large front vents, a full shell on the lower portion, and pointy rear points. Worn in competition by teams supplied by Spiuk, comes in team colors or world champion stripes. Meets the CPSC standard. Retail is $145. Zirion: molded in the shell with a very large point on the rear. Ring fit, visor. Meets the CPSC standard. $85 retail, including the team graphics model. Gothic: a classic skate design with small vents and some sculpting of the exterior lines. No bright colors. Meets the CPSC standard. Retail is $40. Casco Kids/Casco de nino: a toddler helmet with vents and nice graphics. Meets only the CEN European standard, so will not be sold in the US. Kronos: a time trial teardrop shape with two small front vents and a center rear vent through the long tail. Molded in the shell. Ring fit. Meets the US CPSC bicycle helmet standard. Retail is $235. The photo on the Web site shows the tail flying in the breeze, not a very aerodynamic position.

In some cases Spiuk will replace crashed helmets at a discount.
Star Helmets (formerly Zhuhai H.N.Z. Star Safety Helmets), located in Zhuhai, China, produces an extensive line of helmets under the Star Sport brand. Most are molded in the shell, the rest have taped on or glued on shells. Their B3-11 model is well vented, round and smooth. Most of the rest have rear points. Some are only CEN certified, but others are certified to CPSC and fourteen appear on Snell's B-95 bicycle helmet certification list, indicating better than CPSC impact protection. Star seems to be moving more toward the high end of their line. Most should sell in the $15 to $30 range in the US market, with the BMX models around $65 and ski models probably in the same range.
Stash is or was a folding helmet designed to be stored in a smaller space than a standard helmet, useful for riders using shared use bicycle programs. It folds like the 1990's Motorika and the 2012 Biologic Pango, a hard shell model that folds the same way. The Stash has a truly strange hard outer partial shell of ABS. Aside from the bare foam sections, the shape is round and smooth. Both sides fold into the middle to store it compactly.





The manufacturer of the Stash, Hatpac Ltd. of the UK, said it meets the CEN EN 1078 European bike helmet standard. If it does, it would be roughly equivalent to any one-piece Euro helmet. At an advertised 300 to 330 grams (about 12 oz.) it would be about a third heavier than a standard thin-shell CEN helmet, but that should not make much difference to any rider, particularly for short trips in town. Since we have never seen any mention of testing to the US CPSC standard, this one probably could not be sold in the US. The typical CEN standard helmet does not meet our more severe impact tests. The Stash has protruding lumps for the hinges that might not pass our limits on protrusions as well. Although their Web description of lab test results had indicated the author had some serious confusion about helmet testing, this is a really innovative design that might well encourage people using bikes in town to wear a helmet, particularly those who regularly borrow or rent a bike for short rides. Comes with a pouch, and the company has shoulder bags and backpacks with special Stash compartments. Comes in visible white with chrome trim, as a commuter helmet should, as well as invisible black. The two sizes fit heads from 55 to 58 (21.7 to 22.8") and 60 to 62 cm (23.6 to 24.4"). The Stash retailed in the UK market for 50 pounds ($75) or less if you can find it. And we found it once in the Netherlands for 73.5 euros ($102). The Stash website disappeared in 2010, and Hatpac is similarly difficult to find. We don't know if the helmet is still available or not.
Strategic Sports produces helmets for a number of U.S. and European companies with the other company's brand, and rank among the world's largest helmet producers, with annual sales in the millions of helmets. Ten of their helmets appear on Snell's list. They are the prime licensee of the Cone-head dual density foam design. We have comments on Strategic models under a number of other brands in this review, but you are not likely to see a Strategic Sports brand name, since they avoid publicity.
Taizhou Vista is a Chinese supplier of helmets for other brands. They have 65 bike helmet models on the Web, most of them elongated models with many vents and points in the rear. Some are molded in the shell, some taped on. There are kids and skate models as well. We don't have their retail pricing. THE, an Enterprise founded by Toby Henderson, has mountain bike fenders, saddles and other accessories. The company provides helmets to Vigor Sports, where Henderson was one of the founding partners. Their F-14 model was the first rounder, smoother model with style and really good rear coverage to catch our eye, finally reaching the market in mid-2007. It has now been replaced by the F-20, a similar helmet with bigger vents and unfortunate rear points in the form of an added-on "air deflector." THE also has two full face helmets and a very round and smooth skate helmet with an ABS hard shell.


Tung Kuang / Tong Ho Hsing (THH or TKLI)

TKLI sends its line to the U.S. through Trans National Trading Company of Vernon, California. In China they are known as Shanghai Tung Kuang, or in Taiwan as Tung Kuang I Light Industry Co. Ltd., appearing on the Snell certification list as Tung Kuang I. They market their own Alltop and Allpro brands, but also produce helmets for other companies under different brand names. Their EPS models are probably all made in China and mostly have taped-on shells, while the EPP models noted below would more likely come from Taiwan and are all molded in the shell. Most of their designs feature the round, smooth shapes that we prefer, but some of the models have vents that we would find too small for summer use in the US. Most of the models below are on Snell's B-95 list, denoting somewhat better protection than CPSC-only models. We have not seen their line or pricing this year. Previously their models included:

T-91: replacing an older T-91, this 2006 model is a newer style bicycle helmet, molded in the shell with EPS foam, with a reduced rear point and external strap anchors. Not on Snell's list. Some bright colors. Retail is $35. T-38: a nicely rounded design with moderate vents and visor. Bright graphics. Snell B-95 certified. Taped on shell, visor. Retail should be about $16. T-37: a generally rounded but somewhat elongated design with moderate vents. Dark colors and red. Snell B-95 certified. Taped on shell. Retail should be about $16. T-36: a nicely rounded design with smaller vents and visor. Has three vents in front, three in the top and only one in the rear. Available in a bright yellow. Taped shell, visor. Snell B-95 certified. Retail should be about $12. T-35: a nicely rounded design with fewer vents. Some bright colors available. Snell B-95 certified. Taped on shell. Retail should be about $12. T-29 : toddler helmet with small vents, very round and smooth. Available in orange. Taped on shell. Snell B-95 certified. Comes in XXXXS size (usually xxs), fitting heads as small as 46 cm (18.11 inches). Should retail for about $10. T-22: smaller vents, updated graphics. EPU foam (heavier than EPS, has a solid feel and very uniform cell structure), visor, dial fit system. Elongated shape but without a sharp rear point. Molded in the shell as most EPU helmets are. Snell B-95 certified. Retail about $13. T-21: Smaller vents, EPU foam, some bright graphics, visor. Molded in the shell. Snell B-95 certified. Retail should be about $12. T-40: Downhill racing helmet with chinbar and an ABS shell. Some bright colors, including all white. Bolted on visor. T-39: Downhill racing helmet with chinbar. ABS shell, bolted on visor, vents. Retail is around $65. AP-866: motorcycle-style BMX/downhill helmet with full chinbar and polycarbonate shell. A nice visible orange is an option. No vents. Certified to the DOT motorcycle helmet standard. AP-87: motorcycle-style BMX/downhill helmet with full chinbar and polycarbonate shell. No vents. Snell certified. AP-89: motorcycle-style BMX/downhill helmet with full chinbar and carbon fiber-kevlar shell. No front vents. Snell certified. TA-78: classic ABS hard shell skate helmet with standard dark colors plus white, pink and flame graphics. Has a little sculpted line and two unexplained snaps in front, probably for a visor. No vents, so it looks more like a ski helmet than a skate helmet. We don't know what standards it may meet, so it may not be certified for bike riding or skateboarding. Comes in an extra small size. TA-77: classic skate helmet with standard dark colors plus some impressive gold, silver and stars-and-stripes colors rarely seen in skate style helmets. Smooth, round ABS hard shell with small vents. We don't know what standards it may meet, so it may not be certified for bike riding or skateboarding.



TKLI also produces helmets for other uses, including military, baseball, motorcycle, equestrian, football and snow sports.
Top Gear is the house brand for Helmets R Us, a bulk supplier of many models of inexpensive helmets to helmet promotion campaigns. Prices start at $3.65, including shipping for orders over 24. They also sell retail to individuals at about $10 per helmet plus shipping. They have a unique "Face Saver" model with a chinbar at $14. They also have a Model 17 skate style helmet that is dual certified to the CPSC bicycle standard and ASTM F1492 skateboard standard for less than $10. Trek supplies a wide line of bikes and accessories to dealers, and their helmet graphics are designed to complement your Trek bike. They also market a line under their Bontrager brand to complement their Bontrager bikes, and have expanded it for 2011 and adjusted prices. Some models have reflective panels. Most have ring fit systems. Many have a women's model with different colors and graphics. Current models are:

Bontrager Lithos: molded in the shell with a lower shell covering the whole surface. Has a very well rounded compact shape and many vents. Internal strap anchors to avoid bumps. Comes with a visor. Retails for $130. Trek Urban or Bontrager Convert: a skate-style helmet with a grid of little slits across the front and back, and a little bump up at the top rear.





Retails for $50. Looks like a designer got lazy and cranked out a quickie. We think the Lithos above is a far better urban helmet, or one of the others on our rounder, smoother list. Trek Circuit: an elongated model with sharp rear points, molded in the shell and retailing for $100. Also available in the Bontrager version. Trek Sonic Elite: molded in the shell design with a lower shell and a pronounced rear point. Internal strap anchors. Ring fit system with three shell sizes. Available in visible white and two women's colors, as well as a Bontrager version. Retail is $90. Trek Interval Sport: molded in the shell with a minimal rear point and recessed strap anchors. Available in visible white and in two women's pastel colors. Retail is $75. Also comes in women's colors and in XXL size as the Interval XL Sport fitting heads up to 26"/66 cm for the same price. Bontrager Quantum: molded in the shell with long vents coming to a rear point. Ring fit. Retail is $65. Trek Vapor: molded in the shell with a pronounced rear point. Also comes as a Vapor Youth. Retail is $55. Trek has a Police decal available for the Vapor. Bontrager Solstice: molded in the shell with long vents coming to a blunt rear point. Ring fit. Also comes in a youth size. Retail is $45. Little Dipper 2: Infant-toddler model with a taped-on shell, vents, graphics, a soft rubber visor, an anti-pinch chin pad. At least one color is listed on the Web as fitting down to size 47 cm. Retail is $40.





Trek has a one year free replacement policy for crashed helmets. They have helmet replacement parts on their Web site and available through their dealers, including buckles, pads and visors. Triple Eight is primarily a skate and ski helmet company. We have not seen their helmets, but their Web site shows a single skate-style model with a choice of liner materials under the Brainsaver logo. They have a Helmet Chooser page that makes it clear which models are CPSC certified, but for the skate models they don't say what if any standard they meet. There is no mention on the Web site of the ASTM F1492 skateboard standard. Some models have rubberized finishes. We don't recommend those because they are likely to increase a helmet's sliding resistance in a crash. They do have some nice bright colors, including white. Their major innovation is a Sweatsaver Liner, claimed to manage sweat effectively. It has a terrycloth interface with the head, moisture wicking layers and anti-bacterial treatment. Retail prices are $36 to $40.

In January of 2012 CPSC announced a recall of Triple8 "Little Tricky" models. The helmets failed to meet CPSC impact requirements.

Troy Lee is a motorcycle helmet and gear manufacturer with a BMX line known for high quality rad graphics. They originated the large bolted-on visor style with rigid mount that adds a potential snag point and has become universal on BMX models. Troy Lee says that the plastic mounts in the helmet will pull out when the visor is snagged. Unfortunately there is no standard for testing that yet, and nobody will do it for you at the bike shop or bike show, either, so we still regard the visors as potential problems. The Troy Lee bicycle line is named D2 for Daytona 2 and has three models.

D2 Carbon: a classic BMX/motorcycle model with a shell made of 60% carbon fiber, 20% Aramid and 20% fiberglass. Has titanium visor screws to hold on that big visor. The carbon has exposed carbon fiber mesh in a sunken rear section they term "cosmetic," a style quirk but probably not a serious hazard. Four small vents. Meets the ASTM F1952 downhill racing helmet standard and the ASTM BMX cycling standard, easily exceeding the CPSC standard. Strong and durable D-ring buckle. Retail is $450. 2010 D2 Composite: another classic BMX/motorcycle model, this time with a shell made of 50% fiberglass, 20% Aramid and 30% carbon replacing the Kevlar in previous models. Four small vents. Meets the ASTM F1952 downhill racing helmet standard and the ASTM BMX cycling standard, easily exceeding the CPSC standard. Comes in somewhat more visible gold. Strong and durable D-ring buckle. The D2 fits heads from 53 to 62 cm (21 to 24.5 inches). Retail is $295.

Troy Lee also has an "advanced" D3 model that has energy management padding in the chinbar. We don't know the thickness or composition, but that might be a significant improvement.

There are custom sizing kits available for D2 and D3 helmets. Troy Lee will replace helmet liners after a crash if the shell is not damaged.
This Swiss company sells skate helmets in the US in the classic skate style, and one BMX model. For 2010 the models below are all certified to EN 1078 and US CPSC standards, but not to the ASTM F1492 skateboard standard. TSG's models include:

Kraken: a classic skate model with ABS hard shell and EPS liner. But the liner is in sections, linked by a mesh, and TSG says the segments flex and enable the helmet to conform to unusual head shapes better. That is similar to the old Sportscope design. TSG says the improved fit permits a thinner helmet and better ventilation, even though the helmet has only 14 very small vents. They also say this model has protection extended lower on the head than others, but we can't verify that. Certified to the CPSC and EN1078 bicycle standards, but not the ASTM F1492 skateboard standard. Available only in flat black. The retail price is $38. Kraken+: available later in 2012, the Kraken+ is the helmet described above but with the addition of MIPS technology to add a slip-plane that will permit the helmet to slip sideways easily on impact for a few millimeters. MIPS believes this will lower the risk of concussion. If the helmet couples closely enough with your head so that it can not slip a few millimeters on impact, they could be right. We don't know what the retail price of the Kraken+ will be. Superlight: classic skate shape and few vents, but with a thin shell instead of a hard shell. TSG co-brands this one with Oakley. Molded in the shell with an inward curve in the lower shell. Comes in visible white as well as dark colors. Meets the European CEN bicycle helmet standard and the US CPSC bike helmet standard, but not the ASTM F1492 skateboard standard. Retail is $70 to $80. Summit: classic skate shape and few vents, but with a thin shell instead of a hard shell. Nipper: classic skate shape, but a thin shell design certified to CPSC. Sized for kids with 48 cm to 52 cm heads (18.9 to 20.5 inches). Retail is $38. Evolution: almost the same skate model as the Superlight, with small rectangular vents and an ABS plastic hard shell. Meets the CPSC bicycle standard. Available in many colors and graphic schemes, including neon orange and lime yellow. There is a "rubber finish" model that we would avoid as a novelty that may not slide as well on pavement as the regular ABS shells do. A new graphic effect called "colored clear" uses transparent or semi-transparent shells, and some bright colors were added for 2010. Retail is $45 or $55 for graphic models. Also comes with different graphics in XXL size fitting up to 60.5 cm (23.8 inches) at $50 and in a kid's model fitting heads as small as 52 cm (20.5 inches). A plainer version is the All Terrain in solid colors. There is even a wakeboarding model with ear flaps. Skate/BMX: a classic ABS plastic hard shell skate design with one less vent than the Evolution. Colors include visible white. Retail is $30. This one is available in a matched set in cobalt blue that includes a helmet and protective pads for skate park rental programs. Staten/Staten Carbon: classic BMX/motorcycle style helmets with chinbar and a big visor. Fiberglass or carbon hard shell with vents. Certified to the Snell B-95 bicycle helmet standard, exceeding the CPSC standard. Retail price is $120 for fiberglass and $300 for the carbon.



TSG's skate helmets fit heads from 54 to 60 cm. Their full-face helmets fit heads from 56 to 61 cm.



Tung I Hsing

See THH above.
Urge is entering the US market in 2011 with a line of bicycle helmets that are environmentally sensitive and in some cases linked to green causes in other countries. All of their models are certified to CPSC and the CEN EN 1078 standard for Europe. The line includes:

Endur-O-Matic: skate-style profile, but molded in the thin shell with 8 larger vents. Still has the extended skate coverage in the rear, and a visor that is made with soft material to prevent it from snagging. The visor also directs air to the vents. Some bright colors available. Retail is $100. Down-O-Matic: a full face downhill racing model with an unusual shape that has shoulders below the crown. Round vents. Still only CPSC and CEN-certified. Retail in fiberglass is $170. There is another model called the Down-O-Matic Veggie Lin using an environmentally-friendly linen fabric in the shell in development for mid-2011. Dirt-O-Matic : classic hard shell skate style helmet with small round vents and a unique visor that clips in. Retail is $40. Archi Enduro: Pitched as the first enduro event helmet, a full face model with round vents, visor and a very narrow chin piece. Retail is $170.



Urge helmets fit sizes from 54 to 61 cm (21.3 to 24.0 inches) Uvex is probably best known internationally for its optical products, but in the bicycle market there is interest in their helmets. Their helmets are designed and all made in Germany except for the Urban, Hero and Viva. All of them are molded in the shell. They have reflective logos, nicely recessed strap anchors and front vent net for insect protection. They have a unique buckle that uses a ridged tab that inserts and pushes in, that we have only seen on Abus and Uvex helmets. It is adjustable with one hand while riding, particularly useful to take out the slack as you sweat on warm rides and the strap loosens. It is one of the few designs that prompts the rider to automatically adjust the chinstrap each time they put it on. All of their helmets have a ring fit system with a dial adjuster. Some can be had in a sunglasses-plus-helmet combination and there are optional small LED flashers in red and white that replace the rear strap anchor for all molded in the shell models. The LEDs can either blink or shine continuously. Some models have bacteriostatic pads. Uvex helmets are distributed by Magura in the US. The line includes:

Urban: has the round and smooth profile we think is optimal. Unfortunately it also has the rubberized finish that we don't think is optimal. There is a white option. Retail is $60, a lower price than most Uvex models. Discovery: an urban model with the round and smooth profile we think is optimal, but showing very little design imagination. It has a unique pattern of very small vents attempting to dress up what is essentially just a skate-style helmet. Has a very small visor. Retail is $130. Ultrasonic: new for 2012, a compact profile road model with just the suggestion of points in the rear. Molded in the shell with nicely recessed strap anchors. Can replaced front and rear strap anchors with LED lights. Retail is $140. Also comes as the Ultrasonic Race at $150 and the Ultrasonic CC with visor for $170. The catalog indicates that it is only certified for the European market, but may be CPSC certified as well since Magura is promoting it in the US. Xenova: a compact shape but elongated at the rear. Molded in the shell, bug screen in the front vents. Retail is $90 with visor. There is also a Xenova Race without visor for the same price, or the Xenova CC with visor for $100. FP 3: a compact model with modest rear points, molded in the shell with an inner shell also co-molded. Many vents. Fits heads 50 to 59 cm. Retails for $190. Also available as the FP 3CC with visor retailing at $200. Boss Race: a molded in the shell model with a dual shell covering all the foam, rear points and some shell ridges. Retails for $120, and also comes as the Sport Boss CC with visor for $130, and in a version with plainer graphics and no visor called the Sport Boss, again for $100. Uvex says the Sport Boss is their best seller. Supersonic CC: a road model with a more rounded design that has only small bumps in the rear. Large vents. Retails for $129. Bicycling magazine picked it as the best value of the three helmets they reported on in their January/February 2005 issue. Molded in the shell, has bug net in the front vents. Also comes as the Supersonic for $120 and the Supersonic LX ready for mounting a helmet light for $140. i-vo: compact shape with one small rear point. Retail is $70, or$80 for the Air Wing version for smaller heads. XP City: large vents and squared-off rear treatment with a blunt point, but skate-style coverage. Has a rear LED light and reflective trim. Medium size only. Visor. Without the light it is the XP CC with visor for $100. Also available as the XP for $90 without visor. XP13: Skate-style model with hard ABS shell and small rectangular vents. Has a very visible orange option. Retail is $50. XP11: Skate-style model with hard ABS shell and small circular Pro-tec style vents. Retail is $60. Magnum: a reasonably rounded compact profile model with extra coverage in the back and on the sides. Molded in the shell with large vents and a visor. There is a visible white option in addition to standard black. Retail is $80. Touring: reasonably well rounded, molded in the shell with a single shell that does not wrap under. Retail is $60. Viva: molded in the shell in a generally compact shape, but has an extended rear shelf point and a ridge all the way around that gives an upswept surface from the front brow. Has a reflective sticker. Retails for $45, the lowest price point in the Uvex line. Not our favorite Uvex model. Onyx: a youth helmet for smaller heads with a rounded profile, almost no point, visor and one bright color choice. This is the former Superhelix. Molded in the shell. Small ponytail port. Fits sizes 52 to 57 cm (20.5 to 22.4 inches). Retail is $70. This one is a US model. Uvision Junior: a child helmet with fairly large vents that Uvex says do not let any direct sunlight through to the head. If that is true, there would be a market for an adult version for bald riders. Molded in the shell. Fits 52 to 57 cm (20.5 to 22.4 inches) heads. Retail is $55. Hero: a toddler helmet, molded in the shell. Large vents. Reflective sticker, optional rear LED light. Fits 49 to 55 cm. heads and retails for $40. Downhill: a full face model with polycarbonate shell, minimal vents and a big visor. This one has been in the Uvex line since 2005, but only got CPSC certification for the US market in 2012. Aero: a long-tailed time trial helmet with many ribs on the surface and four adjustable long skinny vents in the front. Molded in the shell, with vent adjustors added later. Meets the CPSC standard. Comes only in white/silver. Fits heads 58 to 62 cm. Retails for $190. Factory Pilot 2 - fp2 Time Trial: a time trail chrono model that meets only European standards. It hums when it is off-center to alert the rider to less-than-ideal aero performance. Retails for $450. Look for it on the T-Mobile team. Kristen Anderson won gold for the US in this helmet at the 2008 Beijing Olympics, and Uvex did not pay her a promotional fee to wear their helmet. Meets the CEN standard, but not CPSC.



Uvex helmets fit heads up to 63 cm/24.8 inches except for the X-ride/S-Fit above. They offer a crash replacement discount of 30% off the retail price.
Vcan is produced by Shanghai Hehui Safety Products, and includes a line of helmets that vary from beautifully rounded and smooth to angular with very large rear points. Some are molded in the shell. Strap anchors are recessed or internal on all models. All are ring fit. Most are sold under other brands. Vcan also has skate and snow helmets, but their Web site emphasizes motorcycle helmets.





Ventura

Ventura is a house label of the bicycle distributor Cycle Force Group. The helmets mostly retail in the $15 to $35 range.

Vetta made helmets years ago, and for 2012 they may be back, since they had three helmets models at Interbike:

Protezione: a road helmet, molded in the shell with unfortunate external strap anchors and a modest rear point. The strap junction pieces slip easily. It has a visor. Corona: another road model, with larger points in the rear. Casco:

We don't find the helmets on their Web site, so we are waiting for an official announcement.
Vigor Sports (Hong Jin Cycle Corp.) is a Korean company with a large and varied line of helmets, some made for them by other companies. You will see them under various Vigor-owned brands and sometimes produced for other brands as well. They have some models with EPU "double impact" foam as well as more conventional EPS. EPU is a crushable foam that does not recover, so we don't know what "double impact" they are referring to. If you crash in an EPU foam helmet it needs to be replaced. Vigor's models that are not molded in the shell have a band of 3M reflective tape around the shell edge, a nice feature seldom seen in this price range. The black tape is not 3M's most reflective product, but it represents some additional cost and an effort to make the helmets safer that we wish more manufacturers would adopt. Some of their models have strap fittings that lock very well. Most are ring fit, and all but two of the adult models have visors. Vigor is connected with THE, (Toby Henderson Enterprises) so they market several THE models.



THE F-20: new for 2011, a well vented molded in the shell bicycle-style helmet with an "air deflector" adding points to the rear.





Has extended rear coverage. Strap junctions hold well. Retail is $80. Swoop: introduced in 2010, molded in the shell with a two-piece shell to cover all foam and recessed strap anchors. Has one rear point. The side strap adjustors do not hold well. Retail is $60. Atomic: a road model, molded in the shell with a second lower shell piece and a pronounced rear point. Retail is $40. Fast Traxx: another road model, molded in the shell with nicely recessed strap anchors and a modest rear point. Ring fit, visor. Visible white option. Retails for $45. NOX: an old Vigor name with a new design. There is an XXL fitting up to 65 cm. Retails for $35. Avenger elongated front visor molded in, with minimal protruding rear shelf. $30. L'il Tyke: a newly redesigned toddler helmet with a very nicely rounded profile and vents, 3M reflective tape and ring fit. Comes only in XXS for 50 to 52 cm (19.7 to 20.5 inches) heads and retails for $25. Ten-Eighty (1080) Seraphim: A skate helmet design with the classic smooth, round exterior, round vents, polyethylene shell and an EPS liner. It is listed as a bike, snow or skate helmet, but certified only to the CPSC bicycle helmet standard. Has a visible white option. The strap adjustors are simple buckles that do not lock, and they move readily, so they will not hold adjustment well. There is an XL that fits up to 64 cm heads. Retails for $25 to $32 depending on the graphics. T2: new for 2012, a full face model with carbon shell, small vents and minimal padding in the chinbar. Meets only the CPSC standard, not the ASTM F1952 downhill standard. There is also a composite shell model, about four ounces heavier and less expensive. Retail is $330 for the carbon model and $230 for the one with a composite shell. Point 5 (.5): introduced in 2011, a full-face BMX helmet for non-motorized sports with an ABS shell with small vents and the classic large bolted-on BMX visor. CPSC certified only. The XXL fits up to 63 cm/24.8 inch heads. Retail is $100. B1: very similar in profile to the F-20 above, but it is a skate model with an ABS shell and smaller vents. The design is striking for a skate helmet. There is a visible white option. Retail is about $40.



Vigor's crash replacement policy provides a replacement of the same helmet or another current one at 30 per cent off of retail cost for the lifetime of the helmet.
This Danish company sells a skate-style helmet with covers that convert it into a fashion accessory that does not look like a helmet. It is well suited to places where wearing a helmet is considered over-the-top for normal riders. The looks include a tweed hat with a brim that can flip up or down, a military-style cap in tweed, orange or other colors and two others that conform to the helmet shape but have different detailing and textures. No vents in the covers. Box Cycles hopes to bring the Yakkay to the US market in 2012.





Meets the CEN standard, and Box Cycles says the Smart 2 model meets the CPSC standard. They are available now from a small list of dealers in the US, starting at $65. The Yakkay site lists dealers in a number of European countries. List price in Denmark is 299 Danish Kroner ($60 US), or 90 pounds in the UK. Prices can be much higher for some high-fashion covers. Lazer now has a similar cap-covered helmet, and others are using cap-style visors to make their helmet look more like a cap. A great concept for those who would not be caught dead in a helmet.

Yakkay has a new accessory called Safe One that is unique for locking a helmet to a bicycle when you get to your destination and want to leave your helmet with the bicycle. It locks the straps to the bike, and has a case that includes a bag to cover your helmet with, keeping it clean and dry. It is well-designed for a helmet that has a fashion cover.


X-Factor

See Kent International.



Xterra

Xterra is an decade-old triathlete racing tradition, but a new helmet brand for the 2009 season, and their 2010 line was again all new, dropping multi impact EPU foam for standard EPS. All of their models are molded in the shell. We not longer find a Web site for them, but some Xterra models are available from Amazon and other online retailers at discounted prices.

XT S22 Commuter: the round, smooth commuter model molded in the shell, with no points in the rear and good vents. Retails for $40. X375 High Ridge: a road model with a two piece shell covering all the foam, this time with pronounced rear points and a retail price of $60. XTS9 Excel: a road model with a two piece shell covering all the foam. Has one pronounced rear point and a retail price of $50.




YoLite supplies reflective helmets from China. They say that the entire surface of the helmet is reflective. We have not seen them and the Web site does not have much info on them.



Zefal

Zefal helmets appear in the US under the Michelin brand.



Zhuhai Golex

See Golex above.



Zhuhai Safety

This Chinese manufacturer (Zhuhai Hindun Safety Helmets, also Zhu Hai Safety Helmet Manufacture Co. Ltd and Zhuhai USA Safety) has an extensive line of bicycle and BMX helmets. Most are sold by others under their brand, including some of the best-known in the US, with others labeled with the Caluk or T-Star brand. Their numerous adult, youth and toddler models feature both nicely-rounded and sharply-edged shells. Some are molded in the shell, and some have lower shells. Their Series 08 model is on Snell's B-95 bicycle helmet standard list. Sizing runs from 49 cm (19.3 inches) for the smallest to 64 cm (25.2 inches) for the large. Zhuhai Safety helmets are provided at low prices for helmet promotion programs through Helmets R Us (above).




Zhuhai Star Safety

See Star Helmets above.

Zike is a manufacturer of human powered vehicles and hybrid scooters. They have one helmet to complement their product line, a skate style model that is certified only to the European standard. We don't know their retail pricing.




This page is frequently updated during the model year.

If you see something that needs updating, please send us an email!







Index to Brands